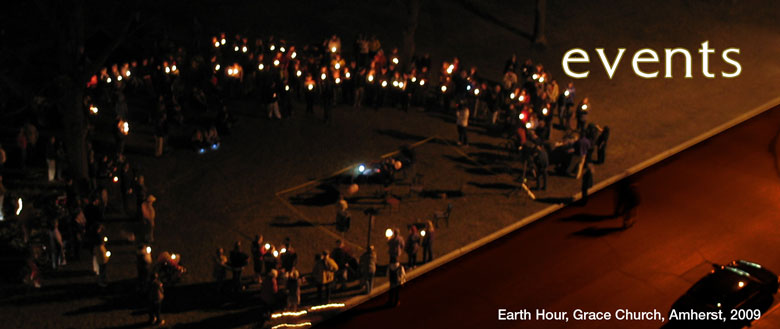 Preaching & worship Margaret will preach on Easter Sunday at the 10:00 a.m. worship service at First Church Congregational Church in Williamstown, MA. THE SERVICE WILL BE LIVE-STREAMED.  DETAILS TO FOLLOW.
April 19, 2020
11:15 a.m.
Washington National Cathedral
3101 Wisconsin Ave, NW
Washington, DC 20016
Preaching and worship
PLEASE WATCH THE LIVE STREAM
, WITH SERMON PRE-RECORDED. Margaret will preach at Washington National Cathedral as we celebrate the Second Sunday of Easter and launch a week of events to mark the 50th anniversary of Earth Day. Come join us for an enlivening service on Sunday morning, April 19, at 11:15 a.m.
April 26, 2020
12 Noon-5:00 p.m.
Washington National Cathedral
3101 Wisconsin Ave, NW
Washington, DC 20016
National Religious Coalition on Creation Care's 2020 Prayer Lunch **CANCELLED BECAUSE OF THE CORONAVIRUS. Prayers for your good health.** Margaret will serve as a chaplain and panelist at the NRCCC's 2020 Prayer Lunch, which will be held in Hearst Hall of the Washington National Cathedral in Washington, DC.  The theme of the prayer lunch and conference is Religion, Climate and Forests.  Stay tuned for more information!
April 29, 2020
to May 1, 2020
Christ Church Cathedral
131 Monument Circle
Indianapolis, IN
2020 GEMN Global Mission Conference in Indianapolis
**THIS EVENT HAS BEEN CANCELLED BECAUSE OF THE CORONAVIRUS.**
Please consider joining Margaret in Indianapolis for this timely conference.  Margaret will lead two workshops. From
the press release
:
Are you passionate about global mission? Do you want to get involved in mission but don't know where to start? Are you an experienced mission leader, but want to take your global mission engagement to the next level? This is your conference!
The Global Episcopal Mission Network will hold its 2020 Global Mission Conference April 29 to May 1 at Christ Church Cathedral, Indianapolis. The theme, "Earthkeeping: Creation Care in Global Mission," focuses on care of creation, the environment, and its impacts on our global mission partners, including issues of social justice, displacement, water access and poverty.
The conference will emphasize the role of connecting around creation care in global mission, both spiritually and practically. Keynote speakers will focus on the theology of creation care, as well as the many opportunities for mission partnerships that address environmental issues, eco-justice and sustainability. In addition, presentations and displays will highlight active indigenous and global environmental ministries.
• Attend keynotes by the Rt. Rev. Dr. Katharine Jefferts Schori, oceanographer and former Presiding Bishop; the Rev. Dr. Rachel Mash, Environmental Coordinator of the Anglican Church of Southern Africa and Green Anglicans; the Rev. Leon Sampson of Navajoland; and the Rt. Rev. Orlando Gomez, Bishop of Costa Rica.
• Participate in mission workshops that will give you practical tools to bring back to your diocese, congregation or mission organization, including the development of environmental partnerships, healthy short-term mission trips, leadership and fundraising, applying Asset-Based Community Development tools in your ministry, developing and maintaining mission relationships, discerning a call as a missionary, mission spiritual formation, and mission best practices.
For more information, or to register, visit us at www.gemn.org.
The Global Episcopal Mission Network (GEMN) equips the Episcopal Church for global mission through hosting engaging conferences, providing quality education, and networking mission enthusiasts within the wider church. Consider becoming an individual, organizational, parish, seminary or diocesan member to support the work of mobilizing the Episcopal Church for mission.
Preaching & worship
Preaching & worship
Margaret will preach about Gospel hope and the climate crisis at the 8:00 a.m. and 10:00 a.m. services of Holy Communion at
St. Anne's in the Fields Episcopal Church
in Lincoln, MA, and will lead an educational Forum between the two services. As the church's Website says, "We are a vibrant and loving Christian community, where we grow through ministries that challenge our minds, feed our souls, and open our hearts. The light and seasonal beauty of the natural world draw us into worship as we hear God's word and share the mystery of Christ's presence together.  Worship with us. Then go with us as we are sent into the world, strengthened for the work of transformation."
May 24, 2020
8:00 a.m., 10:00 a.m., 11:15 a.m.
Parish of the Epiphany
70 Church Street
Winchester, MA 01890
Preaching & worship Margaret will preach at the 8:00 a.m. and 10:00 a.m. services of Holy Communion at Parish of the Epiphany (70 Church Street, Winchester, MA).  After the second service, she will lead an adult education discussion from 11:15-12:15 p.m.
June 8, 2020
to June 8, 2020
Wilderness Edge Conference Center
Pinawa, Manitoba, CANADA
Anglican/Lutheran clergy conference/retreat in Manitoba Margaret will lead the annual Anglican/Lutheran Residential Study Conference, hosted by Diocese of Rupert's Land and Manitoba/Northwestern Ontario Synod.  The conference,"Spiritual resilience and leadership in a time of climate crisis," will be held at Wilderness Edge Conference Center, Pinawa, Manitoba, Canada.
Chaplain of the Week: "Faith to Save the Earth," Chautauqua Institution
Margaret will serve as Chaplain of the Week for the first week of the summer program of Chautauqua Institution, preaching on Sunday morning, June 27, at 10:45 a.m., speaking at the 5:00 p.m. Sunday night Vespers service, and preaching at the 9:15 a.m. service every weekday morning.
Climate Change: Prioritizing Our Global and Local Response
How we talk about climate change is rapidly shifting. But amid the ongoing political debates, how are we — and should we be — responding? What does prioritizing a response to climate change mean, and how do we collectively determine the overall benefits and costs of such investments? How do we balance proactive work aimed at reversing climate change with strategies for adapting to the realities of its worst effects? We examine case studies of solutions being sought at a global and local scale, from the work of small U.S. towns to foreign countries, and from corporate investments to military strategies.
Interfaith Lecture Theme :: Faith to Save the Earth
Climate change is often called a scientific or political issue, but is there an imperative that comes from a position of faith? In this week, we explore what role various faith traditions play in response to the care of the earth and how those different world views might be harnessed to prioritize our global and local response. For complete information, visit the Chautauqua Institution Website
here
. __________________________________________________________________________________________________ Are you new to Chautauqua Institution?  Here is a description: Chautauqua Institution is the famous and esteemed 145 year old institution located on our lovely Lake Chautauqua in western New York.  It is an ecumenical and interfaith community founded in 1874, whose mission it remains to promote the development of the best in human culture and values through the presentation of programming of excellence during our nine week summer Season in the areas of our four pillars:  Arts, Education, Religion, and Recreation.  It was at Chautauqua that a dynamic interdisciplinary approach to life-long learning was first given shape and meaning in our country, and throughout its illustrious history Chautauqua has drawn together well over twenty million life-long learners to engage in meaningful exchange of ideas on the important issues of the day.  It is at Chautauqua also that nine U.S. presidents have spoken, including Franklin D. Roosevelt, who delivered his "I Hate War" speech from our Amphitheater stage in 1936.  It is at Chautauqua that the most significant voices over the decades have spoken on matters that have shaped our world.  Chautauqua Institution thus offers one of the oldest and most prestigious lecture platforms in American history.
As President James Garfield said when he addressed the Assembly in 1880, "
It has been the struggle of the world to get more leisure, but it was left for Chautauqua to show how to use it."
  And as the great historian, David McCullough, said, "
There is no place like Chautauqua, not
anywhere else in the country, or anywhere in the world…" 
August 26, 2020
to August 27, 2020
Washington, DC
Conference
ecoAmerica
is hosting the 9th annual
American Climate Leadership Summit (ACLS 2020), on August 26-27 in Washington DC
. It will be bigger and bolder than ever, designed to build political will for climate solutions and a broader, more inclusive movement. Join over 500 attendees, 50%+ CEOs, from all sectors of America's society. Margaret will lead a presentation on spiritual grounding. For information and to register, visit
here
.
October 22, 2020
to October 25, 2020
Conference Margaret will be the keynote speaker for the Deep Green Faith conference sponsored by Center for Religion and Environment and by the Beeken Center, Sewanee: The University of the South.  Details to follow.