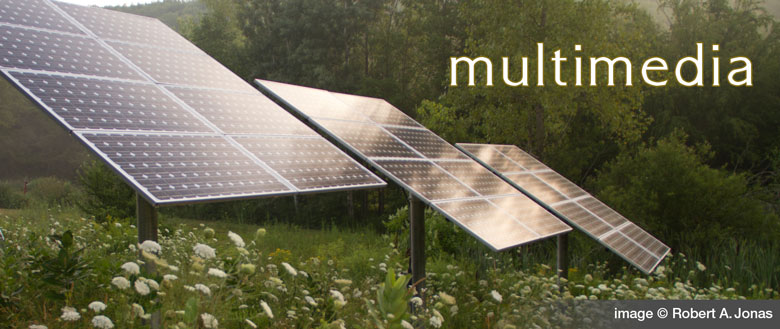 God So Loved The World: A Christian Call for Climate Action
"God So Loved The World" is a slideshow intended to inspire Christians to connect their faith with the urgent need to tackle global warming. It is available free of charge and lasts about 25 minutes.
"God So Loved The World" was co-produced by the Rev. Dr. Margaret Bullitt-Jonas, Dr. Robert A. Jonas, and The Canary Project, an organization that produces art and media to deepen public understanding of human-induced climate change and to energize commitment to solutions.
The slideshow is available as a Power Point or pdf, with a written script that should be read aloud as the slides are shown. The slideshow is particularly directed to the Episcopal Church in New England, but we hope that its message will speak to Christians of other denominations and in other places.
---
The Rev. Dr. Margaret Bullitt-Jonas preached on July 14, 2019, at St. John's Episcopal Church, Williamstown, MA, on "A plumb line in our midst: When we stop pretending about climate change."
---
The Rev. Dr. Margaret Bullitt-Jonas preached on April 15, 2018 at Federated Church of Orleans, on Cape Cod, Massachusetts: "You are witnesses of these things."
---
We carried out Exodus from Fossil Fuel: An Interfaith Witness for Climate Action at the Massachusetts Statehouse on Monday in Holy Week, shortly before Passover, on March 26, 2018. Deep thanks to Andrew Mudge of Blackkettle Films, who donated his time and skills to make this inspiring 4-minute video.
Click here to watch the video on YouTube.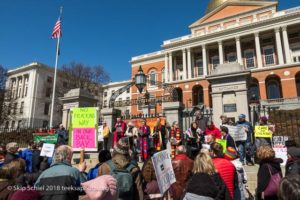 ---
Margaret leads a Christian ceremony of repentance for the Doctrine of Discovery, which is then burned and buried under a pine tree, as part of an Iroquois Peace Tree ceremony. The ceremony took place on October 7, 2017, at Agape Community in Hardwick, MA, where Chief Arvol Looking Horse, Beatrice Menase Kwe Jackson, and other Native American leaders and elders gathered with hundreds of people for "Listening to Native Voices: Standing Rock is Everywhere."
---
National Religious Coalition on Creation Care (NRCCC) recognizes the work and spiritual vision of Rev. Dr. Margaret Bullitt-Jonas by giving her the 2016 Steward of God's Creation award, on Sept. 12, 2016, in Washington D.C. After introductions by Connie Hanson, Rev. Tom Carr, and Rabbi Fred Scherlinder Dobb, Margaret describes her three-part "framework of the heart" for spiritual resilience in a time of climate crisis.
---