Text of a keynote address for "An Interfaith Climate Justice Meeting" organized by Springfield Area Interfaith Climate Action Network (SAICAN), held at First Church of Christ, Longmeadow, MA, on October 30, 2016
Thank you for inviting me to speak. I am excited by what you're up to as a coalition, and very interested to see what emerges from today's meeting.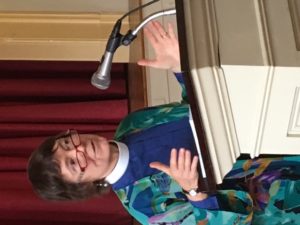 I have worked with some of you. Some of you I haven't yet met. But I greet all of you as friends. I am an Episcopal priest and a long-time climate activist, and I now have the world's longest job title. I work as "Missioner for Creation Care for the Episcopal Diocese of Western Massachusetts and for the Massachusetts Conference, United Church of Christ."
I am not a "missionary," a term that can evoke imperialist, colonial-era associations of forcibly converting someone to a religion, but rather a "missioner": someone who is sent out on a mission, serving a purpose greater than herself, out of the box, outside the boundaries of a building. And I'm a missioner for "Creation care," a term, it turns out, that some people confuse with "creationism," the belief that the universe originated from acts of God that are literally described in the Bible. Being a missioner for "Creation care" (not creationism) means that I'm trying to protect the beautiful world that God created. My Website is RevivingCreation.org, where you can find blog posts, sermons, articles, and more – including an article on how to start a green team, and an article on the roles that communities of faith can play in a time of climate crisis.
My job is like a swinging door: on the one hand, I preach, speak and lead retreats for people of faith, saying that we need to place the climate crisis at the center of our moral and spiritual concern and we need to take action. Then I turn, and I speak to activists who may have no particular faith tradition. I thank them for engaging in the struggle to protect the web of life, which is such urgent and difficult work. I tell them that the only way to keep going, without burning out or going off the rails, is to draw from inner resources of spiritual wisdom, from spiritual practices, and ideally from the support of a spiritual community.
Today the swinging door is an open door: people of faith and climate justice activists are here together in one place! How sweet it is! I hope we can break down (or at least soften) the false split of people into two camps: "spiritual" people (people who pray, meditate, and take time to contemplate beauty of the world; people who give thanks and who attend to their inner lives) and "active" people (people on the front lines who are serving, helping, organizing, advocating). I hope we can keep working to heal that false split, because right now we need people who can do both: people who can tap into their deep inner wisdom and who can also step out to take bold, creative action on behalf of life on this planet.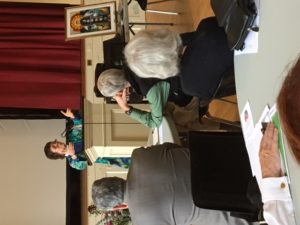 Christians often say that we need to be good "stewards" of the planet. That's true. But sometimes the word "steward" can sound rather wimpy, as if it's enough for us to recycle a can once in a while, or to turn off a light. I think we need a term that is more robust, more full of juice. Maybe we need to be "spiritual warriors" engaged in "sacred activism."
More than ever we need wise people, bold people, dedicated people, because we're in the midst of an emergency. The house is on fire. Through burning fossil fuels like coal, gas, and oil, in 200 years – just a blink in geologic time – we've pumped so much heat-trapping CO2 and other greenhouse gases into the air that atmospheric levels of CO2 are higher than they've been for millions of years. In a TED talk a few years ago, climate scientist James Hanson explained that the added energy (or heat) that we're pouring into the atmosphere is equivalent "to exploding 400,000 Hiroshima atomic bombs per day, 365 days per year. That's how much extra energy Earth is gaining each day." Not surprisingly, this is having a profound effect on planet. In his book Eaarth, Bill McKibben writes: "Our old familiar globe is suddenly melting, drying, acidifying, flooding, and burning in ways that no human has ever seen." Scientists tell us with increasing alarm that unless we change course fast, we're on a fast track to catastrophic, runaway climate change that would render the world very difficult to inhabit, perhaps in the lifetime of our children.
Last year Pope Francis released a powerful encyclical, Laudato Si', which opened up space for a new and more urgent conversation about the radical change of course that human societies must take if we wish to safeguard life on this planet and to build a just, sustainable society. If you haven't yet read Laudato Si, I hope you will. It's short, and you can download it from the Internet for free. I don't agree with everything in it, but it draws from the best of Judaeo-Christian tradition, it speaks to people of all faiths, and it gained ringing endorsements from religious leaders around the world.  Evangelical leaders expressed strong support; over 400 rabbis signed a Rabbinic Letter on the Climate Crisis; Islamic leaders from 20 countries released the Islamic Declaration on Climate Change; and Anglican bishops issued a fresh call for action on climate justice.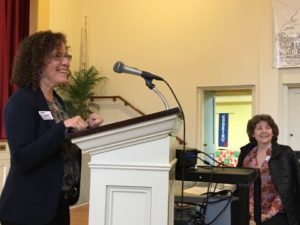 I've been a climate activist for many years, but I have never felt the rising tide of commitment and momentum that I now feel. I'm deeply thankful for that, even as I am keenly aware that we have a long struggle ahead. Every religion has issued some kind of statement about the moral and spiritual urgency of addressing the climate crisis – here is just one collection, Faith-based Statements on Climate Change, collected by Citizens Climate Lobby volunteers.
Climate change is obviously a scientific issue, an economic issue, a political issue, but it is also a moral issue, a justice issue. The poorest nations and the poorest citizens in each nation are those most vulnerable to climate change, because of flooding, food shortages, and the loss of clean water. As we see in Flint, Michigan, and right here in Springfield, the front-line communities most affected by fossil fuel pollution are often low-income communities and communities of color. The poor are often the people least responsible for causing climate change, and the people least equipped to protect themselves from its effects. As the Pope's encyclical makes crystal clear, healing the climate is closely connected with securing social justice, racial justice, environmental justice, and economic justice. We can see that very starkly in the struggle going on right now at Standing Rock in North Dakota, in the resistance to the Dakota Access pipeline. And climate change is about intergenerational justice, too, for right now we are stealing a habitable Earth from our children.
So climate change is a justice issue. And it's a spiritual issue, too. I titled these remarks "Climate change: An emergency of the heart," because in the face of the climate crisis, it's so easy to get emotionally overwhelmed, to go into panic mode and be flooded by anxiety, or to shut down entirely, go numb and not feel a thing, because we don't know what to do with our fear and anger and grief.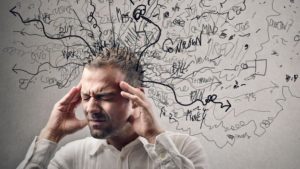 Each of you probably has your own favorite "go to" strategy for avoiding your feelings. Here are a few popular methods. Some of us get into our heads and give all our attention to mastering the facts – we intend to stay on top of every last fact about the rate of melting ice, every last bit of awful climate news, every single detail about the terms of a Senate bill. Don't get me wrong: I'm all for mastering essential facts and for educating ourselves and staying informed. But sometimes we can get so busy using our wonderful brains to analyze, memorize, conceptualize, and so on, that we lose touch with our inner landscape. Then we wonder why we're so short-tempered or why we woke up with insomnia or why we got into a car accident. It's only when we're connected with our feelings that we have access to our emotional intelligence, to our intuition and moral imagination. When we get into our heads and lose contact with our greater intelligence, we forget who we are and we act, as Joanna Macy puts it, like "brains on a stick."
Another strategy to avoid our feelings is to get really busy. If I stay super busy, if I have an endless list of things to do, if I try to cram in more tasks in a day than any human beings could possibly accomplish, then I won't have to feel the clench in my belly or the ache in my heart.
Addictive behaviors are another "go-to" strategy. Don't like what I'm feeling? Maybe it's time to do some shopping, eat another cookie, have a smoke, have a drink – there are lots of ways to go numb and repress what's going on inside.
Yes, we are in a climate emergency. We're also in an emergency of the heart.   We need to learn to be "first responders" to ourselves and to each other. We need to be gentle with ourselves and with each other. We can't think our way out of anxiety. So I will share three remedies, three spiritual practices for responding to the cry of the heart.
I invite us to pray. I invite us to explore practices that quiet our minds, bring us into the present moment, and help us listen to our deepest wisdom. This could include practices of mindfulness, practices of gratefulness, practices of meditation and contemplative prayer. Practices like these help us to open to the deep inner wisdom that is always speaking in our hearts. Practices of prayer and meditation help us to listen to the inner voice of love.
Here's a quote from Thomas Merton, the 20th century Trappist monk and prolific writer who practiced contemplative prayer: "If we descend into the depth of our own spirit and arrive at our own center, we confront the inescapable fact that at the root of our existence we are in immediate and constant contact with God."
That's a very different image of God than the one we may be used to. God is not "out there," far away in the heavens. God is "in here," closer than our next breath.
I invite us to allow ourselves to grieve. We have lost so much, and there is more loss ahead. I invite us to let ourselves feel the pain so that we are able to move forward and to be fully alive. Until we allow ourselves to grieve, parts of ourselves will stay numb, even dead.
A couple of weeks ago I attended a climate summit in Washington, DC, and I happened to be seated beside the Executive Director of the US Climate Action Network. Our task at each table was to do a go-round and to name the top three things that need to be done in order to tackle climate change. The first suggestion from this activist was: Grieve.
Let me add that there are two ways to grieve: one is to grieve alone, in a state of despair – the kind of grief that does not bring healing. The other way to grieve is to grieve within the embrace of love. If we believe in God, we do this when we pray our grief: we grieve in the presence of a loving God who embraces and shares in everything we feel. But whatever our religious beliefs, we can grieve with each other and we can hold each other with love.
Finally, I invite us to discover who we really are. I brought in this icon of St. Francis, who is often called the patron saint of ecology. You can see that Francis didn't think that that he was alone and that his identity stopped with his skin. He is interpenetrated by other creatures – by wolf, bird, turtle, and snake – and even by elements like wind and fire. He spoke of Brother Sun and Sister Moon.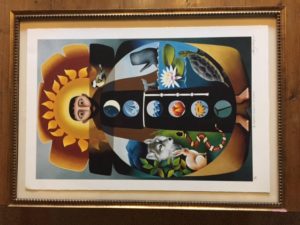 Francis' daily prayer was "Who are you, God, and who am I?" Pray that prayer for a while and see what happens! Our identity does not stop with our skin!
When we experience ourselves like that, as interpenetrated with all of life, then we know that when we take action to save life on earth, we do so in the company of the trees, of the earth and sky. When we stand up for life – when we get arrested in a protest against fossil fuels, when we divest, when we take whatever actions we're called to take – the trees are thanking us. The animals are thanking us. We are not alone. The whole creation is offering its support.
Thank you for the work you're doing to re-weave the web of life. I may have the title, "Missioner for Creation Care," but I only hold that title on your behalf. Each of you – everyone in this room, every single one of you – you too are missioners for Creation care.