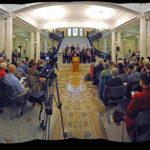 For the interfaith climate movement in Massachusetts, this is a day for lament, gratitude, hope, and praise.
Lament It's official: Massachusetts Interfaith Coalition for Climate Action – MAICCA, for short – is suspending operations, at least for now. The news went public yesterday. After a nearly three-year run, our Leadership Team concluded, after careful reflection, conversation, and prayer, to suspend future activities of MAICCA for the time being.
As we explained in our...