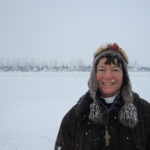 Faith and fear duke it out
I am not a brave person. In fact, I am quite familiar with anxiety. I know what it's like to wake up wide-eyed in the middle of the night, imagining the future with dread. Deciding to go to Standing Rock was not easy.
I heard in late November that Chief Arvol Looking Horse was...