Sermon for the Convention Eucharist, Episcopal Diocese of Western Massachusetts, held at Tower Square Hotel, Springfield, MA                                                                                                                              November 9, 2019
Delivered by the Rev. Dr. Margaret Bullitt-Jonas
"To live, we must daily break the body and shed the blood of Creation. When we do this knowingly, lovingly, skillfully, reverently, it is a sacrament. When we do it ignorantly, greedily, clumsily, destructively, it is a desecration. In such desecration we condemn ourselves to spiritual and moral loneliness, and others to want."
-- Wendell Berry,
The Gift of Good Land: Further Essays Cultural and Agricultural
(Berkeley, CA: Counterpoint, 1981), 281
John 10:10b-15
   A sacramental life: Rising up to take climate action
Friends, it is a blessing to be with you. Before I say another word I want to thank the many people who helped turn this windowless hotel room into a sacred space. Because of their creativity and generosity, we have four stunning new banners that represent elements of the natural world – banners that we hope you will borrow to use in your own church1 – and we have a baptismal font adorned with nature's beauty. Thank you – and thanks to everyone who had a hand in creating this service. I especially want to thank Geoffrey Hudson, composer of "A Passion for the Planet" and the musicians and members of Illuminati Vocal Arts Ensemble who are here to bring this music to life.
I am particularly moved to see the image of Earth placed on our altar. As you may remember, this photograph was taken in December 1972, by the crew of the Apollo 17 spacecraft on its way to the moon. It's called the "Blue Marble" because when the crew looked out the window, around 18,000 miles from the surface of the planet, the Earth was about the size of a marble. You could cover it with your thumb. Everything we know and love, every part of human history and experience is on that precious marble whirling in the darkness of space. That photo gave us our first glimpse of Earth as a whole, allowing us to see for the first time its unity, its fragility and vulnerability, and its preciousness.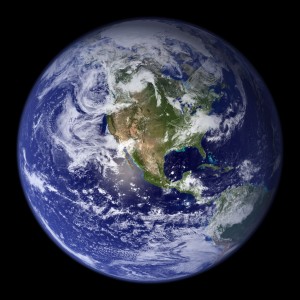 This flag has traveled with me to countless climate marches and rallies, and it touches me to bring it home to this altar, to lay it on this table where in every Eucharist we remember "God so loved the world" (
John 3:16
) that God loved into being, redeems in Jesus Christ, and sustains by the power of the Holy Spirit!
This is a good time to uphold the Earth in prayer, for we know that the living world is in a precarious state. Last year the
World Wildlife Fund released a report showing that globally the number of animals has plummeted by over half in less than 50 years. Humans have wiped out 60% of the world's mammals, reptiles, amphibians, birds, and fish since 1970
. We are in the midst of what alarmed scientists are calling a "
biological annihilation
." One expert commented: "
This is far more than just being about losing the wonders of nature, desperately sad though that is…This is actually now jeopardizing the future of people. Nature is not a 'nice to have' – it is our life-support system
."
Then came a major
report from the U.N.'s Intergovernmental Panel on Climate Change
, which showed that planetary warming is well underway and that time is running out to avert climate catastrophe. Because of the burning of coal, gas, and oil, and the logging of forests, our planet keeps breaking records for heat. Of course it is the poor and racial minorities and the historically marginalized that suffer first and hardest from the shocks and disruptions of climate change, although in the end, all of us will be affected. Earlier this week
more than 11,000 scientists from around the world issued a report that warns of "untold suffering" if we don't change course fast
. Scientists are generally a cool-headed, understated lot, right? So it's worth noticing when for the first time a large group of scientists calls climate change an emergency. Last year's IPCC report told us that in order to avoid runaway climate change we must carry out a radical transformation of society, from top to bottom, at a scale and pace that is historically unprecedented: today we have maybe eleven years in which to set a new course and to cut our emissions in half from their levels in 2010. Never before in human history has our species changed its way of living that dramatically and that fast.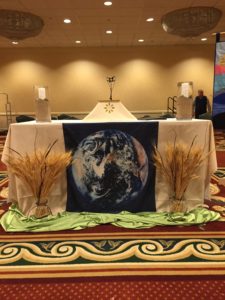 So that's where we find ourselves: on a beautiful, precious, but ailing planet, with the web of life unraveling before our eyes and only a short time in which to heal our ecosystems and create a more just and sustainable way of life. Well, when you hear stark news like that, it's easy to shut down. It's hard to face the grief, helplessness, and fear that our situation evokes. When we feel powerless to imagine, much less to create, a better future, we tend to put our heads down and carry on with business as usual, even if business as usual is wrecking the planet.
I'm very interested in how we move out of fear, inertia, and despair and into the movement to tackle climate change and social inequality – so interested, in fact, that a friend and I asked colleagues in the faith-and-environment movement to write about their sources of spiritual strength. What gives them courage? What gives them hope? Our anthology of essays, 
Rooted and Rising: Voices of Courage in a Time of Climate Crisis, 
has just been published. So I ask you: Where do
you
find courage to take action, even when the forces against us are great? What are
your
sources of strength and resilience in a perilous time?
As for me, I draw strength from the living presence of Jesus Christ within us and among us. "I came that they may have life," Jesus says to us today, "and have it abundantly" (
John 10:10
). That's a mission statement: he came
then
and he comes
now
to bring life – and not any old life, but a life that is lit up with meaning and purpose, a life that is animated by a fierce love that seeks to create a beloved community in which people live in harmony with God, with each other, and with the whole of God's Creation.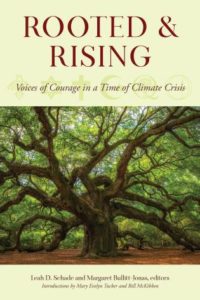 Jesus, the Good Shepherd of our souls, lived close to the earth. He walked in the desert and along the shores of a lake. He felt the wind on his face and he watched the night stars. He climbed mountains to pray, and in his teaching and parables he used earthy images of vines and bread and seeds, of lilies and sheep. Jesus was steeped in the rhythms of the natural world, and maybe it's no accident that when Mary caught her first glimpse of the Risen Christ, she mistook him for the gardener.
In a time of climate crisis, we are blessed to meet the Good Shepherd in every celebration of the Eucharist. This is where we find strength for the journey and where our moral courage is renewed. Maybe we should think of Holy Communion as our superpower. God has so much to give us and to show us in this sacrament!
For starters, Communion is good practice for living well on the Earth.
2
As we heard in the reading from Wendell Berry, everyone lives by eating. The question is whether or not we ruthlessly grab and grasp, turning into greedy "consumers" who must constantly replenish ourselves with material things in order to reassure ourselves that we're powerful, that we matter, and that we exist.
Holy Communion is a radically counter-cultural practice that can heal unholy consumerism. We savor a morsel of bread, take a small sip of wine, and in our attentive reverence to Christ's presence, we are filled. We share one loaf and one cup, and there is enough for everyone. In every Eucharist we discover to our amazement that in taking only what we need and in sharing what we have, our hearts our satisfied.
What's more – every Communion also reminds us how much God loves the whole Creation, not just human beings – as if we happen to be the only species that God cares about. When the celebrant lifts up the bread and wine during Holy Communion, all of Creation is lifted up. When the celebrant blesses the bread and wine, all of Creation is blessed. The consecrated bread that is placed in our hands is made of wheat, earth and sunlight, of rainwater and clouds, of farmers' hands and human labor. When we stretch out our hands to receive the bread, we take in what is natural and we take in Christ.
The bishops of New England described it like this in a Pastoral Letter
3
a while back: when "we nourish ourselves at the Eucharistic table… Christ gives himself to us in the natural elements of bread and wine, and restores our connections not only with God and one another, but also with the whole web of creation."
We are making that crystal clear in our prayers today, so you will notice that in the prayer after Communion, we have added five words. We will pray, as we usually do:
God of abundance, you have fed us with the bread of life and cup of salvation; you have united us with Christ and one another; and you have made us one with all your people in heaven and on earth,
and then come five new words: "
and with your whole Creation."

Why is this important? Because we come to this table so that everything in us and around us can be lifted up and blessed, so that everything in us and around us can be caught up in the redeeming love of God – not only we ourselves, and not only the bread and the wine, but also the whole of God's Creation, every leaf of it and every speck of sand. In every Eucharist we bring the Earth to the altar. We offer the world to God. And when we leave this table, we've been filled with the divine love that reconciles all things on heaven and Earth and that strengthens us to join God in healing and protecting our precious, wounded world.
When it comes to tackling the climate crisis, there are many actions that we can take as individuals and as communities of faith! I'm not going to list them here, because we've distributed a
handout of suggestions
and because
the resolution we'll discuss this afternoon is also full of suggestions
. But I will say this: Now is the time to preach boldly about the climate crisis. Now is the time to take clear and courageous action to safeguard the web of life that God entrusted to our care. Now is the time to join the climate justice movement and to bear witness to the Christ who bursts from the tomb and who proclaims that life and not death will have the last word.
"I have come that they may have life, and have it abundantly."
Will we be successful? Will we avert runaway climate change? I don't know. But I do know that every choice matters. Every degree of temperature-rise matters. I'm told that "
even a tenth of a degree Celsius means the difference between life and death for millions of people
."
I may have the title, "Missioner for Creation Care," but I hold that title on your behalf. Each of you – everyone in this room, every single one of you – you too are missioners for Creation care, because you, too, are fed at this table where we meet the life-giving and liberating and reconciling presence of Jesus Christ.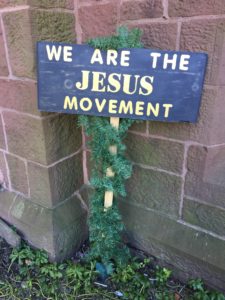 I'd like to end with a story about risking arrest for the first time and what it taught me about the Eucharist. Back in 2001 I was desperate to find a way to address the climate crisis, and I decided to join a new interfaith group, Religious Witness for the Earth, which was gathering in Washington, D.C., to protest the Administration's energy policy and its plan to drill for more oil in the Arctic.
Here's what happened: On the first day we learned about oil drilling and the Arctic, about climate change and fossil fuels. On the second we lobbied our members of Congress and studied the disciplines of non-violent civil disobedience. On the third, about a hundred of us marched down Independence Avenue in religious vestments, carrying banners and singing. When we reached the Department of Energy, an enormous stone structure surrounded by police, we held a brief worship service. So far, everything was legal. Then came the part that wasn't. I'll read from an essay I wrote
4
about what that was like.
The worship service was coming to an end. We sang "Amazing Grace," and then the twenty-two of us who had decided to risk arrest joined hands and walked slowly to the doors of the Department of Energy.
I felt us cross an invisible boundary. With the others, I stepped over a threshold I could not see. I walked out of my ordinary life.
I am neither a law-breaker nor a thrill-seeker. More often than not, I follow the rules – even enforce them. I fasten my seat belt, don't cheat on taxes, write thank you notes, and stand up when the band plays our national anthem. But here I was, intentionally and publicly breaking the law. As if some inner revolution had quietly taken place, the old "me" was no longer in charge. Whatever security I'd felt in operating within the rules was gone. That's partly why I felt so frightened as I left the safety of the circle and moved toward the door: I hardly recognized myself. I hardly knew who I was.
§§
We stand or kneel in prayer, our backs to the building.
The pavement under my knees is hard. At home, I often sit on a meditation cushion to pray. Today there is no cushion, just the weight of my body against stone. I lift up my hands. I'm dressed for Holy Communion. I might as well hold out my arms as I do at Communion.
Instead of pews filled with parishioners, I see ranks of police and a cluster of supporters. I am afraid. I've never been arrested before. Years ago, as a VISTA volunteer in Mayor Rizzo's Philadelphia I heard countless stories of police brutality. It's not that I really expect the same thing to happen to me – the punch in the gut, the assault behind closed doors. Still, my body tenses as I place myself against the cops, the Feds, the law.
I close my eyes. One by one we pray aloud, words thrown into space, words hurled against stone.
Is this whole thing ridiculous? I briefly open my eyes and notice a well-dressed man watching us. He strokes his tie, leans over and says something to a fellow nearby. The two of them chuckle. I have no idea what they're talking about but I wonder if they think we look absurd. I suppose we do. Here we are with our jerry-rigged signs, our predictably earnest songs and prayers of protest, a foolhardy band straight out of the '60's.
Defensively, I imagine confronting that mocking man with the arsenal of our credentials. "We're no rag-tag bunch," I want to tell him. "We're people with doctorates and master's degrees – nurses and ministers, writers and accountants. Thoughtful people, educated people, professionals."
I am distracted from prayer by this indignant outburst. "Let it go," wisdom tells me. "None of that matters -- your degrees, your skills, your status in the world. The privileges of race and class mean nothing now. You're a woman on your knees, that's who you are -- one human being pleading with God."
I turn my attention back to prayer and continue to stretch out my arms. Suddenly I realize that beneath the tension, beneath the fear and self-consciousness, something else is welling up. I am jubilant.
"Lift up your hearts," I might as well be saying to the people before me, beaming as broadly as I do at Communion.
"We lift them to the Lord," would come the response.
How did I miss it? After years of going to church, after years of celebrating Communion, only now, as I kneel on pavement and face a phalanx of cops, do I understand so clearly that praising God can be an act of political resistance. That worship is an act of human liberation. The twenty-two of us come from different faith traditions, but each of us is rooted in a reality that transcends the rules and structures of this world. Tap into that transcendent truth, let the divine longing for a community of justice and mercy become your own deepest longing, and who knows what energy for life will be released?
I feel as defiant as a maple seedling that pushes up through asphalt. It is God I love, and God's green earth. I want to bear witness to that love even in the face of hatred or indifference, even if the cost is great.
So what if our numbers are small? So what if, in the eyes of the police, in the eyes of the world, we have no power? I'm beginning to sense the power that is ours to wield, the power of self-offering. We may have nothing else, but we do have this, the power to say, "This is where I stand. This is what I love. Here is something for which I'm willing to put my body on the line."
I never knew that stepping beyond the borders of what I find comfortable could make me so happy. That shifting from self-preservation to self-offering could awaken so much joy.
I invite you to take a moment to remember a time when you took a brave step toward fullness of life, a time when you made a decision to do the right thing, even though you knew it would be difficult or costly. Who inspires you to be bolder than you thought? With whom do you hold hands, literally or figuratively, when you step out to make a difference in the world? And if you knew you could not fail – if you were set free from fear – what would you do for the healing of our world?
_________________________________________________________________________________________________________
1.
If your church in the Diocese of Western Mass. would like to borrow the banners, please contact the Dean of Christ Church Cathedral, the Very. Rev. Tom Callard (413/736-2742, ext. 1; email: tcallard (at) cccspfld.org).
2.
This and the following three paragraphs are adapted from "Second Friday of Advent,"
Joy of Heaven, To Earth Come Down: Meditations for Advent and Christmas,
by Margaret Bullitt-Jonas (Cincinnati, OH: Forward Movement, 2012, 2013), 35-36.
3.
"
To Serve Christ in All Creation: A Pastoral Letter from the Episcopal Bishops of New England
," issued February 2003.
4. 
Adapted from "When Heaven Happens" by Margaret Bullitt-Jonas, in
Heaven, ed. Roger Ferlo
(NY: Seabury Books, 2007), 74-85.