Sermon for the Fourth Sunday of Easter                          April 25, 2021
Delivered by the Rev. Dr. Margaret Bullitt-Jonas            
St. John's Episcopal Church, Boulder, CO
Acts 4:5-12
Psalm 23
1 John 3:16-24
John 10:11-18
Earth Sunday: "I am the good shepherd"
Today is Earth Sunday, the Sunday after Earth Day, when countless people across the country renew their commitment to restore the planet that we call home.  Earth Sunday always falls in Easter season, and this year it lands on the Sunday we celebrate as Good Shepherd Sunday. Scripture gives us many different ways to imagine Jesus.  In the Gospel of John, for instance, Jesus calls himself "the bread of life" (John 6:35), "the light of the world" (John 8:12) and "the true vine" (John 15:1) – images with their own resonance and meaning – but Jesus "the good shepherd" is the image that many of us treasure most.
I, for one, am grateful that this year Earth Sunday coincides with Good Shepherd Sunday, for I need to be drawn again into Jesus' consoling and empowering presence. Maybe some of you do, too.  As we take stock of the living world around us and consider the faltering health of our dear planet, we confess that the path that society has traveled for the last two centuries has led to an unprecedented human emergency: we are hurtling toward climate catastrophe and we are watching the web of life unravel before our eyes. Great populations of creatures – even entire species – have vanished in less than 50 years. In what scientists call a "biological annihilation," human beings have wiped out more than half the world's creatures since 1970.  Meanwhile, the relentless burning of coal, gas, and oil and the logging of forests are accelerating climate change, pushing our planet to break records of all kinds – as Secretary of State Antony Blinken commented the other day: "We're running out of records to break."
I know I don't have to belabor the details of what it's like to be at ground zero of the climate crisis.  My heart goes out to all of you in Boulder who are already experiencing the effects of a fast-warming climate, from extreme weather events to droughts and wildfire.
Intertwined with our ecological challenges are the social justice challenges of economic inequity and white racism.  After the trial of Derek Chauvin, convicted this week of killing George Floyd, and in light of the movement for racial justice that has been surging for months across this country, many of us are reflecting deeply on our country's heritage of white supremacy. Racial justice is closely tied to climate justice – in fact, I've heard it said that we wouldn't have climate change without white supremacy.  Where would we put our urban oilfields – where would we put our dumping grounds and trash, our biomass plants, our toxic incinerators and other polluting industries – if we weren't willing to sacrifice Black, indigenous, and people of color communities?  In the words of Hop Hopkins, the Sierra Club's Director of Organizational Transformation, "You can't have climate change without sacrifice zones, and you can't have sacrifice zones without disposable people, and you can't have disposable people without racism."
1
In a world of so much injustice, violence, and uncertainty, where a mass shooting can take place in your local grocery store and a beloved landscape can go up in flames, where do we turn for solace and strength?  We turn to the Good Shepherd of our souls.  How does his presence speak to you this morning?
What I notice is that, as our good shepherd, Jesus holds everyone and everything together.  A shepherd is the person charged with keeping the flock intact, united, and heading in the right direction.  I find it reassuring to contemplate the image of God in Christ drawing us into something unified and whole, because right now so much seem to be splintering and breaking apart. The tapestry of life that was once intact is being torn apart as greenhouse gas emissions disrupt the planet's atmosphere. Our human communities are likewise being torn apart by political division, economic division, racial division.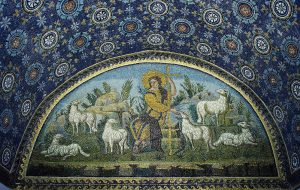 When we turn to the Good Shepherd, we touch the sacred unity within and beyond all things. We touch the Ground of our being.  We meet the One in whom all things hold together (
Colossians 1:17
) – everything within us, everything around us.
Maybe you remember the puzzle
2
which consists of nine dots on a page, lined up in rows of three. The challenge is to connect the dots by making four straight lines without once lifting your pencil from the page.  Try it however many times you like, but the only way to connect all nine dots with just four straight lines is to go outside the borders of the box.  Solving this puzzle is an example of "thinking outside the box," of moving beyond a given paradigm in order to perceive or to accomplish something that otherwise couldn't be perceived or accomplished.
That's what it's like to experience the Good Shepherd: in the midst of a world in which everything seems to be divided and falling apart, we sense an underlying wholeness and unity. We sense a love that embraces all things, connects all things, sustains all things. On the surface, in the realm of our five senses, we see mainly differences, what divides us from each other, but in the deep center of reality we meet the good shepherd who holds everything together, drawing us into community with each other and drawing us into communion with God.
We hear the shepherd's voice when we take time to quiet ourselves, when we sit in solitude and silence and listen to the inner voice of love that is always sounding in our hearts. The good shepherd is the one who knows us through and through and who calls us each by name.  Held in the embrace of that intimate love, we don't have to keep trying to hold ourselves together – we are free to let go, free to fall apart, free to let ourselves feel our grief, feel our anger and fear as we respond to the climate crisis and to all the challenges of our lives.  The good shepherd is there to hold what we cannot hold, there to listen, there to protect and keep company, there to help us understand how deeply we are loved – and not just we ourselves, but all people – and not just all people, but all beings, the whole of God's creation.
In the presence of the Good Shepherd, we remember that there is more that unites us than divides us. And the movement toward unity keeps getting larger. As Jesus says, "I have other sheep that do not belong to this fold. I must bring them also, and they will listen to my voice. So there will be one flock, one shepherd" (
John 10:16-17
).  And so – beneath all our differences of race, class, gender, and political party, beneath all the ways that humans try to separate ourselves from each other and from the rest of the natural world, presuming that we can dominate and destroy with impunity – Jesus reminds us that in fact we belong to one living, sacred whole.
Every time we tap into the deep-down truth of our essential belovedness, we discover fresh energy for life.  We tap into the same wave of Easter hope that filled the first followers of Jesus.  When they saw that the stone had been rolled away from the tomb, when they met the Risen Christ in their midst and in their hearts, when they realized that life and not death would have the last word and that nothing could separate them from the love of God, their lives were filled with fresh meaning and purpose.  They realized that they belonged to a sacred mystery that was larger than themselves, to a love that would never let them go. Even though they were still mortal and frail, still vulnerable and imperfect people in a big, chaotic world, they knew that they participated in a long story of salvation to which they could contribute, every moment of their lives, by choosing compassion over indifference, kindness over cruelty, love over fear.  Their inner liberation gave them courage to resist the forces of death and destruction, and to obey God rather than any human authority (
Acts 5:29
).
Today's passage from the Book of Acts is a case in point: the witness of the first Christians got them into all kinds of trouble. Peter and the other early Christians were accused of "turning the world upside down" (
Acts 17:6
), and their commitment to God, and to the Good Shepherd of their souls, apparently led many of them to spend as much time inside as outside the walls of a jail.  Their witness to a transcendent, all-embracing Love shook the foundations of their society.
That same wave of Easter hope fills Christians today and carries us now, every one of us who feels impelled to join our Creator in re-weaving the web of life, in building a gentler and more just society, and in getting us into what Representative John Lewis called "good trouble" as we fight to keep fossil fuels in the ground, where they belong, and to dismantle white supremacy. We can do this from a heart of love. On this Earth Sunday, we give thanks for the Good Shepherd and we renew our resolve to be a blessing to the Earth that God entrusted to our care.
____________________________________________________________________________________________________
1. Hop Hopkins,
"Racism Is Killing the Planet": The ideology of white supremacy leads the way toward disposable people and a disposable natural world
, June 8, 2020.
2. "
Thinking outside the box
," Wikipedia (accessed April 25, 2021)
The whole service may be
viewed on YouTube on the channel for St. John's Episcopal Church
.  Rev. Margaret's sermon begins at 20:18.