June 28, 2020
This is the first in a series of six sermons on the theme "Faith for the Earth," delivered by the Rev. Dr. Margaret Bullitt-Jonas as chaplain for the first week of the inaugural session of
CHQ Assembly
, the new online summer program of
Chautauqua Institution
in NY.
John 15:9-13
Faith for the Earth: Love and fear in a time of emergency
I chose this morning's Gospel text because I want to speak about love and fear in a time of emergency.  For Christians it's a familiar passage from the section of John's Gospel that we call Jesus' farewell address. The scene is the Last Supper, and Jesus is beginning to say goodbye.  He knows that his life will be cut short and that the next day he will die. In this perilous moment he does what most likely we would do if we knew that our lives were on the line and that at any moment we could die: he tries to express what matters most. So, he gives a long riff on love: "As [God] the Father has loved me," he says, "so I have loved you; abide in my love… Love one another as I have loved you.  No one has greater love than this, to lay down one's life for one's friends."
That call to love is at the heart of every religious tradition – which brings to mind a poem by Michael Leunig:
1
There are only two feelings.  Love and fear.
There are only two languages.  Love and fear.
There are only two activities.  Love and fear.
There are only two motives, two procedures,
two frameworks, two results.
Love and fear.
Love and fear.
So, let's talk about fear.  Fear is everywhere these days. We know how visceral the feeling of fear can be.  We feel it in the tight clutch in our stomach and in our racing pulse and rapid, shallow breaths.  Fear can freeze us in our tracks, so that we are paralyzed in helpless inertia and feel powerless to take action. And fear can push us to lash out violently and fight.  Fear can also make us vulnerable to authoritarian leaders. On the one hand, they may tell us not to be frightened about the coronavirus or about police brutality or racial injustice or economic injustice or climate change. "Don't worry," they tell us. "We've got it handled. There is no problem here. There's nothing to be afraid of." On the other hand, the powers-that-be may try to stoke our fears, telling us that we'll be safe if we turn against each other and build walls that keep each other out and keep each other down.  Fear can goad us to try to oppress and dominate other people, and fear is what drives the politics of "divide and rule."
But fear can be precious, too, a vital signal that alerts us to genuine danger. Regarding the health of planet Earth, there is good reason to be afraid.  Scientists are reporting with increasing alarm that the web of life is unraveling before our eyes and that human civilization is at risk of collapse.  Just imagine: the number of animals around the world has plummeted by over half in less than 50 years, mostly by the destruction of habitat.
Human activity has wiped out 60% of the world's mammals, reptiles, amphibians, birds, and fish since 1970
.  With dismay, scientists are describing what they call a "
biological annihilation
," and one expert commented: "
This is far more than just being about losing the wonders of nature, desperately sad though that is…This is actually now jeopardizing the future of people. Nature is not a 'nice to have' – it is our life-support system
."
It's not just great numbers of animals that are disappearing because of human activity; entire species are being wiped out at accelerating speed. We're in the midst of a mass extinction event, and
research just published by the National Academy of Sciences
shows that we are racing faster and closer toward the point of ecological collapse than scientists previously thought, with maybe ten years left to take action.
Meanwhile the planet just keeps getting hotter and hotter as we burn fossil fuels. The level of
greenhouse gases in the air hit a record high last month
and
Earth just passed its warmest May on record
.
Siberia is experiencing a prolonged heatwave that climate scientists call "
undoubtedly alarming
." Just this week, one little
town in Siberia recorded a temperature of 100º degrees Fahrenheit
.
The people hurt first and hardest by the effects of a changing climate are almost always people in poor and low-wealth communities, often indigenous people and people of color, so the struggle to tackle climate change is a struggle for justice, too. But in the end, unless we change course fast, none of us will be able to leave our children and our children's children a habitable world. 
The U.N.'s Intergovernmental Panel on Climate Change warns that we have just a short span of time
– now, maybe ten years – in which to avert a catastrophic level of global warming.
So, are we afraid?  You bet we're afraid, and if we're not, we ought to be.  Fear is the appropriate response to a frightening reality, and fear can propel us to take urgently needed and long-delayed action. So, I thank God for prophets like Greta Thunberg, the Swedish teenager and climate activist who launched the school strikes for climate that galvanized the world community and inspired millions of people across more than 150 countries to take to the streets last year. When
Greta addressed the World Economic Forum, she said, "I don't want you to be hopeful.  I want you to panic.  I want you to feel the fear I feel every day. And then I want you to act. I want you to act as you would in a crisis. I want you to act as if our house is on fire.  Because it is
."
I thank God for the climate justice movement, the human rights movement, the indigenous rights movement, for the Sunrise Movement and Extinction Rebellion, for the Poor People's Campaign, and for the thousands upon thousands of people across this country who have been pouring into the streets day after day to say that they are sick and tired of institutional racism and sick and tired of being afraid.  Thank God for all the people who are willing to face their fear, to empathize with other people's fear, and to stand together.  Thank God for all the people who refuse to turn away from each other or to turn against each other, but who decide instead to turn toward each other, to join forces and join hands in ways that truly the world has never seen before.
Jesus says to us today: "Abide in my love.  Love one another as I have loved you." Our fear may be strong, but we can place our fear, and all the intense feelings being stirred up in this time of uncertainty, within something bigger. We can experience our fear within the embrace of love.  Jesus reminds us that we are infused and surrounded by a divine love that holds us together, that lives in our hearts, and that will never let us go. God loves us and God's whole Creation with a love that nothing can destroy. As we breathe that divine love in and as we share it with each other, our moral courage and strength are renewed.  We may still be afraid, but we don't have to settle for a life that is overcome by fear.  As the Persian poet Hafiz once put it, "Fear is the cheapest room in the house.  I'd like to see you in better living conditions."
2
Will our efforts be successful?  Will we avert runaway climate change?  I don't know.  But I do know that every choice matters.  Every degree of temperature-rise matters. "
Even a tenth of a degree Celsius means the difference between life and death for millions of people
."
And love matters.  Love matters most of all.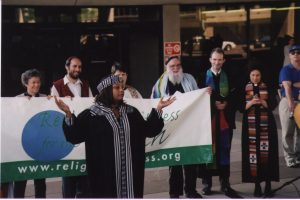 I will end with a story about love and fear.
3
  Back in 2001 I gathered up my courage and decided to carry out my first extended act of civil disobedience. I joined a new interfaith group, Religious Witness for the Earth, and headed to Washington, DC, to protest the Administration's intention to drill for more oil in the Arctic.
Here's what happened: about a hundred of us from different faith traditions marched down Independence Avenue in our diverse religious vestments, carrying banners and singing. When we reached the Department of Energy, which was surrounded by police, we held a brief worship service. So far, so good: everything was legal.  Then came the part that wasn't.
At the end of the worship service, we sang "Amazing Grace," and the twenty-two of us who had decided to risk arrest joined hands and walked slowly to the doors of the Department of Energy. I felt us cross an invisible boundary.  With the others, I stepped over a threshold I could not see.  I walked out of my ordinary life.
I'm not a lawbreaker or a thrill seeker, and I usually follow the rules, but here I was, intentionally and publicly breaking the law.  As if some inner revolution had quietly taken place, the old "me" was no longer in charge.  Whatever security I'd felt in operating within the rules was gone.  That's partly why I felt so frightened as I left the safety of the circle and moved toward the door: I hardly recognized myself.  I hardly knew who I was.
We stand or kneel in prayer, our backs to the building.
The pavement under my knees is hard.  At home, I often sit on a meditation cushion to pray.  Today there is no cushion, just the weight of my body against stone.  I lift up my hands.  I'm dressed for Holy Communion.  I might as well hold out my arms as I do at Communion.
Instead of pews filled with parishioners, I see ranks of police and a cluster of supporters.  I am afraid.  I've never been arrested before.  Years ago, as a VISTA volunteer in Mayor Rizzo's Philadelphia, I heard countless stories of police brutality.  It's not that I really expect the same thing to happen to me – the punch in the gut, the assault behind closed doors.  Still, my body tenses as I place myself against the cops, the Feds, the law.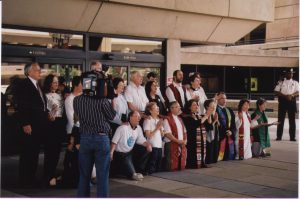 I close my eyes.  One by one we pray aloud… Suddenly I realize that behind the tension, behind the fear…, something else is welling up.  I am jubilant.
"Lift up your hearts," I might as well be saying to the people before me, beaming as broadly as I do at Communion.
"We lift them to the Lord," would come the response.
How did I miss it?  After years of going to church, after years of celebrating Communion, only now, as I kneel on pavement and face a phalanx of cops, do I understand so clearly that praising God can be an act of political resistance.  That worship is an act of human liberation.  The twenty-two of us come from different faith traditions, but each of us is rooted in a reality that transcends the rules and structures of this world.  Tap into that transcendent truth, let the divine longing for a community of justice and mercy become your own deepest longing, and who knows what energy for life will be released?
I feel as defiant as a maple seedling that pushes up through asphalt.  It is God I love, and God's green earth.  I want to bear witness to that love even in the face of hatred or indifference, even if the cost is great.
So what if our numbers are small?  So what if, in the eyes of the police, in the eyes of the world, we have no power?  I'm beginning to sense the power that is ours to wield, the power of self-offering.  We may have nothing else, but we do have this, the power to say, "This is where I stand.  This is what I love.  Here is something for which I'm willing to put my body on the line."
I never knew that stepping beyond the borders of what I find comfortable could make me so happy.  That shifting from self-preservation to self-offering could awaken so much joy.
Love and fear.  Love and fear.  I invite you to take a moment for reflection. When it comes to the climate crisis, under what circumstances might you be willing to risk arrest and to carry out an act of nonviolent civil disobedience?  Of course, civil disobedience is not the only path of resistance. We are communities with many personalities and gifts. But if you knew you could not fail – if you were set free from fear – what would you do for the healing of our world?
________________________________________________________________________________________________________
1. Michael Leunig,
A Common Prayer
(NY: HarperCollins, 1991).
2. Hafiz, quoted by Jack Kornfield,
The Art of Forgiveness, Lovingkindness, and Peace
(New York: Bantam Books, 2002), 83.
3. Margaret Bullitt-Jonas, "When Heaven Happens," in
Heaven
, ed. Roger Ferlo (New York: Seabury Books, 2007), 78-81.