June 30, 2020
This is the third in a series of six sermons on the theme "Faith for the Earth," delivered by the Rev. Dr. Margaret Bullitt-Jonas as chaplain for the first week of the inaugural session of
CHQ Assembly
, the new online summer program of
Chautauqua Institution
in NY.
Hosea 4:1-3
Faith for the Earth: What is breaking our hearts?
We spoke yesterday about God inviting us to listen deeply, especially to voices that have long been silenced or ignored – to the voices of the poor, the voices of black and brown and indigenous peoples, and to the voices rising from the living Earth itself – for if we listen with the ear of the heart, surely we can hear, as the prophet Hosea puts it in today's reading, that the land itself is mourning, "and all who live in it languish; together with the wild animals and the birds of the air, even the fish of the sea are perishing."
How do we pray with all this?  How do we pray with the things that are breaking our hearts – the dying coral and acidifying oceans, the animals that are leaving us, and the web of life that is unraveling before our lives?  Scientists say that unless we change our way of living fast, entire eco-systems could begin to collapse, starting in the next ten years.  What do we do with this information?  Do we shrug it off (
I can't deal with that!  That's someone else's problem!
)? Do we shut down inside, go numb and slip into despair?  It's difficult to face the predicament in which we find ourselves, and our culture gives us endless opportunities to turn away and distract ourselves with mindless consumption and entertainment.  Still, I don't think any of us have found that shopping or snacking or swilling alcohol can ease the anguish we feel inside.
In my view, one essential remedy is prayer. Bold action is urgent and necessary, but action alone won't give us the strength or wisdom to sustain the hard struggles ahead. And if Hosea got it right – if what's ultimately wrong with the world is that there is "no knowledge of God in the land," if he's right that the ultimate source of our troubles is spiritual disconnection – then surely part of the remedy is prayer.  For, as Hosea says, when there is "no knowledge of God," then "swearing, lying, and murder" break out among human beings – "bloodshed follows bloodshed" – and the land mourns, and wild creatures languish and perish. Hosea understands that a broken relationship with God leads to a broken relationship with each other and with the Earth. If we abandon the love and justice of God and get locked into patterns of abusing each other and abusing the land, the remedy is repentance and amendment of life.  The remedy is to dismantle the systems that exploit people and the planet.  The remedy is to restore our connection to God, to our souls, to each other, and to the Earth upon which all life depends.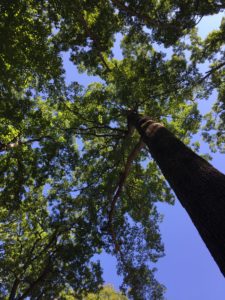 So I'm all in with Hosea.  The climate crisis is not just a scientific or political or economic crisis – it's also a spiritual crisis, one that summons us to do everything we can to restore within ourselves – and to encourage in our communities – a lively, vital relationship with our divine Source who brings courage where there is despair, love where there is hate, and inspiration when a path forward is hard to see.  In these challenging times, we need spiritual resilience. We need to connect with the divine lover of our souls. We need to root ourselves in the presence of a Higher Power so that we can rise up to take effective action.
Last year, a book I co-edited with a friend of mine, Leah Schade, was published.  It's an anthology of essays by 21 colleagues in the faith-and-climate movement who speak about the spiritual practices and perspectives that sustain us as we work to create a more just and sustainable future. The book is titled
Rooted and Rising: Voices of Courage in a Time of Climate Crisis
, and I'd like to read a short excerpt from my chapter, for it's all about prayer.
1
In times like these, our prayer may need to be expressive and embodied, visceral and vocal.  How else can we pray with our immense anger and grief? How else can we pray about ecocide, about the death that humanity is unleashing upon Mother Earth and upon ourselves?  How else can we break through our inertia and despair, so that we don't shut down and go numb? …It's important to protect our human capacity to feel our emotional responses to the crisis, for that is how we stay inwardly vital and alive.  Just as important, our emotions can become a source of energy for constructive action to address the emergency.  Prayerful lament and protest can be an act of resistance, a way of shaking off the dominant consumer culture, which prefers that we stay too busy, dazed, and distracted to feel a thing.
My prayer takes many forms.  Recently a company began cutting down trees in the woods behind my home, clearing space for co-housing, an intentional neighborhood of private homes that share a common area and develop a strong sense of community. I'm all for co-housing and I've met some nice people who plan to live there, but, honestly, I grieve the trees. They have been companions to me, and sources of beauty.  They are living presences that I know play a vital role in keeping life on Earth intact. Scientists tell us that we can't stabilize the climate unless we save trees.  Preserving forests is critical to combating climate change.2
Because of all this, I've taken to praying outdoors.  I go outside, feel the good earth beneath my feet and the wind on my face, and I sing to the trees, to oak and beech, hemlock and pines.  Making up the words and music as I go along, I sing my grief to the trees that are going down, and my grief for so much more – for what we have lost and are losing, and for what we are likely to lose.  I sing my outrage about these beautiful old trees being cut to the roots, their bodies chipped to bits and hauled away to sell. I sing my fury about the predicament we're in as a species.  I sing my protest of the political and corporate powers-that-be that drive forward relentlessly with business as usual, razing forests, drilling for more oil and fracked gas, digging for more coal, expanding pipeline construction, and opening up public lands and waters to endless exploitation, as if Earth were their private business and they were conducting a liquidation sale.  I sing out my shame to the trees, my repentance and apology for the part I have played in Earth's destruction and for the part my ancestors played when they stole land from the Native peoples who lived here and chopped down the original forests.  I sing my praise for the beauty of trees, and my resolve not to let a day go by that I don't celebrate the precious living world of which we are so blessedly a part.  I'm not finished until I sing my determination to renew action for trees and all of God's Creation.
I feel God's presence when I pray like that.  I dare to believe that the Spirit who longs to renew the face of the Earth is praying through me.  Praying like this leaves me feeling more alive, more connected with myself and with the world I love.
What kinds of prayer restore your connection with God?  These days many people across the country are praying in the streets, propelled by love and a fierce need for public mourning and public lament.
3
  Some people are praying alone in their rooms and in silence, listening to the inner voice of love that is always sounding in our hearts, listening to their breath as they breathe God in and breathe God out.  Some people find that music helps them pray, and I commend a new piece called "
A Passion for the Planet," a climate oratorio composed by Geoffrey Hudson
, which, broadcast free on the internet, in less than one hour carries the listener through the wide range of feelings evoked by the climate crisis.  That can be another way to pray.
I encourage all of us to pray, to find ways, as Hosea might put it, to restore knowledge of God in the land.  Prayer is what leads us, alone and together, into an unshakable union with a love that is stronger than death. Trusting in that love, guided by that love, we will know what is ours to do and, God willing, may be led to take actions commensurate with the emergency we are in.
________________________________________________________________________________________________________
1. Margaret Bullitt-Jonas, "Love Every Leaf
,
"
Rooted and Rising: Voices of Courage in a Time of Climate Crisis
(Rowman & Littlefield, 2019), 175-76.
2.
"
We Can't Save the Climate Without Also Saving the Trees. Scientists agree: Preserving forests is critical to combating climate change
," by John J. Berger, Sierra Magazine, October 29, 2018.
3.
Rev. Dr. William J. Barber II, "
Accepting Death is Not an Option, Anymore
," a sermon preached at Washington National Cathedral, June 14, 2020