July 3, 2020
This is the last in a series of six sermons on the theme "Faith for the Earth," delivered by the Rev. Dr. Margaret Bullitt-Jonas as chaplain for the first week of the inaugural session of CHQ Assembly, the new online summer program of Chautauqua Institution in NY.
Song of Solomon 2:10-13
Faith for the Earth: What will sustain us in the struggles ahead?
I'm imagining that many of you recognize this passage from the Song of Solomon, which is often read at weddings. The Song of Solomon – also known as the "Song of Songs" – is a collection of sensual poems between two lovers who delight in each other and who long to consummate their desire. It turns out that Christian mystics wrote about the Song of Songs more extensively than about any other book in the Bible, interpreting these poems as a passionate conversation between God and the soul.
I'm drawn to this passage today because it's tough to pay attention to what's happening to Mother Earth and our fellow creatures, to our oceans, forests, and waterways, to the very air we breathe. As a species we are hurtling willy-nilly down a suicidal path that is bringing down human communities and the very web of life as it has evolved for millennia. What will sustain us in the struggles ahead? I hear an answer in these words: "Arise, my love… and come away."
In a challenging time, it is empowering to remember that God is a lover who is always reaching out to us, always speaking in our depths, always luring us to stay in relationship with each other, with Earth, and with God. For here is God, reaching out a hand to pull us into the dance of life. That's one way that Christians understand the Holy Trinity: as a dance of love between the lover, the beloved, and the love that flows between (Augustine). "Come on in," says God, "and join the dance!" "Arise, my love," God says to our soul. "Arise and come away."
The inner voice of love is quiet. We hardly hear it amid the roar and bustle of the world. We hardly sense it when we're gripped by worry, depression, or alarm. That's why many of us reclaim a practice of prayer: we know we will hear the inner voice of love only if we practice stillness, only if we regularly set aside some time in solitude to steady our minds and to listen in silence for the love of God that is always singing in our hearts.
As our minds grow quiet and as our stillness grows, a holy Someone – capital S – beckons to us in the silence: "
Arise, my love… and come away
." It's the voice of Jesus, the voice of Spirit, the voice of God. "
Arise, my love
." From what do you need to arise? Maybe the Spirit is saying:
Arise from apathy, numbness, and fear. Arise from the agitation that holds you in its grip. Arise from hopelessness, for I will give you strength. Arise from loneliness, for I am with you, and I love you. You are my love, says the Spirit. I see your beauty, your intelligence, courage, and resolve, and you are precious in my sight. Arise and come away – away from the cult of death, away from the path of destruction, away from the lie that your efforts to protect life are useless. Come with me and join in the dance of life. Come be a sacred warrior, a warrior for the common good. I will help you find your place in the great struggle to protect life and to build a more just society.
"But," we may protest, feeling helpless before the horrors of the world, helpless before its injustice and needless suffering. "Who am I? I have no power."
Arise.

"What can I do? What can any of us do? It is too late to make a difference!"
Arise.
"I don't have time. I don't have energy. I've got other things to deal with."
Arise.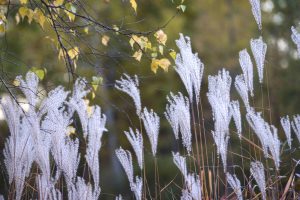 The voice of love is like that, right? It may be soft and hard to hear in a noisy world, but it is persistent. It may be subtle, but it never goes away. The love that created the universe, the love that stirs in our depths, the love that is awakening our hearts – that holy love sends us out into the world to become beacons of light, warriors for truth, and protectors of life. I may have a thousand and one reasons to dodge love's call, but then it comes again, that voice:
Arise. I love you. I need you. I am calling from the trees, from the wind, from the very stones beneath your feet. I am calling from the orcas and the salmon, from the black bear and the mountains, from the fig trees and the vines. I am calling from the strangers who are not really strangers, but brothers and sisters, siblings you don't yet recognize, those who are suffering right now from a wounded Earth and a changing climate. I am calling from the future, from the men, women and children who will inhabit this planet long after you are gone and who depend on you to leave them a habitable world. Arise, my love, and join the effort to save our precious planet. Arise!
When we stand in the holy presence of God, we are given fresh strength to renew the face of the Earth. And we arise, joining with indigenous leaders to protect the water and the land, joining with activists to stop new pipelines, joining with city-dwellers to renew crumbling communities beset by poverty and racism, joining with young and old to plant new forests. We cast our lot with people of faith and spirit who have been awakened – as we have been awakened – by a fierce longing to join the dance of life.
What does it look like when we join God's dance of life? Maybe we cut back strongly on our use of fossil fuels. Maybe we eat local, eat organic, and move to a plant-based diet – for eating less meat turns out to be one of the most climate-friendly things we can do. Maybe we start a compost pile, visit a farmer's market, support our local land trust, or have a friendly, socially distanced chat with a neighbor we've never met before. We need to build up our local communities and to live in ways that are closer to the earth, more life enhancing, more about sharing than consuming, more about self-restraint than self-aggrandizement, more about generosity than fearful survivalism, so that we can take care of each other when the hard times come. There are some very useful Websites that show us how to cut back on our use of fossil fuels, such as
LivingTheChange.net
and
WeRenew.net
.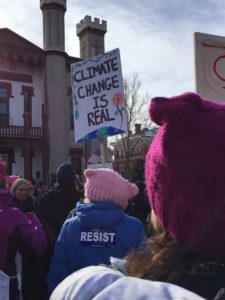 Individual changes are important, but because of the scope and speed of the climate crisis, we need more than individual action – we need systemic change, too. So, we'll need to use our voices and our votes, and make it politically possible to do what is scientifically necessary. We can support the growing movement to hold Big Polluters like Exxon and Koch Industries financially and legally liable for the damages they knowingly caused (and continue to cause). We can lobby for policies that support renewable energy, clean green jobs, and a just transition that addresses the needs of poor and low-wealth communities and communities of color. If we have financial investments, we can divest from fossil fuels. If we're college graduates, we can push our alma mater to divest. If our religious institutions haven't yet divested from fossil fuels, we can urge them to do so – just last week the
Vatican urged all Catholics to divest from fossil fuels
. Maybe we can join the growing numbers of resolute and faith-filled people who carry out peaceful civil disobedience and put our bodies on the line. Together we need to grow the boldest, most visionary, inclusive, powerful, hope-filled, hands-on, feet-on-the-ground, shoulder-to-the-wheel political and social movement that humanity has ever seen.
What will sustain us in the struggles ahead? The love of God, the power of community, and the resolve to join together to heal and serve and reconcile. In whatever ways we step out to join the dance of life, we will take risks we never imagined we would take. We will connect with people we never imagined we would meet. And we will make more of a difference than we will ever know.
I give thanks for the ways that the Spirit is speaking in our hearts right now and for the ways that you are already responding to its call: "Arise, my love… and come away."