Homily for the Eighth Sunday after Pentecost
Sunday, July 18, 2021
Delivered online by the Rev. Dr. Margaret Bullitt-Jonas at Trinity Episcopal Church, Chicopee, MA
Mark 6:30-34
Healing the climate crisis
"[Jesus] said to them, 'Come away to a deserted place all by yourselves and rest a while.' For many were coming and going, and they had no leisure even to eat." (
Mark 6:31
)
What a blessing to be with you this morning! Thank you, Pastor Daphne, for inviting me. As you know, I serve as Missioner for Creation Care in our diocese, and I travel from place to place, speaking about God's love for our beautiful, precious planet and our call as faithful followers of Jesus to rise up together at this critical moment to heal and restore the Earth that God entrusted to our care. It is particularly sweet to join you on the day after you embarked on a cleanup project – thank you for your stories! Please know that it warms my heart and lifts my spirits to know that the good folks at Trinity Episcopal are stepping up and stepping forward, joining with countless people of faith around the world who understand that now is the time for bold action to protect the web of life, especially to address the climate crisis.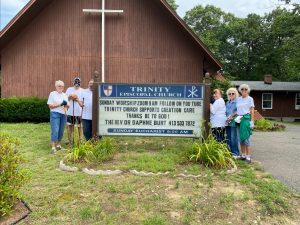 Two aspects of today's Gospel passage stand out for me. One is its understanding of how profoundly we need healing. When Jesus and the apostles slip away in a boat to a deserted place by themselves, the crowds watch the boat withdraw and what do they do? They "[hurry] there on foot from all the towns and [arrive] ahead of them" (
Mark 6:33
). That's how much they need Jesus! On another occasion, Jesus and the apostles set out by boat and when they come to shore, people recognize him and rush from "the whole region" (
Mark 6:55
) to bring him those who are sick. Wherever he goes – villages, cities, farms – people bring him their need for healing.
So, let's follow the guidance of the Gospel and bring into Jesus' healing presence the places around the world that need healing from the effects of climate change. Let's lift up to Jesus the American West and Southwest, which are now in the grip of an historic mega-drought – an extraordinarily persistent, unbroken drought that is draining reservoirs, withering crops, and increasing the spread of massive wildfires. Let's bring to Jesus the Pacific Northwest, a usually cool and foggy part of the world that has been roasting in record-setting levels of heat. Let's bring to Jesus
the hundreds of people who died last weekend in heat-related deaths in Oregon, Washington, and British Columbia
. Let's bring to Jesus the East Coast, too, where it's been awfully wet here in New England and where a few days ago parts of the mid-Atlantic were drenched in torrential rains. On Monday, "
as much as 10 inches of rain fell in less than 4 hours in southeastern Pennsylvania
." Let's bring to Jesus the
hundreds of people in Europe who died this week and those who are still missing after an unheard-of deluge of rain and flash-flooding that devastated entire communities
. Extreme precipitation is linked to global warming, for warmer air holds more water and therefore dumps more water when it rains – just as a bigger bucket can hold and dump more water. Let's bring to Jesus all the people we know, and all the people we don't know, and all living creatures – all of us who are already living with the effects of a rapidly-warming world, driven by the relentless burning of dirty fuels like coal, gas, and oil.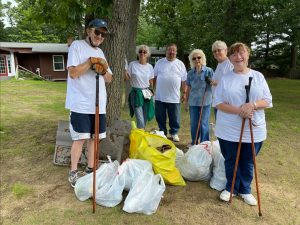 God knows we need healing. And so God sends us Jesus, a person so filled with the Spirit that everything he does is guided by God's love; everything he says arises from the presence and power of God; and everything he touches is in some way healed. That's the second aspect of today's Gospel passage that stands out to me: Jesus comes among us with power to save, and he invites his followers to join him in his mission of healing. As we see in today's story, Jesus and his apostles were kept mighty busy – indeed, "they had no leisure even to eat" (
Mark 6:31
). Jesus urges his followers to "come away" and "rest a while," to nourish their souls, just as we gather every Sunday for prayer and refreshment, and he also invites us into a life of focused service.
At this unprecedented moment in human history, when the choices we make around climate change will largely determine whether or not we leave our children and our children's children a livable planet, followers of Jesus are rising up with other people of faith and goodwill to mobilize a response that is commensurate to the crisis. You know that here
in Massachusetts the Episcopal bishops recently declared a climate emergenc
y. Our two dioceses have begun to work together in a more coordinated way as we discuss how we can pray, learn, act, and advocate on behalf of God's Creation. Our
diocesan Website on Creation care is loaded with ideas
about ways we can make a difference. Some actions are simple, like eating less meat and moving to a plant-based diet, recycling more, driving less, protecting trees, and cutting back on our use of fossil fuels in every way we can. Other actions are bigger and bolder and address systemic change, like pushing for climate policies that keep fossil fuels in the ground, where they belong, or fighting to stop the construction of new pipelines, such as Line 3 in northern Minnesota, which is being built to carry dirty tar sands oil from Canada and is slicing right through land and waters that are sacred to Native peoples, violating their treaty rights.
God is calling us to live in balance and harmony with Earth and with each other. Can we learn to do that together? Can we support each other to make the changes we need to make in our own lives and in society as a whole at the speed and scale that scientists tell us is necessary? That's the question that confronts every community of faith as we clarify our vocation in a time of climate crisis. I hope you will
subscribe to my monthly newsletter, Creation Care Network e-news
, so that we can stay in touch and give each other encouragement. Thank you for the ways you bless the Earth. Thank you for sharing in Jesus' ministry of healing. I look forward to hearing more good news from your congregation in the days ahead.