Sermon for the Second Sunday in Lent, February 25, 2018
Delivered by the Rev. Dr. Margaret Bullitt-Jonas at
Grace St. Paul's Episcopal Church, Tucson, AZ
Genesis 17:1-7, 15-16
Psalm 22:22-30
Romans 4:13-25
Mark 8:31-38
Keep the faith
What a blessing to be with you this morning! Thank you, Steve, for welcoming me back to this pulpit. I'm an Episcopal priest and long-time climate activist, and I have the world's longest job title. I work as Missioner for Creation Care in the Episcopal Diocese of Western Massachusetts, and the United Church of Christ in Massachusetts. I am not a "missionary," a word that's often associated with trying to convert someone, but a "missioner," which means someone who has been sent out on a mission, someone who has been sent out to serve God beyond the boundaries of a building. As Missioner for Creation Care, I travel in and beyond Massachusetts, preaching and speaking and leading retreats about the sacredness of God's Creation and our call to become faithful stewards of God's good Earth, particularly our call to address climate change. The God whom we meet so intimately in our depths is the same God who sends us out into the world to be healers and justice-seekers. My Website is RevivingCreation.org, where you can read articles and sign up for blog posts.
My sermon boils down to three words: Keep the faith. That's the phrase I often find myself saying to friends as we prepare to go our separate ways: Keep the faith. Other people have other favorite go-to phrases when they say goodbye. I remember Walter Cronkite signing off at the end of every nightly newscast: "That's the way it is." Before him there was Edward R. Murrow, who ended his radio and TV broadcasts with the words, "Good night, and good luck." And as long as we're on the subject of television, let's not forget Dr. Spock from Star Trek, with his farewell blessing, "Live long and prosper."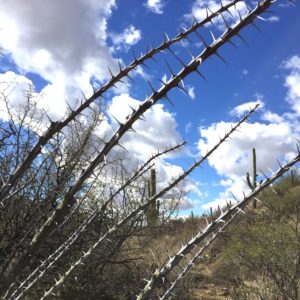 I like all these expressions, but what I want to say, what I want to hear, is "Keep the faith." We live in a precarious time, a time of turmoil when for all kinds of reasons many of us feel rattled and anxious, and brace ourselves for the next bit of bad news. So how glad I am that today, on the Second Sunday in Lent, we are invited to remember Abraham, our brother in the faith, our
father
in the faith, "the father of all of us," as St. Paul puts it in his Letter to the Romans (
Romans 4:16
). When the story begins, Abraham is the archetype of someone stuck in a hopeless place, a place without faith. He is ninety-nine years old, for heaven's sake, his body "already as good as dead," according to St. Paul (
Romans 4:19
). He has no children by his wife, Sarah, who is no spring chicken, either. The data would suggest that he has reached a dead end. This man who wished for progeny for so long is all washed up; he's at the end of his rope; his future is barren; the door has closed.
But then he has an encounter with God that changes everything. We don't hear the details of that encounter in today's reading, though in another passage from Genesis it seems that Abraham's experience took place at night, in the desert, under the stars (
Genesis 15:5
). Abraham encounters a God of life, a creative God with the power to make all things new, a God, says St. Paul, "who gives life to the dead and calls into existence the things that do not exist" (
Romans 4:17
).
This wild and life-giving God, a God of justice and mercy, makes a covenant with Abraham, an unshakable bond, and promises him offspring, and a good land, and a future. None of those promises are visible yet, none of them has yet come to be, but Abraham's faith awakens. It comes alive: he puts his faith in God. He trusts in God's presence; he trusts in God's power. He casts his lot with a God of infinite love and creativity, a God who has the power to restore and make whole. And in response to God's call, Abraham sets out in faith.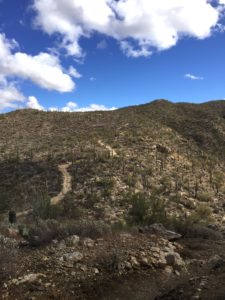 I want to emphasize that last point: he sets out. He walks. Today's first reading makes it clear that faith is active, not passive: faith is practiced and made manifest in action. What does God say to Abraham? "I am God Almighty; walk before me, and be blameless." Walk – don't stand still, don't get passive, don't stay stuck and hopeless. Don't wait for someone else to do something. Get going. Get moving. Take action.
And don't walk alone. "Walk
before me
," says Yahweh, "and be blameless." It is if God were an unseen presence and power that is always behind us, as if our job were to clear the way for divine love to move through us, freely and fully, like a river that flows through us and out into the world, so that all people and all beings can be blessed and healed and reconciled. Our task in the course of a day is to stay in conscious contact with God, so that as far as possible we are walking before God, not walking alone, not being driven by our ego or by our anxiety. Activists usually depend on people power, but spiritual activists – people who walk in faith – depend on God-power. It is God who energizes and emboldens us, God who gives us power to do more than we can ask or imagine.
We live in a time that cries out for the imagination, determination, and heart of people of faith. The web of life is unraveling before our eyes. Great populations of creatures – even entire species – are rapidly disappearing from Earth. Scientists tell us that a mass extinction event is now underway – what they're calling a "
biological annihilation
." In addition to species extinction, we also face a changing climate. Because of the relentless burning of fossil fuels, month after month our planet is breaking records for heat. As Bill McKibben wrote, "Our old familiar globe is suddenly melting, drying, acidifying, flooding, and burning in ways that no human has ever seen."
1
To cite just one example of how burning fossil fuels is affecting our planet: a recent study
examined all the major research on oxygen loss in the ocean
and concluded that
over the past fifty years the amount of water in the open ocean that is without oxygen has more than quadrupled
. As one headline puts it,
the ocean is losing its breath
. To put it another way, the ocean is suffocating. Lest we imagine that land creatures will not be affected, one scientist points out that
about half of the oxygen on Earth comes from the ocean
. A professor of marine science who reviewed the study commented that
the need for action was best summarized by the motto of the American Lung Association: "If you can't breathe, nothing else matters."
I suppose that's one reason I'm a climate activist: I like to breathe.
Climate change is not one of 26 different causes that we care about, but a cause that affects everything we cherish. If you care about the poor, you care about climate; if you care about immigration and refugees, you care about climate; if you care about public health, you care about climate; if you care about human rights, you care about climate; if you care about loving God and your neighbor, you care about climate. Climate justice is not an issue for a special interest group. If you like to breathe, if you like to eat, if you'd like to leave your children a world they can live in, you care about climate.
To heal God's Creation, there is a great deal that we, as individuals, can do. Maybe we can plant a tree. Save a tree. Recycle more. Drive less. Eat local, eat organic, eat less meat and move to a plant-based diet. Maybe we can support local land trusts and non-profits focused on conservation. We can fly less – and, if we must fly, buy carbon offsets. Maybe we can afford solar panels and move toward a carbon-neutral home. If we have investments, we can divest from fossil fuels, and if we're college graduates, we can urge our alma mater to divest.
Individual changes make a difference, but because of the scope and speed of the climate crisis, we need more than individual action – we need systemic change. To do that, we will have to confront the powers that be, especially when multinational corporations and members of our own government seem intent on desecrating every last inch of God's Creation, pillaging every last natural resource, destroying every last habitat, and abandoning every last regulation, rule, and treaty that preserve clean air and water and maintain the stability of our global climate. Under the circumstances, I wonder at what point the practice of carrying out acts of civil disobedience will become as normative for faithful Christians as the practice of prayer.
2
We will also have to confront versions of Christianity that contend that God has given us license to pillage and destroy the natural world, as if everything on God's green Earth were placed here solely for the pleasure and benefit of a single species,
Homo sapiens
, or at least its privileged elite.
Scott Pruitt, head of the Environmental Protection Agency, revealed this week, in an interview with the Christian Broadcasting Network
, that he believes that the Bible gives human beings the (quote-unquote) "responsibility" to "harvest" natural resources like coal and oil, although we know full well that burning these fuels is wrecking the planet entrusted to our care. As
Mother Jones reports in its cover profile of Pruitt in its March/April issue
, the EPA chief's beliefs are rooted in a version of Christianity that is the "polar opposite from that of other religious leaders, including Pope Francis, who interpret stewardship as the responsibility humans have to protect God's creation."
When corporate and political powers set us on a path of disaster – when they remain hell-bent on locating, extracting, and burning as much coal, gas and oil as they possibly can, never mind the potentially catastrophic effects of what they're doing – the time has come for us to unleash our faith, to make it visible and make it bold.
I give thanks for the story of God's covenant with Abraham, our father in the faith. It reminds me that in perilous times, God calls forth a people who put their trust in a power greater than themselves; a people who start walking even if they have no map and must create the map as they go; a people with the God-given imagination to envision a future in which the land will prosper and our offspring will thrive; a people who trust in the creative, liberating power of the God who is within them and among them, beyond them and behind them, making a way where there is no way, giving life to the dead, and calling into existence the things that do not exist.
Thank you for whatever you are doing – or will do – to re-weave the web of life and to love God and all our neighbors, human and other-than-human. You know, we are
all
missioners for Creation care. Every who shares the faith of Abraham and Sarah, everyone who follows Jesus – every one of us here is a missioner for Creation care. Thank you for being on the journey with me.
Keep the faith.
---
1.
Bill McKibben,
Eaarth: Making a Life on a Tough New Planet
, New York: Henry Holt and Company, Times Book, 2010, p. xiii and book jacket. Italics in original.
2.
I credit the Rev. Dr. Jim Antal with issuing this challenge, which he explores in his new book,
Climate Church, Climate World
(Rowman & Littlefield, 2018).