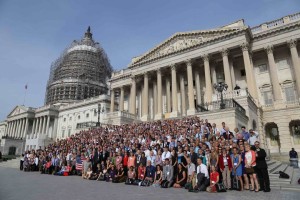 On a sultry summer morning this week, with the temperature already climbing past 97˚ and a heat index of 102˚, I paused on the steps of the Capitol Building to pose for a quick photograph. As volunteers with Citizens Climate Lobby (CCL), nearly one thousand people had traveled from near and far to lobby for a carbon fee and dividend in Washington, D.C.
Being a first-time volunteer, I had recently attended CCL's basic training in how to lobby members of Congress about climate change. Here is how I usually prepare to lobby, especially when facing people whom I consider adversaries: Do research. Assemble talking points. Brace for confrontation.
By contrast, here is what Citizens Climate Lobby advises: Do research. Assemble talking points. Search for connection.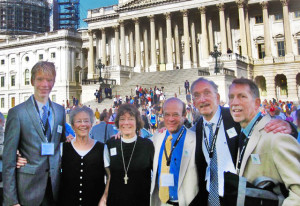 This is harder than it sounds. As I surveyed the voting records of the four Republican members of Congress to whom I'd been assigned, my heart sank. What connection could I possibly have with these conservative men? I am an ardent, long-time climate activist who lives in Northampton, a particularly liberal city in liberal Massachusetts. These House members hail from Kentucky, Florida, Illinois, and Texas, all of them states that have a strong interest in protecting the coal, gas, and oil industries. Just about everything these men had voted for, I was against. Just about everything they had voted against, I was for. Politically, we stand on opposite sides of the aisle. In one portfolio or another, I read phrases like these: Supports fracking and Keystone XL pipeline. Prohibits use of funds by the Administration to conduct a climate change agenda. Opposes and votes against any effort to increase taxes. Voted to gut the E.P.A's ability to limit carbon pollution from power plants. Voted to open the Outer Continental Shelf to oil drilling.
To my consternation, it turned out that CCL asks its volunteers not to browbeat members of Congress but instead to build relationships and to find common ground. CCL maintains that if you can't find something to respect and admire in a politician's life or work, then you should not lobby that person. So I forced myself to slow down. I looked more carefully at the voting records and I tried to exercise some empathy and imagination. What could I appreciate about each person? What did this person seem to value, and why? How might I connect with him?
Spiritual traditions tell us that human beings are essentially inter-related. When we are spiritually awake, we can see the dignity, even the beauty, of each person. Despite whatever may divide us, in fact we are more similar than different. For starters, all of us are mortal, all of us we want to be happy, and all of us want to love and to be loved. It is easy to forget such basic truths when you are caught in the heat of political struggle. It is easier to demonize than to humanize, easier to seek safety behind the walls of righteous judgment than to meet ones "enemy" with an open heart.
This does not give us license to be naïve and sentimental – far from it. Jesus urges us to be "wise as serpents" as well as "innocent as doves" (Matthew 10:16). Yet if we are to love our enemies and to pray for those who persecute us (Matthew 5:44) – to say nothing of praying for those whom we want to persecute – then we must stay grounded in a transcendent love that embraces all beings, even the person we might want to condemn as a villain or a fool.
Who knew that lobbying could be a spiritual practice? Not I.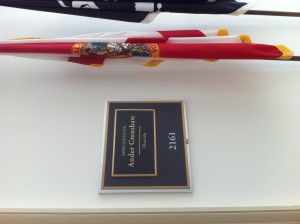 My first meeting was with an aide to Representative Ander Crenshaw, an Episcopalian from Florida. I introduced myself as an Episcopal priest who believes that climate change is the great spiritual and moral issue of our time. I told the staff member that I'd left parish ministry in order to focus all my efforts on building a wave of religious activism to address climate change. She listened politely, courteous but reserved. I could feel the distance between us.
Pressing ahead, I said that I appreciated Rep. Crenshaw for working tirelessly – for eight long years – to secure passage of the ABLE Act, a significant piece of legislation that protects disabled Americans. I said that I appreciated his concern for the vulnerable, his persistence in accomplishing something difficult, and his capacity to stay focused on an issue to which he was passionately committed. By now the aide was smiling, and I was smiling, too. I was surprised by my own happiness as we looked at each other: it is a pleasure to express and to receive sincere appreciation. It is like striking a chord of kinship: we feel the resonance. Dimly or clearly, we remember our shared humanity.
I went on to propose that, just as the representative was a champion for the disabled, maybe he could also become a champion for the poor, who are affected first and hardest by climate change. Maybe he could apply his passion, his persistence, and his capacity to get a difficult bill passed, to becoming a leader on tackling climate change. The aide listened and took notes. By the end of the meeting, after everyone on our team had had a chance to speak, to listen, and to share some facts about CCL's proposal, I sensed the possibility that Rep. Crenshaw might now see a way to take effective action on climate change in a way that is consistent with his own values.
I left the meeting with renewed hope that people on opposite sides of the aisle can come together – before it's too late – in the race to stabilize the climate and to create a just and habitable future. That vision is not just pie in the sky. The carbon fee and dividend proposed by CCL is a way of pricing carbon that has potential to unite people of very different political persuasions. According to an independent study conducted by REMI (Regional Economic Modeling, Inc.), CCL's plan to place a steadily-rising fee on the carbon dioxide content of fuels at the source (such as a well, mine, or port of entry) and to return all revenue to American households on an equal basis would cut carbon emissions by half within 20 years while adding 2.8 million jobs to the economy. Under this plan, about two-thirds of all households would break even or receive more in their rebate checks than they would pay in higher prices due to the fee, which means that low-income and middle-class folks would be protected.
If you hate taxes, the CCL proposal should be acceptable: the fee is not a tax, since revenue is not spent by the government but instead is returned directly to the people. Nor does this carbon-pricing plan add layers of bureaucracy or additional regulation. It simply allows the free market to do its work, because carbon-based fuels would become increasingly expensive, and clean, renewable sources of energy, such as sun and wind, would become increasingly cheap. This process would unleash entrepreneurial energy and investment in clean energy.
The CCL proposal is no magic wand, but it has power to bridge the political divide and to appeal to our shared desire for economic prosperity, a healthy environment, and homegrown, affordable energy production. It's an approach to stabilizing the climate that is embraced not only by Dr. James Hansen, the renowned climate scientist, but also by George Schultz, Secretary of State during the Reagan Administration. Both of them serve on CCL's Advisory Board, along with Bob Inglis, who spent 12 years in the U.S House as a Republican representative from South Carolina, and Dr. Catharine Hayhoe, an atmospheric scientist and evangelical Christian. (For a 2-minute video about carbon fee and dividend, visit here.)
Those four days of CCL training and lobbying have changed me. I am still an ardent climate activist. I am still prepared to go to jail to stop the Keystone XL pipeline. I am still convinced that we need a complete overhaul of how we live on Earth, and that Pope Francis and Naomi Klein are on target when they call for the deep transformation of our social, political, and economic systems. I still want to build a powerful grassroots movement to address the climate crisis, to re-weave the web of life, and to protect a habitable world for future generations. As Jonas Salk once said, "Our greatest responsibility is to be good ancestors."
What has changed is that I have found a fresh path forward. I am excited about CCL's proposed carbon fee and dividend, which I believe is an idea whose time has come. What's more, thanks to my training with CCL I also feel a renewed commitment to constructive dialogue and to the spiritual discipline of moving beyond "them" and "us." My experience with CCL draws me to prayer, especially to the prayer for the human family that is found in the Episcopal prayer book. I pray that God will "look with compassion on the whole human family; take away the arrogance and hatred which infect our hearts; break down the walls that separate us; unite us in bonds of love; and work through our struggle and confusion to accomplish your purposes on earth…" (Book of Common Prayer, p. 815)
If anyone asks what I learned this week in D.C., here is what I will reply: together we can build a low-carbon future, and, when carried out in the right spirit, lobbying can be work that is good for the soul.
---
P.S. To participate in workshops that teach you how to open up a space for "constructive dialogue where conflicts are driven by differences in identity, beliefs, and values," visit Public Conversations Project. To see how this kind of approach is being put into action internationally, visit Karuna Center for Peace Building.