Sermon for the Fifth Sunday of Easter, May 19, 2019
Delivered by the Rev. Dr. Margaret Bullitt-Jonas at Haydenville Congregational Church, Haydenville, MA
John 13:31-15
Love in a time of climate emergency
We have a wonderful text to reflect on this morning, a passage from the Gospel of John. The scene is the Last Supper, and Jesus is beginning to say goodbye. He knows that his life is about to be cut short and that the next day he will die. So Jesus gathers with his friends for a final meal, and in an act of humble service, he washes their feet. Then, as Judas steps out into the night to betray him, Jesus turns to the gathered circle and says those familiar words: "Little children, I am with you only a little longer. You will look for me; and as I said to the Jews so now I say to you, 'Where I am going, you cannot come.' I give you a new commandment, that you love one another. Just as I have loved you, you also should love one another. By this everyone will know that you are my disciples, if you have love for one another" (John 13:13-35).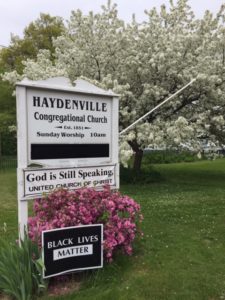 These are urgent and tender words, the words of someone facing death and eager to convey what really matters. "Little children, love one another." I'm told that in John the Evangelist's old age, that was the basic message he brought to one community of faith after another: "Little children, love one another." After spending time with Jesus, and after years of meditating on Jesus' life and teaching, on Jesus' crucifixion and resurrection, the aging evangelist could find no more direct route into the heart of the Gospel than simply to say, "Little children, love one another."
This brings to mind a poem by Michael Leunig:
1
There are only two feelings. Love and fear.
There are only two languages. Love and fear.
There are only two activities. Love and fear.
There are only two motives, two procedures,
two frameworks, two results.
Love and fear.
Love and fear.
As followers of Jesus, we may be called to love, but I don't for a moment believe that we're not also well acquainted with fear. I remember my childhood fears, such as my fear of the monsters lurking under the bed, and how important it was not to let even one toe stick out beyond the edge of the mattress. I remember my fear that when my parents went out at night, they might not come back. I remember my fear of the swarm of bees that nested near the front door; my fear, during piano recitals, that I might forget which note came next; my fear that I might be chosen last for the softball team, or, what's worse, that the ball might actually come hurtling in my direction and – dreadful thought – all my team-mates would count on me to catch it.
The fears of a child gradually morph into the fears of an adult, and even though we grownups may go to a great deal of trouble not to appear anxious or afraid, most us face some kind of fear every day. Fears come in all shapes and sizes. What are
you
afraid of? Chances are excellent that several of us fear the same thing. And we know what
that's
like: how, when frightened, we hold our breath, our bellies clench and our hearts race.
There's a lot of fear going around these days, and we have reason to worry. In addition to our personal fears, we feel a collective shudder about the state of the world, from the assault on women's reproductive rights to the harsh treatment of immigrants. For me, it's the ecological crisis that wakes me up at night, for scientists are reporting with increasing concern that the web of life is unraveling before our eyes and that human civilization is at risk of collapse. Just think of it: the number of animals around the world has plummeted by over half in less than 50 years, mostly by the development of great swaths of land and the destruction of habitat.
Human activity has wiped out 60% of the world's mammals, reptiles, amphibians, birds, and fish since 1970
. Alarmed scientists are describing what they call a "
biological annihilation
," and one expert commented: "
This is far more than just being about losing the wonders of nature, desperately sad though that is…This is actually now jeopardizing the future of people. Nature is not a 'nice to have' – it is our life-support system
."  A few weeks ago, a sweeping new
report from the U.N. spoke about the possible extinction of as many as one million plant and animal species in the near future
.
And then there's the climate crisis. Burning fossil fuels like coal, gas, and oil is pushing the planet to break new records for heat, causing droughts, floods, and monster hurricanes, drowning cities, and accelerating wildfires. The people hurt first and hardest by the effects of a changing climate are the poor, and unless we change course fast, we will not be able to leave our children and our children's children a habitable world. The
U.N.'s Intergovernmental Panel on Climate Change warns that we have only a very short span of time – maybe 12 years – in which to avert a catastrophic level of global warming worldwide
.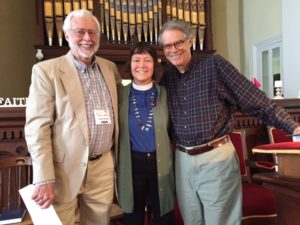 So are we afraid? You bet we're afraid, and if we're not, we ought to be. As David Wallace-Wells says in the opening sentence of his new book about climate change,
The Uninhabitable Earth
: "It is worse, much worse, than you think."
2
Fear is appropriate and real, and fear can propel us to take urgently needed and long-delayed action. But fear can also freeze us in our tracks, so that we get paralyzed and stuck in inertia, wondering if it's worth doing anything at all: "Maybe it's too late to change course and maybe we're too far gone. Besides, what difference can one person make?" Paralyzed by fear, we can close down, put up our blinkers, and carry on with business as usual, even if business as usual is wrecking the planet. And fear can separate us from each other, so that we push each other aside and build walls to keep each other out and keep each other down. Fear can lead us to oppress and dominate each other, and it's fear that drives the politics of "divide and rule."
That's why I find Jesus' words so powerful: they dispel fear. "Little children, love one another," Jesus says to us. "Just as I have loved you, you also should love one another." Our fear may be strong, and the powers-that-be in this world may be doing all they can to stoke our fears of each other and to pull us apart, but Jesus' words and presence convey bracing good news: we are infused and surrounded by a divine love that holds us together and will never let us go. God loves us, and all Creation, with a love that nothing can destroy. As we breathe that divine love in and as we share it with each other and the world around, our moral courage and strength are renewed. That is the great gift that communities of faith can give the world in such a frightening time: practices of prayer and community, practices of meditation and story-telling, practices of singing and ceremony, that connect us with a sacred, loving Power beyond ourselves. We don't have to settle for a life that is undergirded and overshadowed by fear. As the Persian poet Hafiz once put it, "Fear is the cheapest room in the house. I'd like to see you in better living conditions."
3
When we move out of fear and into God's love, we discover how precious we are, how precious our neighbors are, how precious this whole, beautiful planet is, and we rise up, filled with Spirit, as healers and justice-seekers, building community as we go.
When it comes to tackling climate change, there is so much that we can do! Maybe we can plant a tree. Save a tree. Recycle more. Drive less. Eat local, eat organic, eat less meat and move to a plant-based diet. Maybe we can support local farms and land trusts. We can fly less – and, if we must fly, we can buy carbon offsets. Maybe we can afford solar panels and move toward a carbon-neutral home. If we have financial investments, we can divest from fossil fuels; if we're college graduates, we can push our alma mater to divest, as well.
Individual changes make a difference, but because of the scope and speed of the climate crisis, we need more than individual action – we also need systemic change. As the Intergovernmental Panel on Climate Change has made clear, we need to transform our society and economy at a rate and scope that are historically unprecedented. To do that, we need to use our voices and our votes, and to make it politically possible to do what is scientifically necessary. So, we can join
Climate Action Now
, our strong, local, grassroots climate-action group right here in the Pioneer Valley that meets every month in Amherst or Northampton. We can support the Green New Deal, which is the first resolution to address the climate crisis with the urgency, focus, and comprehensiveness that the situation requires. (Incidentally, two interfaith groups,
GreenFaith
and
Interfaith Power & Light
have statements on their Websites that we can sign, to show that people of faith support the goals and values of the Green New Deal.) Those of us who are white and privileged can listen to the voices of racial minorities, indigenous peoples, and the poor, knowing that they are God's beloved and the ones hit first and hardest by climate change. Together we intend to build a world in which everyone can thrive.
Will our efforts be successful? Will we avert runaway climate change? I don't know. But I do know that every choice matters. Every degree of temperature-rise matters. "
Even a tenth of a degree Celsius means the difference between life and death for millions of people
." And love matters. Love matters most of all.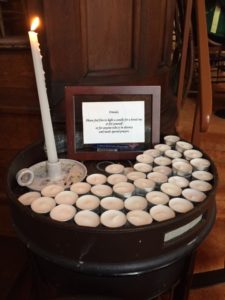 I will end with a story about love and fear.
4
Back in 2001 I screwed up my courage and decided to carry out my first act of civil disobedience. That's how I met your former pastor, Andrea Ayvazian: in Washington, DC, where she was helping to organize a new interfaith group, Religious Witness for the Earth, that was planning to protest President Bush's intention to drill for more oil in the Arctic.
Here's what happened: On the first day we learned about oil drilling and the Arctic, about climate change and fossil fuels. On the second we lobbied our members of Congress and studied the disciplines of non-violent civil disobedience. On the third, about a hundred of us marched down Independence Avenue in religious vestments, carrying banners and singing. When we reached the Department of Energy, an enormous stone structure surrounded by police, we held a brief worship service. So far, everything was legal. Then came the part that wasn't. I'll read from an essay I wrote about what that was like.
The worship service was coming to an end. We sang "Amazing Grace," and then the twenty-two of us who had decided to risk arrest joined hands and walked slowly to the doors of the Department of Energy.
I felt us cross an invisible boundary. With the others, I stepped over a threshold I could not see. I walked out of my ordinary life.
I am neither a law-breaker nor a thrill-seeker. More often than not, I follow the rules – even enforce them. I fasten my seat belt, don't cheat on taxes, write thank you notes, and stand up when the band plays our national anthem. But here I was, intentionally and publicly breaking the law. As if some inner revolution had quietly taken place, the old "me" was no longer in charge. Whatever security I'd felt in operating within the rules was gone. That's partly why I felt so frightened as I left the safety of the circle and moved toward the door: I hardly recognized myself. I hardly knew who I was.
§§
We stand or kneel in prayer, our backs to the building.
The pavement under my knees is hard. At home, I often sit on a meditation cushion to pray. Today there is no cushion, just the weight of my body against stone. I lift up my hands. I'm dressed for Holy Communion. I might as well hold out my arms as I do at Communion.
Instead of pews filled with parishioners, I see ranks of police and a cluster of supporters. I am afraid. I've never been arrested before. Years ago, as a VISTA volunteer in Mayor Rizzo's Philadelphia I heard countless stories of police brutality. It's not that I really expect the same thing to happen to me – the punch in the gut, the assault behind closed doors. Still, my body tenses as I place myself against the cops, the Feds, the law.
I close my eyes. One by one we pray aloud, words thrown into space, words hurled against stone.
Is this whole thing ridiculous? I briefly open my eyes and notice a well-dressed man watching us. He strokes his tie, leans over and says something to a fellow nearby. The two of them chuckle. I have no idea what they're talking about but I wonder if they think we look absurd. I suppose we do. Here we are with our jerry-rigged signs, our predictably earnest songs and prayers of protest, a foolhardy band straight out of the '60's.
Defensively, I imagine confronting that mocking man with the arsenal of our credentials. "We're no rag-tag bunch," I want to tell him. "We're people with doctorates and master's degrees – nurses and ministers, writers and accountants. Thoughtful people, educated people, professionals."
I am distracted from prayer by this indignant outburst. "Let it go," wisdom tells me. "None of that matters -- your degrees, your skills, your status in the world. The privileges of race and class mean nothing now. You're a woman on your knees, that's who you are -- one human being pleading with God."
I turn my attention back to prayer and continue to stretch out my arms. Suddenly I realize that behind the tension, behind the fear and self-consciousness, something else is welling up. I am jubilant.
"Lift up your hearts," I might as well be saying to the people before me, beaming as broadly as I do at Communion.
"We lift them to the Lord," would come the response.
How did I miss it? After years of going to church, after years of celebrating Communion, only now, as I kneel on pavement and face a phalanx of cops, do I understand so clearly that praising God can be an act of political resistance. That worship is an act of human liberation. The twenty-two of us come from different faith traditions, but each of us is rooted in a reality that transcends the rules and structures of this world. Tap into that transcendent truth, let the divine longing for a community of justice and mercy become your own deepest longing, and who knows what energy for life will be released?
I feel as defiant as a maple seedling that pushes up through asphalt. It is God I love, and God's green earth. I want to bear witness to that love even in the face of hatred or indifference, even if the cost is great.
So what if our numbers are small? So what if, in the eyes of the police, in the eyes of the world, we have no power? I'm beginning to sense the power that is ours to wield, the power of self-offering. We may have nothing else, but we do have this, the power to say, "This is where I stand. This is what I love. Here is something for which I'm willing to put my body on the line."
I never knew that stepping beyond the borders of what I find comfortable could make me so happy. That shifting from self-preservation to self-offering could awaken so much joy.
Love and fear. Love and fear. I invite you to take a moment to remember a time when you took a brave step toward fullness of life, a time when you made a decision to do the right thing, even though you knew it would be difficult or costly. Who inspired you to be bolder than you thought? With whom do you hold hands, literally or figuratively, when you step out to make a difference in the world? And if you knew you could not fail – if you were set free from fear – what would you do for the healing of our world?
Let's take a moment in silence, and then I invite your response.
1. Michael Leunig,
A Common Prayer
(NY: HarperCollins, 1991).
2. David Wallace-Wells,
The Uninhabitable Earth
(New York: Tim Duggan Books, Penguin Random House, 2019).
3. Hafiz, quoted by Jack Kornfield,
The Art of Forgiveness, Lovingkindness, and Peace
(New York: Bantam Books, 2002), 83.
4. This story is adapted from part of my chapter, "When Heaven Happens," in the anthology
Heaven
, ed. Roger Ferlo (New York: Seabury Books, 2007), 78-81.