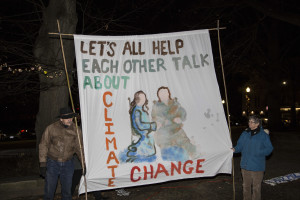 On the eve of the U.N. climate talks in Paris, hundreds of thousands of people worldwide took to the streets to join the Global Climate March. Here in western Massachusetts, 200 people gathered in Amherst and an even larger group assembled nearby in Northampton, all of us calling for decisive international action to keep 80% of current fossil fuel reserves in the ground.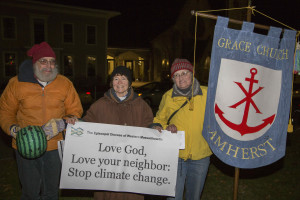 I was the opening speaker at the November 29 rally on the Amherst Common. The crowd included young and old, families, college students and retirees, an 8-foot tall Polar Bear puppet and a little boy in a brown bear suit. We shivered in the cold night air, but our energy was high and our resolve was strong.
A much bigger, regional rally is planned for the day after the conclusion of the U.N. talks. Please join me on the Boston Common on Saturday December 12, 1:00-3:00 p.m. for a Jobs, Justice, and Climate Rally that will bring together a wide range of interests – labor, immigrant rights, faith, racial justice, economic justice, and climate justice groups – as we build an unstoppable grassroots movement to stabilize the climate and create a more just and sustainable society.
Below is what I said last night at the Amherst rally.
---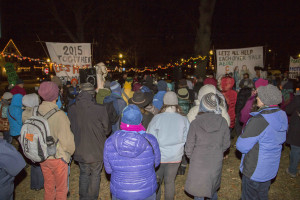 I am filled with gratitude as I look into your faces. We stand together tonight in the center of town, under the stars, to express our longing for a safe, just, and sustainable future. All eyes are on Paris tonight. West of here, across the river, another group has assembled in Northampton. South of here, down the road, other people gathered this afternoon in Springfield. East of here, across the state, a group is gathering in Boston. Around the world, in every direction, from Beirut to Barcelona, from Ottawa to Melbourne, thousands of events are in progress, as people from every walk of life turn their hearts and hopes to the U.N. climate negotiations that begin tomorrow in Paris.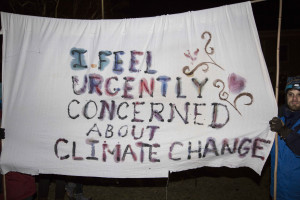 We know that the situation is urgent. We have only a short amount of time in which to avert a level of climate disruption that would render the world ungovernable and possibly uninhabitable within the lifetimes of our children and our children's children. To cite just one example of where we're headed if we don't change course, a few weeks ago the World Bank – hardly a leftist organization – warned that unless we rein in greenhouse gas emissions quickly, climate change will drive 100 million people into extreme poverty – extreme poverty – within the next 15 years. Just think about the human suffering and social upheaval that this would engender worldwide.
We know we can do better than that. And we refuse to stand idly by and to let business as usual continue to destroy human communities and unravel the web of life.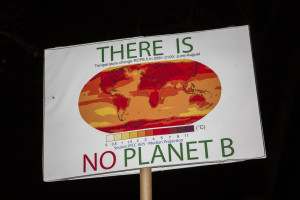 So tonight we join with people around the world to pray for a climate deal in Paris that is ambitious, one that finally gets the world on track to stabilize and lower its carbon emissions.
We also hope for a deal that is fair, one that protects the most vulnerable and low-income populations from the most devastating effects of climate change.
But you know what? This is not just about Paris and it's not just about tonight. The agreement that comes out of Paris is not going to be enough, by itself, to keep the world below a 2 degree centigrade rise in temperature above preindustrial levels, which we need in order to avert catastrophe.
That's where you and I come in. Whatever happens in Paris, we're here for the long haul. We're not going away. We're going to keep fighting for a future that runs on clean energy like sun and wind. We're going to keep fighting for a society and an economy that leave no one out. We're going to keep building political will and moral pressure until we get this right. As Pope Francis reminded us in his encyclical, the cry of the Earth is intimately connected with the cry of the poor. We hear that cry. We share that cry. And we intend to answer it, by divestment and direct action, by voting and lobbying, by making personal changes in our lifestyle and, perhaps, by engaging in civil disobedience.
A new world is on the horizon, a world that is safe, just and sustainable. We intend to act like midwives, helping that new world to be born. We pray tonight for the climate talks, but those talks are just the beginning. Those talks are just the start.