Sermon for the Sixth Sunday after the Epiphany, February 17, 2019
Delivered by the Rev. Dr. Margaret Bullitt-Jonas at
St. James Episcopal Church
, New London, CT
Jeremiah 17:5-10
Psalm 1
1 Corinthians 15:12-20
Luke 6:17-26
Rooted and rising: We shall not be moved
What a blessing to be with you this morning! I bring greetings from Massachusetts, where I serve as "Missioner for Creation Care" for the Episcopal Diocese of Western Massachusetts and for the United Church of Christ. In this ecumenical role I travel from place to place, preaching the Gospel and speaking about our call as Christians to love and protect the Earth that God entrusted to our care. Imagine my pleasure when several weeks ago I received an invitation from your rector to preach at St. James. He told me about the steps you've been taking to care for God's Creation. I hear that you're working to improve your building's energy efficiency and moving toward installing solar panels; that you hosted a public forum on wind power; and that last month your Vestry decided – unanimously! – to divest from fossil fuels, making St. James the first congregation in this diocese to divest. I am deeply thankful that you are setting out on a path to live more lightly on the Earth and following Jesus on the Way of Love.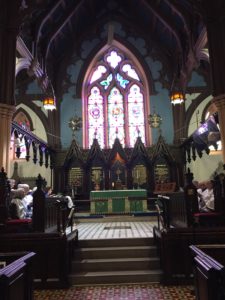 Faith communities have a special role to play in healing what one of our Eucharistic prayers calls "this fragile Earth, our island home." The world needs our witness more than ever. Scientists are telling us with increasing concern that the web of life is unraveling before our eyes. Great populations of creatures – even entire species – have vanished. Last fall,
World Wildlife Fund released a major report showing that the number of animals around the world has plummeted by over half in less than 50 years. Human beings have wiped out 60% of the world's mammals, reptiles, amphibians, birds, and fish since 1970
. According to this new study, the 
vast and growing
consumption "
of food and resources by the global [human] population is destroying the web of life, billions of years in the making, upon which … society ultimately depends for clean air, water and everything else.
" One expert commented: "
This is far more than just being about losing the wonders of nature, desperately sad though that is…This is actually now jeopardizing the future of people. Nature is not a 'nice to have' – it is our life-support system
."
You've probably heard that we are in the midst of the world's sixth extinction event – "
the sixth time in world history that a large number of species have disappeared in unusually rapid succession, caused this time not by asteroids or ice ages but by humans
." Alarmed scientists are describing what they call a "
biological annihilation
."
Related to species extinction is our changing climate. Because of the relentless burning of coal, gas, and oil, month after month our planet is breaking records for heat. The New York Times recently reported that "
the five warmest years in recorded history were the last five, and…[that] 18 of the 19 warmest years have occurred since 2001
."
New studies show that the oceans are also breaking records for heat and heating much more rapidly than many scientists had expected, with drastic effects on marine life, coral reefs, and sea-level rise
. Sea ice is melting. Land ice is melting. Tundra is thawing. Extreme storms are growing more intense. The U.N.'s
Intergovernmental Panel on Climate Change reports that we have only a very short span of time – maybe 12 years –
in which to avert a catastrophic level of global warming.
I think it's fair to say that in these precarious times, many of us, for good reason, may be feeling stressed-out, or numb, or, frankly, scared. This is a good time to sink our roots deep into the love of God, to remember how loved we are, how cherished we are in God's sight, how nourished we are by a love that will never let us go and that will give us strength for the journey ahead. So thank God for St. James! Thank God for every community, every congregation, every house of worship that draws people together to pray, to listen to the wisdom of Scripture, to draw close to Jesus, and to be strengthened by the Holy Spirit!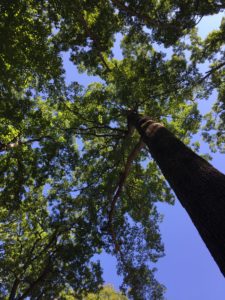 Today's readings give us a beautiful image for spiritual resilience and leadership. In Psalm 1 we read that those who trust in God are "like trees planted by streams of water, bearing fruit in due season, with leaves that do not wither" (
Psalm 1:3
). Imagine being such a tree! Your roots go deep into the love of God, which runs like a river beside you. No matter what is happening in the world around you, even if what's going on is dangerous or chaotic, even in times of storm or drought, your roots reach deep into the ground and you stand beside a divine river that is endlessly flowing. Like trees planted beside a stream of living water (
John 7:37-38
), we are "rooted and grounded in love" (
Ephesians 3:17
). We know that God is with us. We feel God's power and we feel God's strength. Drawing from those deep roots we rise up like trees, bearing fruit in due season, with leaves that do not wither. We drink deep of abundance, absorb it into every cell of our bodies, and then share that abundance with the world – freely, generously, without holding back, because there is plenty more where that came from!
The same image of spiritual resilience and vitality plays out in today's reading from the prophet Jeremiah (
Jeremiah 17:7-8
):
7 
Blessed are those who trust in the Lord,
whose trust is the Lord.
8 
They shall be like a tree planted by water,
sending out its roots by the stream.
It shall not fear when heat comes,
and its leaves shall stay green;
in the year of drought it is not anxious,
and it does not cease to bear fruit.
I find this tree imagery so compelling that it affected the title of a book I'm co-editing that will be published (by Rowman & Littlefield) this fall,
Rooted and Rising: Voices of Courage in a Time of Climate Crisis
. The manuscript is due in 10 days – so, in more ways than one, the heat is on. With my co-editor, Leah Schade, we've put together a collection of essays by 21 climate activists from a range of faith traditions, asking each of them to write about what gives them the energy, motivation, and courage to keep pushing for a more just and healthy future, when the odds of success are so slim and the forces arrayed against us are so great. In one way or another, each of these dedicated activists has sunk their taproot into something enduring that grounds them, like trees extending their roots into deep soil.
I'm not a biologist, but I'm learning that trees are more intelligent than we thought. Books like
The Hidden Life of Trees
tell us that the root systems of trees communicate with each other, and that trees develop social networks and share resources. A lot of underground life is going on beneath our feet! And that's true for us, too: when we sink our own roots deep into the love of God, we, too, discover that everyone and everything is connected. On the surface, we may see only our differences, what divides us from each other, but from below, on the level of roots, we discover what Martin Luther King, Jr., called the Beloved Community: here, where God's love is always being poured into our hearts, we realize that everyone, and the whole Creation, is loved and that we belong together. Beneath all our differences of race, class, gender, and political party, we belong to one living, sacred whole.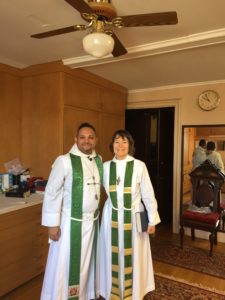 Every time we tap into the deep-down truth of our essential belovedness, we discover fresh energy for life. And so – up we rise, like a mighty tree, offering our gifts to each other and to the world: our fruits and leaves; a kind word, a healing gesture, our resolve to take part in the healing of the world.
When it comes to tackling climate change, there is so much that we as individuals can do. Maybe we can plant a tree. Save a tree. Recycle more. Drive less. Eat local, eat organic, eat less meat and move to a plant-based diet. Maybe we can support local farms and land trusts. We can fly less – and, if we must fly, we can buy carbon offsets. Maybe we can afford solar panels and move toward a carbon-neutral home. If we have financial investments, we can do what this church did – divest from fossil fuels – and if we're college graduates, we can urge our alma mater to divest, as well.
I'm thrilled to hear that this congregation is invited to take part in a new initiative that The Episcopal Church is launching in Lent:
Sustain Island Home
. The Diocese of Western Massachusetts will also join Sustain Island Home this Lent. Sustain Island Home
1
will help us learn how to reduce our carbon emissions, and it provides a "carbon tracker" that will mark our progress as we make better choices around energy. Learning how to live a carbon-neutral life – learning how to ditch fossil fuels and turn toward energy efficiency, energy conservation, and clean renewable energy – is one of the most powerful and prayerful ways we can align ourselves with the love of God and neighbor.
Individual changes make a difference, but because of the scope and speed of the climate crisis, we need more than individual action – we also need systemic change. As the IPCC has made clear, we need to transform our society and economy at a rate and scope that are historically unprecedented. To do that, we need to use our voices and our votes, and to make it politically possible to do what is scientifically necessary. This will not be easy. We will have to root ourselves and plant ourselves in the love and justice of God.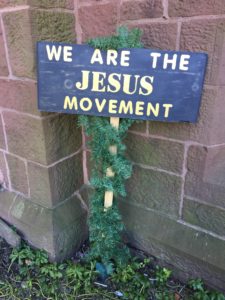 I can't help thinking of the African-American spiritual that became an anthem of the Civil Rights Movement, a protest song and a union song, "
We Shall Not Be Moved
." Even now, I hear Pete Seeger singing, "We shall not, we shall not be moved; we shall not, we shall not be moved, just like a tree that's planted by the water, we shall not be moved." He goes on: "Young and old together, we shall not be moved… women and men together, we shall not be moved... city and country together, we shall not be moved… black and white together, we shall not be moved… just like a tree that's planted by the water, we shall not be moved."
Rooted in love and rising up in action, Christians and other people of faith will not be moved. We intend to bear witness to our God-given faith that life and not death will have the last word. We intend to become the people that God meant us to be: people who are good stewards of God's Creation, people who are a blessing to Earth and all its communities. So some of us join
Citizens Climate Lobby
, a bipartisan organization that pushes for a price on carbon; some of us join our local chapter of
350.org
and become part of the global climate movement; those of us who are white and privileged listen to the voices of racial minorities, indigenous peoples, and the poor, knowing that they are God's beloved and the ones hit first and hardest by climate change. Together we intend to build a world in which everyone can thrive. There is so much that we can do – so many ways to bear fruit!
As we prepare to receive Communion together, to receive the body and blood of Christ and to take in His presence and strength, I invite you to ask yourself: How is God calling you to rise up and take part in the healing of the world?
_______________________________________________________________________________________________________


SustainIslandHome.org was piloted by the Episcopal Diocese of California. It will be gradually unrolled in dioceses across The Episcopal Church starting in Lent, 2019, and will reach the whole Church by Earth Day. For more information about SustainIslandHome, visit the "Advocacy for Climate Solutions" page of the Diocese of California: diocal.org/climate.