Sermon for the Fourth Sunday after Pentecost, June 12, 2016. Delivered by the Rev. Margaret Bullitt-Jonas at St. John's Episcopal Church, Ashfield, MA.
1 Kings 21:1-21a
Psalm 5:1-8
Galatians 2:15-21
Luke 7:36-8:3
Sacred earth, sacred trust
"Naboth said to Ahab, 'The LORD forbid that I should give you my ancestral inheritance.'" (1 Kings 21:3)
What a blessing to be with you today! Thank you, Eliot, for welcoming me as preacher and celebrant for this special service that brings together the congregations of St. John's Episcopal Church and First Congregational Church. As some of you know, I serve as Missioner for Creation Care in both the Episcopal Diocese of Western Massachusetts and the Massachusetts Conference of the UCC. This is my first opportunity to speak to my Episcopal and my UCC brothers and sisters in Christ at the very same time. How cool is that?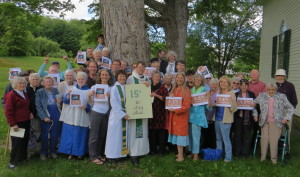 It's particularly meaningful that our two communities are united in worship this morning, because around the world people of many faiths are marking today, June 12, as a day to stand together and lift up the sacredness of the Earth, our common home. Prayers, blessings, songs, and sermons are being offered today from Alaska to Argentina, from New Jersey to New Zealand, as religious and spiritual groups far and wide mark a global day of prayer called
Sacred Earth, Sacred Trust
.
Today we celebrate the six-month anniversary of the Paris Climate Agreement and the first anniversary of the publication of Pope Francis' landmark encyclical,
Laudato Si
. Today we join the chorus of voices announcing that the Earth is holy and that it deserves our protection and care.
Whenever you and I re-awaken to God's presence in Ashfield's hills and woods, in the grasses and dirt beneath our feet and in the stars overhead, we discover again that we are connected not only to other human beings but also to everything else. We are part of the web of life: connected by our breath, blood, flesh, and bone to the whole creation. As our Protestant forebear, Martin Luther, pointed out: "God writes the Gospel, not in the Bible alone, but also on trees, and the flowers and the clouds and stars." God's love and presence are everywhere – not just in church, not just inside a sanctuary built by human hands, but also outside, in the sea and sky, in the humble tomato plant valiantly trying to grow in my shady garden. The crucified, risen and ascended Christ fills all things, sustains all things, and redeems all things.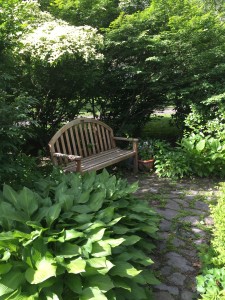 Whenever you and I come to our senses and realize that God is giving God's self to us in every part of creation – in this breeze and bird and leaf, in this breath, in this heartbeat – then reverence springs up in us, and a deep desire to give thanks. We realize again that the Earth is sacred, and in the strength of that heartfelt wisdom we can fight the great battle of our time, which is to protect the integrity of God's creation, to preserve a habitable planet, and to build a more just and sustainable society.
A record 175 countries have already signed the Paris Climate Agreement, which is an historic first step toward limiting the ravages of climate change. But the Paris Agreement is only a start. It doesn't go nearly far enough. Its provisions won't cap the rise of the world's average temperature at 1.5˚ Celsius above pre-Industrial times, which is the uppermost limit for ensuring a stable climate and livable planet. Unless we get to work in every community and every sector of society to reduce our carbon emissions, unless we push political and corporate powers to keep fossil fuels in the ground and make a swift transition to clean, renewable energy, then the average global temperature is going to shoot far past that critical threshold of 1.5˚ Celsius. Around the world, scientists and activists, vulnerable communities and communities of faith are fighting to avert runaway climate change. Their cry and our cry is "1.5 to stay alive."
I usually take the Gospel as my sermon text, but this week I must turn to the Old Testament passage, that hair-raising story from First Kings about a powerless citizen being framed and murdered by an unjust king and queen so that they can seize his land. Naboth has a vineyard beside the royal palace. When King Ahab makes what sounds on the face of it like a reasonable offer to buy the vineyard, Naboth turns him down: "The LORD forbid that I should give you my ancestral inheritance" (
1 Kings 21:3
). Calling the land "my ancestral inheritance" suggests that the land has been in his family for a long time and also that he holds the land in trust. To Naboth the land is not just a commodity, not just real estate, not just a source of profit and gain: it is a gift from God; it is sacred; it is entrusted to his care.
King Ahab is frustrated. He goes home "resentful and sullen" (
1 Kings 12:4
), lies down on his bed like a pouting child, and refuses to eat. Enter, then, the strong negative character of the story, Queen Jezebel, who basically asks, "Hey, don't you have power to do whatever you want?" She tells him to quit moping; she will take care of this. Using Ahab's credentials, she arranges for "two scoundrels" (
1 Kings 12:10
) to make false charges against Naboth in front of the city council and to have him stoned him to death. And so the deed is done: through backroom dealings that include perjury, conspiracy, and theft, Naboth is framed and murdered, and the king claims the vineyard as his own.
This is an almost archetypal story about dirty politics, about violence and the misuse of power. It resonates down through the centuries and up to the present moment. A few days ago, when I was visiting Union Theological Seminary in New York City to speak to an ecumenical group of clergy who had gathered from all over the country for an intensive, week-long training on climate change, I learned that
activists fighting to stop construction of a trash-burning incinerator in a low-income neighborhood of Baltimore are using the story of Naboth's vineyard to illuminate their own experience of social and environmental injustice
.
The mindset that allows Ahab and Jezebel to kill Naboth so that they can grab his land is the same mindset that allows governments and businesses to push aside low-income people and indigenous peoples and people of color to exploit, pollute, and take possession of their land, the same mindset that allows a nation to go to war against another nation so that it can seize control of another country's natural resources, the same mindset that allows the fossil fuel industry to keep expanding its search for more oil and gas, despite the enormous human cost – especially to the poor – of burning fossil fuels. Injustice against human beings is intimately linked to desecration of the Earth.
Because of that mindset, Naboth is killed, and for a while it seems that Ahab has triumphed. But then, the story tells us, God intervenes.  In the prophet Elijah's heart a holy resistance rises up. A sacred protest fills him, a Spirit-filled energy to stand up against unjust power, a compelling need to protect the rights of the poor and to defend the sacredness of the land. "The word of the LORD came to Elijah" (
1 Kings 21:17
), says the text.  We don't know how that word came to him, whether it came through a dream, a vision, or simply through the painful and gut-wrenching awareness that what Ahab had done was wrong. What we do know is that the word of God came to Elijah, and that he received courage to stand up to the king, to stop the injustice, and to change the course of history.
The same Holy Spirit that spoke through Elijah and through the life and words and deeds of Jesus Christ is speaking through countless people the world over today.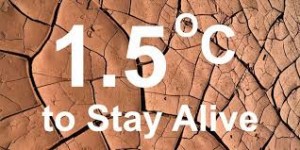 "1.5 to stay alive" – that is the cry of every God-inspired prophet who stands like Elijah beside the vulnerable Naboths of this world.
We say "1.5 to stay alive" to stand with the low-income community of Baltimore that is fighting for the right to clean air.
We say "1.5 to stay alive" to stand with Pacific Islanders forced to leave their homeland because rising waves are washing away their buildings and contaminating their water supply.
We say "1.5 to stay alive" to stand with indigenous peoples in the Arctic whose cultures are disintegrating as the ice melts.
We say "1.5 to stay alive" to stand with frightened pregnant women in the global South and the Southern U.S. who know that the Zika virus, which spreads in a warm, humid climate, could irreparably harm their unborn child.
We say "1.5 to stay alive" to stand with every person and every community that wants to live in a just and peaceful world with recognizable seasons and moderate, predictable rains, in a world with enough clean, fresh water for all and an ocean teeming with life.
And we say "1.5 to stay alive" to stand against the political and corporate powers that view the Earth as nothing more than a source of profit and who exploit the Earth and other people as if it's every man for himself and the Devil take the hindmost.
Thanks to Bob Parati, we have a sign that proclaims, "1.5 to stay alive." After the service, I invite anyone who wishes, to join me outside so that we can take a group photo.
I invite you to do some other things, too. If you haven't done so already, I invite you to join
Climate Action Now
, our vibrant, local grassroots climate action network. I've put a sign-up sheet in the back, so you can receive Climate Action Now's terrific weekly newsletter. I will also gladly share your name with a new interfaith climate group I'm helping to lead,
Massachusetts Interfaith Coalition for Climate Action
.
Thanks to some of the people in this room, and to people like you, Kinder Morgan's NED pipeline was stopped. Now the fight is on to
stop another dangerous and unnecessary fracked gas pipeline, Spectra Energy's West Roxbury Lateral pipeline
. Two weeks ago I was arrested in Boston along with fifteen other religious leaders after we sat down on the edge of the trench that runs down the middle of the street where the pipeline is being constructed. Sitting at the edge of that trench was like sitting at the edge of an open grave, proclaiming the power of love and life as our legs dangled in the pit. We clergy came from a variety of denominations and traditions – American Baptist, Buddhist, Episcopal, Hindu, Jewish, Presbyterian, United Church of Christ, and Unitarian Universalist. We represented a range of religions, yet all of us were drawing from a holy power greater than our selves. All of us were rooted in a reality that transcends the unjust structures of this world. And all of us were
fired by the vision of a better world, by faith in the human spirit, and by faith that God would guide us to courageous and visionary action
. We prayed and preached and sang until the cops handcuffed us and took us away.
More resistance is ahead. I invite you to consider joining a
group from western Massachusetts that will protest the West Roxbury pipeline on June 28
, and I invite you to consider joining a
march against new gas pipelines that Better Future Project will lead in mid-July
. I'd be glad to speak with you about those events, after the service.
Near and far a wave of religious protest and activism is rising up around the world as we respond to the cry of the Earth and the cry of the poor.  The first followers of Jesus tapped into a source of love and power that gave them strength to challenge injustice.  And we tap into that holy power, too. Here at this table, we followers of Jesus will share in the bread and wine of the Eucharist, knowing that God will give us strength for the journey and will nourish our hungry souls. The Church was made for a time like this – a time when God calls all people to recognize that we form one human family and that the Earth is sacred and entrusted to our care. Just as Naboth said to Ahab, so we, too, say to the powers-that-be, "The LORD forbid that I should give you my ancestral inheritance" (
1 Kings 21:3
). With the Spirit of Jesus to guide us, we head into the world to proclaim the good news of the reign of God.
&nbsp