Sermon for the Twentieth Sunday after Pentecost (Proper 24A), October 22, 2017
Delivered by the Rev. Margaret Bullitt-Jonas at Christ Church Cathedral, Vancouver, British Columbia
Exodus 33:12–23
Psalm 99
1 Thessalonians 1:1–10
Matthew 22:15–22
"Show me your glory"
It is a blessing to be with you this morning! Thank you, Peter, for inviting me to preach. I bring greetings from Massachusetts, where I serve both the Episcopal Diocese of Western Massachusetts and the United Church of Christ as Missioner for Creation Care. In this ecumenical role I travel from place to place, church to church, preaching the Gospel and speaking about our call as Christians to love and protect the Earth that God entrusted to our care. It is a joy to return to the Pacific Northwest and to see again the magnificent skies and sea and mountains of Vancouver and the glory that God reveals in this particular corner of God's Creation – even if does seem to rain a lot!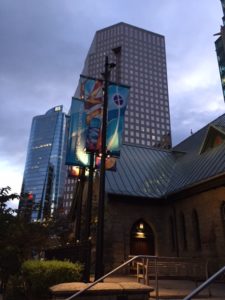 Glory is our theme this morning – the glory of God, the glory of God's Creation. In the passage from Exodus that we just heard, Moses engages in a long conversation with God. Eventually Moses asks, "Show me your glory" (
Exodus 33:18
).
Before we go any further, allow me to suggest that when we think about Moses, we probably think first about what he did in public. Who is Moses? He is the leader of the Hebrew people. He is the prophet who confronted the Pharaoh, the liberator who set his people free and led them out of bondage in Egypt, the lawgiver who formed Israel as a nation. Moses is a public leader – yes – but in today's reading we see a much more intimate side of Moses – we see his inner life. We listen in on his intimate conversation with the God who dwells within him, just as God dwells within each one of us while also being distinct from us, infinitely beyond us.
"Show me your glory," Moses prays – a plea that we might render as: "God, show me your beauty, your goodness, your truth. Show me your ways. Show me your face." It's an ardent prayer, the prayer of a lover to his beloved or of one close friend to another (
Exodus 33:11
), the prayer of someone who has wrestled with and argued with and trusted in and cast his lot with a divine Presence who will never let him go. It is the prayer of someone who wants to draw close to love and to the Source of love. "Show me your glory."
And God responds, yes, I will show you my glory, "I will make all my goodness pass before you" (
Exodus 33:19
), but "you cannot see my face; for no one shall see me and live" (
Exodus 33:20
). And so God shelters Moses in a cleft of the rock, God tenderly cups a hand over him until God has passed by, and then God removes the hand, so that Moses can see God's "back" (
Exodus 33:23
).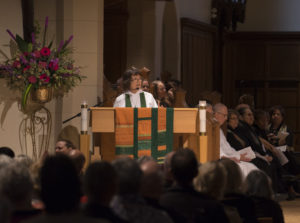 Anyone who has ever been overcome by the beauty of the world – anyone who, in contemplating the world, has ever experienced a wave of wonder and gratefulness and awe – anyone who has ever spent time studying the details of a single leaf or gazing at an ancient forest or watching waves dancing on the shore knows what it's like to see God's "back." Like Moses, we cannot see the glory of God directly, in all fullness, for that radiance would be too much for mortal eyes to bear, but by the grace of God we sometimes see God's "back" – we catch glimpses of God's glory, we see traces, as when Moses saw the burning bush that was on fire and yet was not consumed. It may have been just an ordinary bush, but at that moment Moses could see that even this lowly bush was on fire with the love and glory of God. He took off his shoes, for he knew that he was standing on holy ground.
Sometimes we are surprised by such moments of awakening to glory: maybe we are startled by the cry of wild geese flying overhead or by the sight of an Orca rising and falling in the ocean; we are seized with wonder and our restless worries fall away. Sometimes we prepare for these moments of awakening: maybe we have a particular sacred place in nature that we return to again and again, knowing that if we stop and gaze and wait and pray, we are likely to sense that God is present, God is passing by. The Creator of all that is is always disclosing God's self to us in the natural world, always inviting us to slow down, look carefully, be curious, and greet our other-than-human kin.
I think that that's what Jesus did: he lived close to the Earth, and in the Gospels we often find him outdoors, praying in the desert, walking along a seashore, or climbing a mountain. His parables and stories are rich in images of nature: sheep and seeds, lilies and sparrows, weeds and rocks. As I meet Jesus in Scripture and in prayer, it seems to me that every creature he saw, every person he encountered he met with eyes of discerning love. He saw the inherent sacredness of the created world because he saw with his sacred eyes. He knew that we belong to a living, sacred whole and that everything is lit up with God's glory, because he himself was lit up from the inside with God's love. The poet Gerard Manley Hopkins echoes what Moses saw and what Jesus saw when he writes: "The world is charged with the grandeur of God."
I wonder what it would be like if Christians around the world recovered a felt sense of the glory of God in Creation. What would happen to us, how would we change, what power would we receive, if we immersed ourselves more often in prayer outdoors in God's Creation, and if, when indoors, we never forgot our connection with the living world outside? However alienated we may feel from nature, however enmeshed and trapped we may get in virtual reality and the hectic world of screens, emails, and tweets, however isolated we may feel as we hurtle down highways in our cars, the truth is that we live in a sacramental universe – a living, vibrant world that discloses and conveys the presence of God as surely as do the sacraments of Holy Baptism and Holy Communion.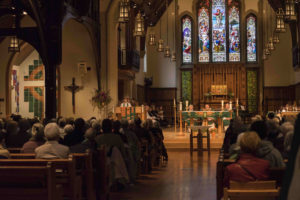 So when we see that living world being desecrated – when we see God's good Earth being poisoned by toxins and pollutants, and laid waste by corporate greed – when we realize that the web of life is unraveling before our eyes and learn from scientists that a mass extinction event is now underway, a "
biological annihilation
"– when we recognize that burning coal, gas, and oil is pushing the planet to break new records for heat, causing droughts, floods, and monster hurricanes, drowning cities, and accelerating wildfires – when we understand that the people hurt first and hardest by the effects of a changing climate are the poor – when we realize that, unless we change course fast, we will not leave our children and our children's children a habitable world – then we are moved to take action. For we want to bear witness to the love of Jesus; we want to honor the glory of God's Creation and to protect it from further harm.
As individuals, there is a lot we can do. Maybe we can plant a tree. Save a tree. Recycle more. Drive less. Eat local, and move to a plant-based diet. Support local farms and land trusts. Fly less – and, if we must fly, buy carbon offsets. Maybe we can afford solar panels and move toward a carbon-neutral home. You know the drill!
Individual changes make a difference, but because of the scope and speed of the climate crisis, we need more than individual action – we need systemic change. To do that, we may have to confront the powers that be. That's what Moses discovered after he saw God's glory: after he saw the burning bush and the living radiance of God's Creation, from within the burning bush he heard God call him to do a brave thing: to step out into the public realm to confront the Pharaoh and to set his people free.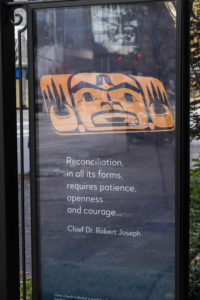 I hear the same call in Jesus' words in today's Gospel passage: "Give therefore to the emperor the things that are the emperors, and to God the things that are God's" (
Matthew 22:21
). That enigmatic line has been interpreted in all kinds of ways, but here is how I hear it today: when we're faithful to God, we give to the emperor – or, we might say, to the state – the things that are the state's; we respect the legitimate and limited functions of the state. But when the state puts itself in place of God – when it violates the vision and values that are basic to Christian faith – when it abandons the Earth entrusted to our care and rides roughshod over the needs of the poor – then as Christians we are called to protest, to resist the state, and to change our ways of doing business, because our ultimate commitment is to God.
Back where I come from, in the United States, that's where many Christians now find ourselves: appalled by the actions of a government and of multinational corporations that seem intent on desecrating every last inch of Creation, pillaging every last natural resource, destroying every last habitat, and abandoning every last regulation, rule, and treaty that preserve clean air and water and maintain the stability of our global climate. Impelled by our faith in the living God, the risen Christ, and the Holy Spirit, we are praying and protesting, resisting and organizing.
I can't speak to the struggles that you face here in Canada, but I can say this: whatever obstacles you and I face as we try in the name of God to build a more just and sustainable future, however daunted we may feel, however challenging the battles that lie ahead of us, we trust that the glory of God is with us. In this Eucharist, as in every Eucharist, we will soon turn to God and say, "Heaven and earth are full of your glory." We will pray as Jesus taught us, "Our Father in heaven… the kingdom and the power and the glory are yours." And we will stretch out our hands – as if to say, like Moses, "Show me your glory" – and we will be given the consecrated bread and wine, the Body and Blood of Jesus, these simple elements of nature, filled with glory, giving us strength for the days ahead.