Sermon delivered by the Rev. Dr. Margaret Bullitt-Jonas
First Parish in Lincoln, Massachusetts
October 14, 2018
Ten years to avert climate catastrophe? What do we do now?
"Spiritual beliefs are not something alien from Earth, but rise out of its very soil. Perhaps our first gestures of humility and gratitude were extended to Earth through prayer, the recognition that we exist by the grace of something beyond ourselves. Call it God. Call it Wind. Call it a thousand different names. Corn pollen sprinkled over the nose of a deer. Incense sprinkled from swaying balls held by a priest. Arms folded, head bowed. The fullness we feel after prayer is the acknowledgment that we are not alone in our struggles and sufferings. We can engage in dialogue with the Sacred, with God and each other. A suffering that cannot be shared is a suffering that cannot be endured."
--Terry Tempest Williams, Leap
29 After Jesus had left that place, he passed along the Sea of Galilee, and he went up the mountain, where he sat down. 30 Great crowds came to him, bringing with them the lame, the maimed, the blind, the mute, and many others. They put them at his feet, and he cured them, 31 so that the crowd was amazed when they saw the mute speaking, the maimed whole, the lame walking, and the blind seeing. And they praised the God of Israel.
-- Gospel of
Matthew 15:29-31
Today is a good day – a very good day – to be praying and speaking about the natural world. This week the U.N.'s Intergovernmental Panel on Climate Change released a major report about what it will take to keep the earth's temperature below 1.5 degree Celsius of warming. That's the level that countries around the world have agreed is a reasonably safe upper limit for maintaining life as we know it on this planet. As one reporter puts it, holding warming to that level would most likely avert "catastrophic climate change like the collapse of rain forests and coral reefs, rapid melting of the ice sheets that would swamp coastal cities around the world and heat extremes that could lead to millions of climate refugees." The U.N. report makes it clear that to stay within that 1.5 degree boundary of safety, or even within 2 degrees of warming, will require an extraordinary collective effort by human beings worldwide. The only way to avoid hurtling past that threshold is to carry out a "rapid and far-reaching" transformation of human civilization at a magnitude that has never happened before. Such a radical transformation of society has what the report calls "no documented historic precedent," yet it must be carried out breathtakingly fast: the world has perhaps just over ten years in which to prevent climate catastrophe.
Wouldn't you know – at the same time that the Intergovernmental Panel on Climate Change issued its report, a monster storm was forming off the Gulf Coast. It quickly grew to a Category 4 hurricane with sustained winds of 155 miles per hour, careened into the Florida Panhandle and then roared across the Carolinas, leaving devastation in its wake. Our hearts go out to the people who lost their lives, homes, and livelihoods to Hurricane Michael, which was supercharged by warming seas,
exactly the kind of extreme weather event that is linked to climate change
.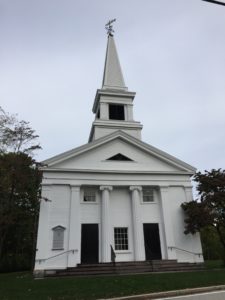 I know we have a lot on our mind these days. In these turbulent times, many concerns are pressing for our attention. But tackling climate change must be front and center if we are going to leave our children and grandchildren a habitable world. Can we do it? Just as important:
will
we do it? Given the enormity of the task, I know it's easy to feel helpless and overwhelmed, easy to shut down, throw up our hands and call it quits. "It's too late," we tell ourselves. "What difference can I make? It's not my problem. Someone else will have to deal with it. Besides, the world is cooked. We're done for. I might as well put my head down, go shopping, grab a beer." It's easy to collapse into fatalism or despair. I assume that strictly speaking all of us in this room are not climate skeptics – we
do
respect climate science, we
do
understand that burning fossil fuels is disrupting the global climate and threatening the whole human enterprise – but most of us engage in a kind of everyday climate denial: we don't want to talk about it, we don't want to think about it, we don't know what to do about it, and we surely don't want to feel the emotions that this crisis evokes.
That is why I give thanks that I'm here with you this morning. When we face the stark reality of climate change and grasp that we have perhaps ten years in which to avoid irreversibly dismantling the life systems of the planet, we need to find each other – we need to gather with other people of faith and good will, to see each other's faces, look into each other's eyes, and feel each other's hands in ours. And we need to pray. Taking action is essential, but in order to discover what we are called to do – and to find the strength to do it – we need to pray, to open ourselves to a power and wisdom that is greater than our own. My friends, we need help. We need guidance. We need the love and power of God.
And so we pray, recognizing, as Terry Tempest Williams says in our first reading, "that we exist by the grace of something beyond ourselves." Our prayer can take many forms, as Terry also acknowledges. In times like these, our prayer may need to be expressive and embodied, visceral and vocal. How shall we pray with our immense anger and grief? How do we pray about ecocide, about the death that humanity is unleashing upon Mother Earth – and upon ourselves?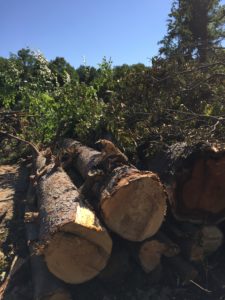 Over the past few weeks a company has been cutting down trees in the woods behind our house, clearing space for a new co-housing development. I'm all for co-housing, and I've met some nice people who plan to live there, but, honestly, I grieve the trees. So I've taken to praying outdoors. I go outside, feel my feet on the good earth, feel the wind on my face, and I sing to the trees. I sing my grief to the trees that are going down, and my grief about so much more: about what we have lost and are losing and are likely to lose, making up the words and the music as I go along. I sing my rage about these beautiful old trees going down and about the predicament we're in as a species, my protest of the political and corporate powers-that-be that drive forward relentlessly with business as usual, cutting down forests, drilling for more oil and fracked gas, digging for more coal, expanding pipeline construction, and opening up public lands and waters to endless exploitation, as if the Earth were their private business and they were conducting a liquidation sale. I sing out my shame to the trees, my repentance and apology for the part I have played in Earth's destruction. I sing out my thanks, my praise for the beauty of trees and my resolve not to let a day go by that I don't celebrate the preciousness of the living world of which we are so blessedly a part.
Our prayer may be noisy and expressive, or it may be very quiet, the kind of prayer that depends on listening in stillness and silence with complete attention: listening to the crickets as they pulse at night, listening to the rain as it falls, listening to our breath as we breathe God in and breathe God out, listening to the inner voice of love that is always sounding in our heart.
I imagine that Jesus prayed like that, both expressively and in silence, and more often than not outdoors. That's where we usually find him in the Gospel stories – outdoors in the wilderness, on a mountain, beside the sea, or walking mile upon mile down dusty roads. Jesus was immersed in the natural world and he used images of nature in his parables and teachings: weeds and wheat; seeds and rocks; lilies, sheep, and sparrows. No doubt he knew from his prayer, as we know from ours, that when we pray in the company of the living world, when we pray "with the Sacred, with God and each other," we receive strength from beyond ourselves.
That's why I chose the second reading: as Matthew's Gospel tells it, Jesus passes along the Sea of Galilee and then goes up the mountain. I wonder if his being with the sea and with the mountain, and his prayerful walking in fresh air, were part of his communion with the divine. For it is from out of his immersion in the natural world that Jesus begins to carry out actions that bring healing and wholeness. His prayer is transformed into action; his secret communion with the God of love spills over into acts of love, and through his presence, words, and touch, great crowds of people are healed.
Does something like that happen when we, too, pray with and for the natural world? Despite its wounds, the living world still conveys the mystery of the living God. Like Jesus, when we experience the divine presence, we receive fresh energy to renew the face of the Earth, to become healers and justice-seekers. We cast our lot with people of faith and spirit who have been awakened – as we have been awakened – by a fierce longing to join the dance of life. We rise up from prayer to act, and we pray as we act.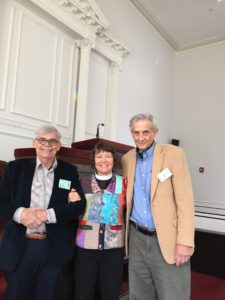 What does it look like when we join God's dance of life? We start by making personal changes. Maybe we cut back strongly on our use of fossil fuels and switch to clean sources of energy. (After today's service, you have an opportunity to
switch to wind power as the source of your home's electricity
.) Maybe we fly less, drive less, and eat less meat.
Shifting to a plant-based diet turns out to be one of the most climate-friendly things we can do
. And we also push for the larger, systemic changes that must be carried out by businesses, politicians and non-profits. Maybe we lobby for policies that support renewable energy, carbon pricing, and clean green jobs. Maybe we sign up with
350Mass. for a Better Future,
the grassroots climate action group in Massachusetts that is fighting for a rapid and just transition to 100% renewable energy. 350Mass has a local node that includes people right here in the town of Lincoln. What else can we do? We can vote for candidates with strong climate policies, and maybe send some money to climate champions running for office in other states. If we went to college, we can push our alma mater to divest from fossil fuels. Some of us may feel called to join the growing numbers of faith-filled people who carry out peaceful civil disobedience and put our bodies on the line.
In whatever ways we step out to heal God's creation and to join the dance of life, we will take risks we never imagined we would take. We will connect with people we never imagined we would meet. And we will make more of a difference than we will ever know. Will we succeed in creating a more just and gentle relationship between humanity and the rest of Creation? Will we succeed in averting climate disaster? I don't know. But I do know this: I intend to bear witness to the power of a living God until the day I die, and I know that you do, too.
Thank you for your courage and your faithfulness. I look forward to hearing what next steps this community will take.