Under bright skies, scores of people gathered on September 13 in front of the Springfield, MA office of Congressman Richard Neal to urge him to support full funding of the $3.5trillion budget reconciliation package. As Chair of the House Ways and Means Committee, Rep. Neal is playing a critical role in determining the size and scope of the human needs that this bill will meet and how fully it will invest in solutions to the climate crisis.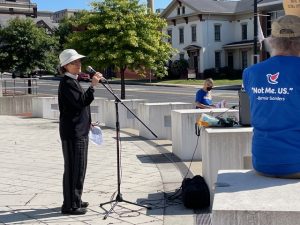 I spoke about the moral imperative to fund the legislation; other speakers addressed the bill's impact on health care, housing, jobs, and poverty. This legislation is being actively supported by faith-based climate groups across the country, including Interfaith Power & Light, Creation Justice Ministries, Catholic Climate Covenant, Dayenu, and many more.
Some of my remarks are below:
I'd like to speak to Congressman Neal as one Christian to another.  We are members of different denominations: he is a Roman Catholic; I am an Episcopalian.  But both of us believe in a loving God who created the universe, pronounced the whole creation "very good," and entrusted the Earth to our care.  Both of us believe in the saving power of Jesus Christ and in his mission of compassion, justice, and hope.  Both of us believe in the healing power of the Holy Spirit, who makes all things new.
Congressman Neal, as one Christian to another, I urge you to fully fund the budget reconciliation package.  Fully funding this legislation is a moral imperative.  It may be our country's last best chance to slash the greenhouse gas emissions causing global warming, and it may be our country's last best change to build resilience to the increasing devastation of climate change.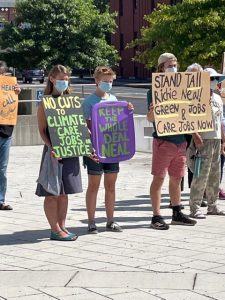 I'm sure you know that last week, for the very first time, three of the world's top Christian leaders – Archbishop of Canterbury Justin Welby, Pope Francis, and Ecumenical Patriarch Bartholomew – issued a joint statement on climate change and made an urgent appeal for the future of the planet. In this extraordinary statement, the leaders of the Anglican Communion, the Roman Catholic Church, and the Eastern Orthodox Church called on people – called on us – to pray for world leaders ahead of the U.N. climate change conference (COP26), which will be held in November. And these Christian leaders called "on everyone, whatever their belief or worldview, to endeavor to listen to the cry of the earth and of people who are poor, examining their behavior and pledging meaningful sacrifices for the sake of the earth which God has given us."
Congressman Neal, we are listening to the cry of the Earth and the cry of people who are poor.  We appeal to you to demonstrate moral leadership.  We appeal to you to fully fund this legislation and to invest in climate justice and resilience.  
Climate justice is God's justice.