The People's Climate March is only a few weeks away, and conference calls to organize the event are coming thick and fast. In New York City at 11:30 a.m. on Sunday, September 21, tens of thousands of people – projected estimates run as high as 250,000 – will step out in the largest, most diverse climate march in history. I am told that over 850 businesses and labor unions, faith groups, schools and seminaries, and social justice, environmental and civic organizations have been working together to create this historic event. No single celebrity or entity is behind it – this will be a movement made of many movements, a collective call to action. As far as I can tell, it's an unprecedented collaboration. I missed the 1963 March on Washington, but I don't intend to miss this one.
The purpose of the People's Climate March? To build momentum for a strong international climate treaty. To stand with front-line communities being hit hard by the impacts of climate change. To show world leaders gathered in New York City at a U.N. climate summit that we're not willing to settle for more inaction.
In short, we hope to create a pivot toward justice and healing.
Speaking by phone with a range of religious leaders has generated a lot of creative thinking. People of different faiths will be marching together, and we're looking for ways to keep our part of the march prayerful and focused. What shall we sing? How shall we express our deep conviction that Creation is sacred? How shall we particularly honor indigenous peoples whose religious traditions have always been connected with Earth? How shall we call upon Spirit as we walk together in all our diversity to protect life on this planet? What symbols might we carry?
Someone proposed making an Ark. We brainstormed possibilities. Maybe the Ark could be hauled on a flatbed truck that runs on biodiesel. Maybe it could be made of papier-mâché and pulled by volunteers. Maybe Sunday School children could walk alongside, wearing homemade masks of animals. But how would we frame the meaning of the Ark? What would we want it to represent? Rabbi Arthur Waskow, the indomitable prophet and the founder and director of The Shalom Center, offered to give an invocation and to develop something along these lines: "The Ark as an island of safety in a world of danger; the Ark as an act of creativity in a world that is stuck in old habits; the Ark as a community modeling Eco-system Earth."
The Ark is an ancient symbol of hope: here is where human beings and the rest of the natural world learn to co-exist in harmony. Here is where we find refuge. Here is where bio-diversity is saved for generations to come. In times like these, when climate emissions are sky-rocketing and political will is flagging, when the draft of a major U.N. report warns of "severe, pervasive, and irreversible impacts" of climate change in the decades ahead, and when you can sit in stunned silence at your computer and watch a Greenland glacier melt before your eyes, it is good to tap into our inner Noah: to discover the self that is willing to rise up in response to God's call to preserve life on Earth.
Channeling your inner Noah does not even require an Ark – sometimes a lobster boat will do. On May 15, 2013, Ken Ward and Jay O'Hara used a little white lobster boat to blockade the delivery of 40,000 tons of West Virginia coal to the Brayton Point Power Station, the largest coal plant in New England.  Their action fired up a summer of protests and actions at the Brayton Point plant, and the owners announced last fall that the plant will shut down in 2017.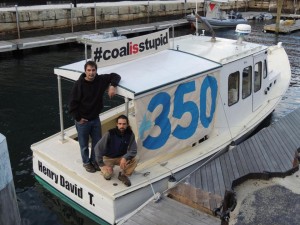 Meanwhile, Ken and Jay are about to stand trial on September 8 and 9 on charges of disturbing the peace, conspiracy, and motorboat violations. If convicted, they face up to nine months in jail. At the Fall River courthouse they will use a groundbreaking legal approach: they will admit to all the charges, but they will bring to the stand expert witnesses such as Bill McKibben and NASA scientist Jim Hansen.  Ken and Jay will argue that their actions were necessary to defend their lives from the imminent threat of climate change.  The Boston Globe recently featured an article (fancifully entitled, "The Climate Made Me Do It!") about this historic case, which would be the first time that a climate necessity defense is used in American court.
People of faith will gather at the Fall River courthouse to express their solidarity with these two brave men. Will you join me there on Monday, September 8? For more information and to RSVP, please visit Lobster Boat Blockade.
As for joining the Climate March in New York City on September 21, here comes a last call to buy seats on our bus reserved for Episcopalians in western Massachusetts. More than half the seats have already been sold, so please reserve your seat today.
The bus will leave Springfield, MA at 6:30 a.m. on Sunday, September 21, stop in New Haven to pick up seminary students at Berkeley Divinity School/Yale Divinity School, and arrive in New York in plenty of time for the march. Holy Communion will be celebrated on the bus, so get ready for your first Eucharist on wheels! The Presiding Bishop is recording a homily for the occasion that will be broadcast on the bus. After the march, everyone is invited to the Cathedral of St. John the Divine for a vibrant interfaith service at 6 p.m. The bus will arrive back in Springfield on Sunday night.
The bus trip is being subsidized by the bishops of Province 1 (the Episcopal dioceses of New England), so a round-trip ticket costs only $15, plus a service charge. The Rev. Stephanie M. Johnson, Environmental Missioner for Province 1, will be the celebrant aboard the bus, and I will greet everyone when you arrive in New York.
Please bring a church banner. Clergy, please wear a collar.
Register for the People's Climate March here.
Reserve a seat on the Episcopal bus and review FAQ here.
(For more transportation options, see below.)
Request a free pass to the 6 p.m. service at St. John the Divine (which will be crowded) here.
Even if you can't make it to the march, your congregation can support the march in other ways. I know of two Episcopal churches – Church of the Holy Trinity (NY, NY) and Grace Church (Amherst, MA) – whose vestries passed a strong resolution endorsing the March. And congregations everywhere can register to be a Climate March Faith Community. To register as a Climate March Faith Community, go to GreenFaith here, and commit to carrying out four or more of the eight suggested actions. Suggested actions are straightforward: for instance, a congregation can encourage members of the community to join the climate march.  It can offer a sermon about climate change, lift up prayers, or invite march participants to report back on their experience.
The most unusual suggested action is the last one: at 1:00 p.m. on Sunday, September 21, a congregation can "sound off" outdoors in support of climate action for 5 minutes and 50 seconds. Why 5 minutes 50 seconds? Because that's 350 seconds. In the global atmosphere, the safe upper limit for carbon dioxide, the chief greenhouse gas that causes global warming, is 350 parts per million. Currently we are close to 400.
How do we "sound off"? Churches will ring bells; synagogues will publicly sound a shofar; mosques will offer a public call to prayer; sanghas will ring a meditation gong or bell; Hindu temples will chant a mantra – or your community can carry out an outdoor walking prayer/meditation or design its own outdoor observance. "Sounding off" events will take place at 1 p.m. in a great rolling wave of sound around the world – from Europe and Africa to the U.S. and Asia.
The best part of the story of Noah's Ark comes at the end. God makes a decisive promise to all of creation, human and non-human alike: "I have set my bow in the clouds," God says (Genesis 9:13). From now on the rainbow will mark "the everlasting covenant between God and every living creature of all flesh that is on the earth" (Genesis 9:16). Looking ahead to the climate march, I hold on to that promise.  If there is going to be any kind of flood, let it be a flood of people filling the streets of New York. God has promised to stand with every living creature, and so will we.
In honor of Noah, and just in time for the Climate March, here's a song to sing to the tune of "Jacob's Ladder" — with lyrics by the Rev. Fred Small, Senior Minister of First Parish in Cambridge UU, and Co-Chair of Religious Witness for the Earth:
We are saving Noah's cargo…. (sing 3x, closing with the refrain: Children of the Earth.)
Every creature has its purpose…
Wolves and whales and owls and otters…
Send a dove to find safe harbor…
In the rainbow, see God's promise….
See you in New York!
---
If you are looking for other ways to get to NYC on Sept. 21 (train, light rail, carpool), stay tuned here, the Pioneer-Valley-focused site for getting to the March.
Also, 350MA.org has organized both September 20 and September 21 buses from cities across Massachusetts, including Amherst and Worcester. To order tickets, visit here.  Sales end Sept. 10.
If you are traveling from Cape Cod, you can find bus seats here.