Today the three faith leaders who serve on the Board of Trustees of Better Future Project released this statement, "Choosing Between Two Floods: Responding to Pope Francis' Encyclical":
"We have been called to heal wounds, to unite what has fallen apart, and to bring home those who have lost their way."  — Attributed to St. Francis of Assisi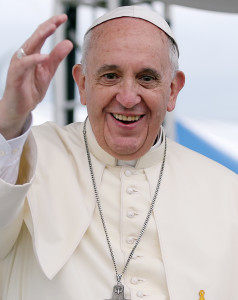 We welcome the strong prophetic witness on climate change offered this week by His Holiness Pope Francis in his encyclical "Laudato Si'."
Pope Francis addresses this encyclical to people everywhere: "Now, faced as we are with global environmental deterioration, I wish to address every person living on this planet…. In this Encyclical, I would like to enter into dialogue with all people about our common home." We hope that indeed people of all faiths will heed his words and take action.  As the Pope affirms, climate change is largely human-caused. In keeping with his commitment to the marginalized and vulnerable, Pope Francis emphasizes that climate change has especially devastating effects on the poor.  Addressing climate change is an essential aspect of ethics. As individuals we must reduce our personal consumption of fossil fuels; as citizens, we must push for effective governmental and international action.
As ordained clergy and as members of the Better Future Project Board of Trustees, we applaud Pope Francis' call to action. Since its founding in 2011, Better Future Project has been a leader in the climate action movement, empowering grassroots organizing through 350 Massachusetts and leading campaigns for divestment from fossil fuel companies, carbon pricing, and a shift to renewable energy in Massachusetts.
We believe that taking swift and responsible action to address climate change is an urgent moral imperative. Last September we walked with faith communities in the People's Climate March, joining 400,000-plus people in the streets of New York. You might call it a kind of flood — not Noah's flood, not the flood of a monsoon or hurricane, but a flood of loving determination, a flood of witness and hope for action on climate change. The climate movement is a flood of people calling for systemic change: for sharply reduced greenhouse gas emissions and for a swift transition to clean, safe renewable energy; for the protection of poor and vulnerable communities, for an end to fossil fuel subsidies, and for a strong international climate agreement in 2015.
Today we must choose between two floods: the flood of rising seas, or the flood of hopeful and courageous change. As Professor Mercy Oduyoye, an African theologian, has said, unless we take care of each other, we will lose our humanity; unless we become earth-keepers, we will be homeless.
Ban-Ki Moon, the U.N. General Secretary, has asked people of faith to urge bold action on climate change and to "provoke, challenge and inspire political leaders." We celebrate the release of the Pope's encyclical, which has done just that.  We recommit ourselves to the struggle to provoke, challenge, and inspire political leaders and to mobilize a wave of religious activism to stabilize the climate, heal the Earth, and chart a course to a just and sustainable future.
The Rev. Dr. Robert K. Massie
The Rev. Dr. Margaret Bullitt-Jonas
The Rev. Reebee Kavich Girash