My mother Sarah Cowles Doering died peacefully on November 16, 2018. She was 92 years old. Soon after she died, I wrote a brief account of the last days of her life and shared it with close family and friends. I am posting it below, with light edits, in hopes that this story will encourage all of us who wonder about the mystery of living and dying, and all of us who hope to come to terms with – even to make peace with – our own death and the deaths of our loved ones.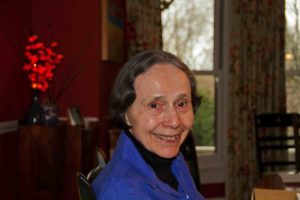 As a child, I used to worry that my mother was a saint, a struggle that I portray in my memoir, Holy Hunger.  No, she was not a saint, if by "saint" we mean someone who is a paragon of virtue and benevolence. My mother, like everybody else, was not perfect. She had her limits and wounds, and in some respects I struggled with her until the day she died. But she was indeed a saint, if by "saint" we mean someone who allows her life to be changed by spiritual practice and by what Christians call the redemptive love of God. She lived an extraordinary life of generosity and compassion, and she died as she lived, curious to the end, mindful of every breath. I believe that she died a holy death.
As her obituary explains, Sarah Doering was a spiritual guide, meditation teacher, and philanthropist who played an instrumental role in helping Buddhism take root in the United States. Directly or indirectly, she touched the lives of thousands of people.

                  The Barre Center for Buddhist Studies posted a tribute to her here. 
                  Insight Meditation Society posted a tribute to her here. 
Throughout her months in hospice, my mother was serene, resolute, even joyful, accepting the changes in her body with equanimity. Increasingly weak after five months in bed, she was finally ready to let life go. She made a decision to hasten the process and stop eating and drinking. She consulted with her four children, knew that we accepted her decision, and had her last meal on the night of November 5. Having practiced Buddhist insight meditation for almost 40 years, she was curious about the dying process and wanted to stay as conscious as possible for as long as possible.
She experienced her suffering in the widest possible context. As she grew thirsty, she spoke about the thirst of the migrant "caravan" making its way to the U.S. border, as if her own personal pain was a window into the pain of others, a way of experiencing solidarity and compassion. She asked for hardly any pain medication, until, to the great relief of her children and doctor, she finally asked for a little morphine on Day #9, because, she said, she was curious about the effect of morphine on the body. It wasn't until Day #10, the last day of her life, that she finally requested regular doses of morphine.
During her last week, she dictated brief letters of thanks to friends and family members, appreciating them for what they had given her over the years. Until her energy ebbed away, she remained thoroughly engaged with life, reading (among other things) a biography of Genghis Khan and the latest novel by Barbara Kingsolver, and – true to the legacy of the Cowles family – poring over the daily newspaper. She rejoiced that a Democrat finally won the Senate seat in Arizona. On the last day of her life, she asked what the headlines were.
Thanks to her many months of gradually declining health, all four of us children had a chance to say our goodbyes. The approach of death can sometimes dissolve long-standing barriers, and I think it's fair to say that in the last weeks of our mother's life, we children shared more love and truthfulness with her, and vice versa, than we ever had before. I am grateful.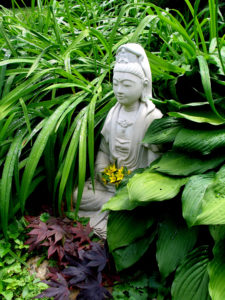 We will hold two memorial services, one at Grace Episcopal Church in Amherst (on June 8, 2019) and another at Insight Meditation Society in Barre (on June 9). It feels appropriate to celebrate her life with two memorials, one Christian and one Buddhist, for she treasured both traditions. A week before she died, she spent a day avidly reading the New Testament from the worn, marked-up Bible that she had used in seminary. She had spent a whole year studying those texts, and she seemed delighted to return to them, commenting that she saw more in them now than she had when she studied them years before. In the days just before she died, my brother John read aloud to her an essay by Ajahn Chah, the Thai Buddhist meditation master, "Our Real Home: A Talk to an Aging Lay Disciple Approaching Death." My mother found this text and the practice of Buddhist meditation extremely helpful as she died, commenting at one point, "I don't want to get lost between breaths."
Although she practiced and found meaning in both traditions, a few days before she died she whispered to John and me that she was neither "a Buddhist" nor "a Christian," because ultimate reality is too vast to be encompassed by any box. Then, for the first and last time, she smiled and stretched her arms open in a big embrace.
The day after my mother died, one of the staff members of the hospice center commented that she had never seen a death as peaceful as my mother's, adding that if dying with such love and lucidity was a fruit of years of meditation practice, then she herself needed to start a meditation practice.
Almighty God, by your Holy Spirit you have made us one with your saints on heaven and on earth: Grant that in our earthly pilgrimage we may always be supported by this fellowship of love and prayer. (The Book of Common Prayer)