The Episcopal Church voted to divest from fossil fuels.
I write that sentence and lean back in my chair, beaming in amazement. I've been working toward this moment for a long time, and lo, it is here. I can hardly believe it.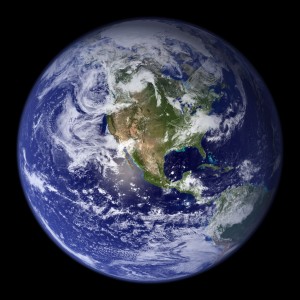 The Episcopal Church now becomes the third national faith group in the United States to divest from the fossil fuel industry, joining the United Church of Christ, which divested in 2013, and the Unitarian Universalist Association, which divested in 2014.
Other faith groups are also moving forward on divestment. To cite some examples, last year the World Council of Churches, which represents half a billion Christians worldwide, decided to divest from fossil fuel companies. In January, the United Methodist Church announced that its $21 billion pension fund would divest from coal. The Church of England is divesting from coal, and Anglican churches and dioceses in New Zealand, Australia, and the United Kingdom have divested from fossil fuels.
So far the Episcopal Church is the largest denomination in the U.S. to divest from all fossil fuels, and surely it won't be the last.
The decision made by the Episcopal Church's 78th General Convention on July 2, 2015, came as a surprise even to the most ardent supporters of the divestment resolution. Several members of our grassroots network of activists, Episcopalians for Fossil Fuel Divestment and Clean Energy Reinvestment, attended the convention, which was held in Salt Lake City. A friend tells me that shortly before the House of Deputies took the vote that sealed the deal, she and another activist exchanged a look of amazement and confessed to each other their tentative hope: Maybe the resolution will actually pass!
Not only did the resolution pass – it passed by an overwhelming margin of 3-1.
I had the sweet responsibility of informing Bill McKibben. It turns out that one of the greatest satisfactions in the life of a climate activist is to be able to give Bill McKibben some good news.
Bill called the Episcopal Church's decision "unbelievably important." He added: "The Episcopal Church is putting into practice what the Pope so memorably put into words. It's an enormous boost to have communities of faith united on the most crucial question facing the planet."
Why is this decision such good news? Because the Episcopal Church is sending a powerful message to the world: it makes no financial or moral sense to invest in companies that are ruining the planet.
Divesting from fossil fuels and investing in clean energy will accelerate the transition to a just, healthy, and low‐carbon future. Engaging in stockholder activism isn't good enough – not when an industry's core business model needs to change. Changing light bulbs isn't good enough – not when an entire social and economic system needs to be transformed. Waiting, watching, and wringing our hands isn't good enough – not when the Earth cries out for healing, and when the poor, who are affected first and hardest by climate change, cry out for justice and mercy.
Averting climate catastrophe requires that at least 80% of known fossil fuel reserves remain where they are, in the ground. The only way to keep them there will probably be some combination of carbon pricing, governmental regulation, and strong international treaties. How can we build the spiritual, moral, and political pressure to accomplish that? We can divest from fossil fuels. We can align our money with our values. We can make it clear that fossil fuels have no place in a healthy portfolio if you're hoping for healthy kids or a healthy planet.
I don't know to what extent the release of the Pope Francis' encyclical several weeks ago affected the divestment decision that was made by the Episcopal Church, but I do know that countless people the world over have been inspired the Pope's bracing reminder that the climate crisis is not just a scientific, political, or economic concern, but also an issue that raises fundamental moral and spiritual questions.
What kind of world do we want to leave our children? What does it mean to live with reverence for the living, intricate, beautiful biosphere into which you and I were born? What responsibility do we have for ensuring that the web of life continues intact for generations yet to come? What responsibility do we have for the poor? How can we possibly love God and our neighbor if we scorch and desecrate the world that God entrusted to our care, and dislocate, drown, and starve our neighbors, beginning with the poorest?
The Episcopal Church resolution commits more than $350 million for divestment, and it urges all parishes and dioceses in the Church to engage the topic of divestment and reinvestment within the coming year, potentially unlocking an additional $4 billion in assets. The pension fund, which manages $9 billion, was not included in the final version of the resolution. Episcopalians for Fossil Fuel Divestment and Clean Energy Reinvestment looks forward to ongoing conversations with the pension board, recognizing that all of the Church's assets are called to serve God's mission and that the Episcopal Church is now on record in recognizing that restoring Creation is at the center of God's mission today. (For more discussion of the resolution, here is an interview I gave to our local newspaper.)
Sometimes it seems that human beings are determined to careen toward catastrophe. Oddly enough, it gives me hope when I consider that no one knows whether or how we will save ourselves from disaster.  I keep thinking of a piece of wisdom that has been attributed to Mahatma Gandhi: "Whatever you do will be insignificant, but it is very important that you do it." Not knowing what, if anything, will make humanity change course gives me energy to be persistent and creative, even if my efforts seem insignificant. Maybe this letter to urge divestment, this phone call, this lobbying for carbon pricing, this climate rally, this campaign to stop new pipelines, this vegetable garden, this decision to walk rather than drive, this willingness to borrow rather than to buy – maybe each small effort will combine mysteriously with other people's efforts and suddenly we will surprise ourselves and society will shift to a life-sustaining path. I can't argue with a remark that country music singer-songwriter Naomi Judd once made: "A dead end street is a good place to turn around."
Unexpected changes, shifts, and transformations happen. Call it chaos theory. Call it an expression of "punctuated equilibrium," Stephen Jay Gould's term for the way that a system can look completely stable even though an unseen tension or energy is secretly building up. Suddenly it bursts forth, producing a new species, moving tectonic plates apart, or generating abrupt, rapid, and unforeseen changes in society. (For a wonderful essay that develops these ideas, see David Roberts' "For a Future to Be Possible: Hope & Fellowship.")
History is like that: non-linear and full of surprises. So, too, is the Holy Spirit. She blows where she wills, opening minds and touching hearts, making all things new.
The prophet Isaiah was right. Awakened to the presence of a merciful, dynamic, and ever-living God, Isaiah heard God say: "Do not remember the former things, or consider the things of old. I am about to do a new thing; now it springs forth, do you not perceive it?" (Isaiah 43:18-19).
We just saw it happen: the Episcopal Church voted to divest from fossil fuels.
Want to know what will happen next in the ever-expanding, unpredictable, and non-linear movement to save the planet? Find out. Jump in and join the struggle. Do what you can, even if it seems insignificant. And get ready to be surprised.