The first time it happened, we wondered if it was a coincidence.
Shortly before 3:00 p.m. on a Friday afternoon, Rabbi Andrea Cohen-Kiener and I walked to a branch of Bank of America located beside a highway in Springfield. Our plan was to hand-deliver a letter to the bank manager. We wanted to explain what was going to happen: we were part of a group of Christian, Jewish, and Muslim faith leaders who were about to hold a multifaith prayer vigil for climate justice at 3:00 p.m. outside the bank, urging the bank to stop funding fossil fuel projects.
Our letter explained that we would not impede sidewalk traffic or interfere with access to the bank, but that we did intend to sing, pray, and speak about the moral call to address the climate emergency. We would be urging customers to reconsider where they bank and to sign a pledge to move their money out of Bank of America if the bank continues to fund the destruction of our planet. If the fossil fuel industry can't borrow money from large banks like Bank of America, new fossil fuel projects can't move forward.
As we neared the bank, Rabbi Andrea commented, "I'm counting on your courage."
Surprised, I answered, "I'm counting on your non-anxious presence."
It's no wonder that Jesus sent out the disciples two by two. Even if you're sure that what you're doing is reasonable, peaceful, and necessary, you can expect to be nervous if you're confronting someone in power or disrupting the status quo. It strengthens the heart to have an ally at your side.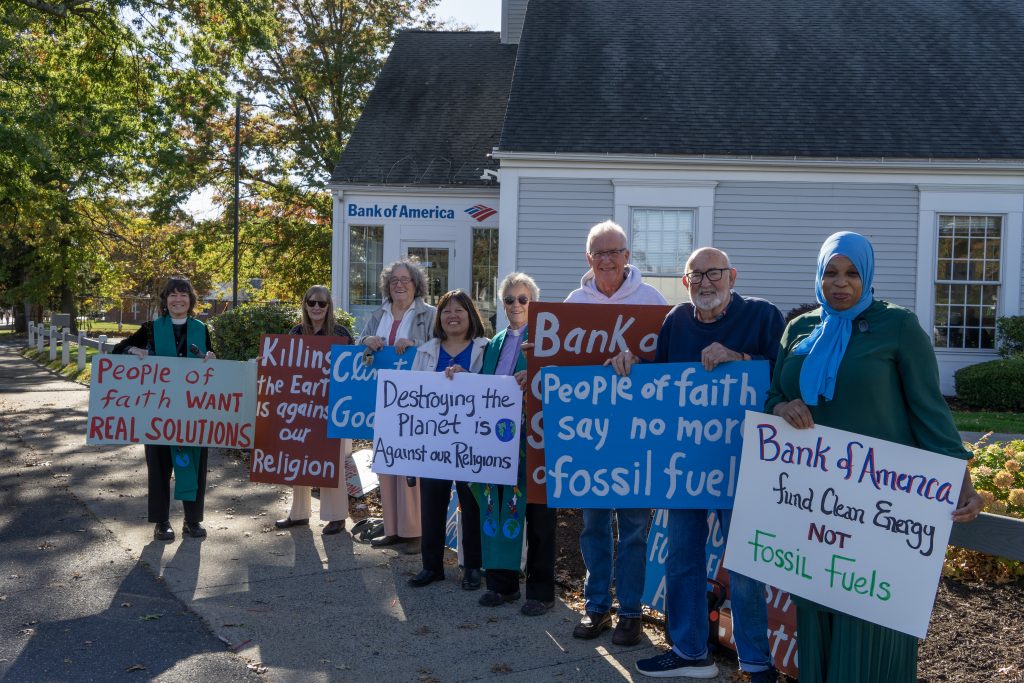 The bigger surprise was that, on a busy Friday afternoon, customers were waiting in line to enter the bank. For some reason, bank employees were examining each customer before allowing them inside and then locking the door behind them. Just as the rabbi and I finally moved up the line and reached the front door, a staff member announced that the bank was closed. No one else could enter. He didn't look at us; he didn't glance at the rabbi or comment on my clergy collar and stole; he simply declared to the disgruntled customers behind us that the bank had closed.
Rabbi Andrea and I were left to wonder: Was it sheer coincidence that the bank had closed just then or was it because they'd gotten wind of our prayer vigil?
We got our answer one week later. Our group was gearing up for a second multifaith prayer vigil for climate justice at 3:00 p.m. on a Friday afternoon, held this time outside a Bank of America in downtown Northampton. One of our vigil's faith leaders, Rev. Dr. Andrea Ayvazian, dressed in clergy collar and stole, arrived early. She went inside the bank to look around.
"We're closing," a bank employee told her.
"Why?" asked Andrea.
"We're closing," came the tight-lipped reply.
By 2:00 p.m. the bank had locked its doors and posted a sign out front: Due to circumstances beyond our control, we are temporarily closed. We apologize for the inconvenience.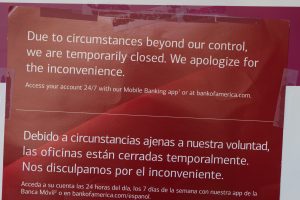 We went ahead with our prayer vigil, as planned. In words and song, we expressed our moral outrage that Bank of America is one of the top four banks (along with Citibank, Wells Fargo, and JPMorgan Chase) that most heavily funds the fossil fuel projects which drive the climate crisis. Bank of America has financed such controversial new projects as the Line 3 and Mountain Valley pipelines. Despite giving lip-service to the Paris Agreement (adopted in late 2015), over the next five years Bank of America provided an eye-popping $232 billion in lending and underwriting to the fossil fuel industry.
Some quotes from our press release make our perspective clear.
"No religious tradition says that we should destroy the planet," said Rabbi Andrea Cohen-Kiener, who leads Temple Israel in Greenfield and who spoke, prayed, and blew the shofar at the vigil. "Yet this is exactly what governments, financial institutions, and major corporations are either doing or allowing – after knowing for years that fossil fuels cause climate change. It's flat-out wrong."
"As Muslims we believe the Almighty Creator has appointed humans as the stewards of earth. Thus, we have a sacred obligation to preserve it, and, in that spirit, we call for responsible and just climate action," said Tahirah Amatul-Wadud, a member of the Muslim community and Executive Director of the Massachusetts chapter of the Council on American-Islamic Relations. "For the love of our neighbors, families, and all vulnerable communities, we call on Bank of America to immediately cease financing practices that are harmful and destructive to the earth and to take steps to correct the harm done."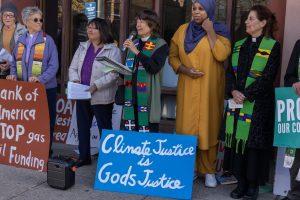 "Now is the time for bold and urgent action on climate change," said the Rt. Rev. Dr. Douglas Fisher, Bishop of the Episcopal Diocese of Western Massachusetts, who gave the vigil's closing prayer. "Last year the International Energy Agency made it crystal clear that any new coal, oil, and gas projects are incompatible with avoiding catastrophic climate impacts. Bank of America must stop financing climate chaos. We need to stand and work together to bring our planet into balance and to renew God's creation."
Right now, the world's eyes are on COP27, the next crucial round of U.N. climate negotiations, which will begin on November 6 in Egypt. In the lead-up to COP27, under the banner of Faiths4Climate Justice, a project of GreenFaith, people around the world of many different religions have been holding sit-ins and rallies, prayer circles and die-ins to call for bold, just action by corporate and political powers to address the climate crisis. Our two prayer vigils for climate justice were part of this growing worldwide movement of religious and spiritual communities to restore reverence for Earth and to protect humanity's hope for a livable planet.
Watch this space: JPMorgan Chase Bank is expanding into western Massachusetts and just bought a large, vacant building on the main intersection of downtown Northampton. It plans to open for business in the first half of 2023. We plan to tell them what we're telling Bank of America: unless they take rapid steps to stop funding fossil fuels and to promote a swift, just transition to clean, renewable energies, we will make our voices heard. We will protest banks whose policies accelerate climate chaos and desecrate the world that God entrusted to our care. We want banks to stay open, serve the community, and do the right thing for the future of our planet.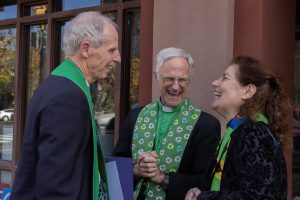 ———————————————————————————————————————————————————
For more information about how the biggest banks contribute to climate change, read Third Act's "Banking on Our Future." #Third Act
Here's how to write a letter to your bank, with coaching from ThirdAct.org.
Here's where to sign one of Third Act's two "Banking on our Future" pledges: "If by the end of 2022, Chase, Citibank, Wells Fargo, or Bank of America are still funding climate-destroying fossil fuel projects, I pledge to close my account and cut up my credit card. If I don't bank at these institutions now, I pledge I won't do so in the future."
———————————————————————————————————————————————————-
The faith leaders who led the prayer vigil in Northampton on October 28, 2022:
The Rt. Rev. Douglas J. Fisher (Bishop, Episcopal Diocese of Western Massachusetts)
Tahirah Amatul-Wadud (member of the Muslim community; Executive Director, Massachusetts chapter of the Council on American-Islamic Relations)
Rev. Dr. Andrea Ayvazian (ordained minister, United Church of Christ; member of Ministerial Leadership Team, Alden Baptist Church, Springfield)
Rev. Dr. Margaret Bullitt-Jonas (Episcopal priest; Missioner for Creation Care in Episcopal Diocese of Western Massachusetts & Southern New England Conference, United Church of Christ, and Creation Care Advisor in Episcopal Diocese of Massachusetts)
Rabbi Andrea Cohen-Kiener (Temple Israel, Greenfield)
Amihan Jennifer Matias (lay leader, Haydenville Congregational Church, United Church of Christ; Associate Director, Sojourner Truth School for Social Change Leadership)
Rev. Kate Stevens (ordained minister, United Church of Christ; recently President, Interfaith Council of Franklin County)