A fresh breeze blew on Tuesday as almost three hundred people gathered for a climate rally in Northampton, MA. We heard from several speakers, including elders, teenagers, and faith leaders, and we chanted and sang. Then we marched down both sides of Main Street, led by an exuberant marching brass band, pausing to chant at Bank of America and TD Bank. The crowd assembled at the intersection beside the new Chase Bank office that will open at 1 King Street. Holding signs, we lined the sidewalks and cheered as about a dozen customers took turns cutting up their credit cards. Accompanied by the band's high-spirited music, we carried out a ceremonial cutting-up of an oversized Chase Bank credit card by an oversized pair of scissors. We pledged to picket Chase Bank regularly and to make it clear that no one should bank there until it stops funding fossil fuel expansion.
The Daily Hampshire Gazette covered the story here.  Below is the statement I made as the rally began.
___________________________________________________________________________________________________________________________________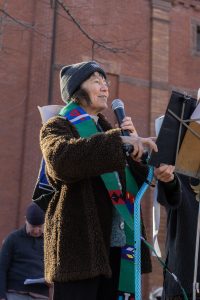 I am happy to say that this rally is one of about a hundred events taking place today across the U.S. as thousands of people gather inside and outside big banks to demand climate action.
Let's begin by taking a moment to appreciate the living world around us, to notice the gift of blue sky overheard, to notice the trees and green-growing things that give us the oxygen that fills our lungs and with whom we exchange the elements of life as we breathe in and out, to notice the good Earth beneath our feet, supporting our every step.
We are here to stand up for life and we are not alone. We will speak and sing and march in the company – and with the support – of all the creatures and elements with whom we share this planet. We affirm our kinship with them, our interdependence. As we mark the vernal equinox, a day of balance between light and dark, we renew our commitment to bring life back into balance.
With every religious tradition and with people of faith and goodwill everywhere, we renew our insistence that the Earth is holy and that it was given to us to cherish and protect, not to destroy.
Some of us are here because we're frightened. Big banks like Chase that fund fossil fuels expansion are pushing the planet to record levels of heat, causing massive droughts, floods, monster hurricanes, and fires. Yesterday's report from the U.N.'s Intergovernmental Panel on Climate Change makes it frighteningly clear that unless we change course fast, we won't be able to leave our children and our children's children a habitable world.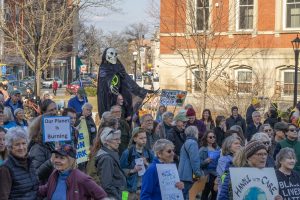 Some of us are here because we're sad. Big banks like Chase that fund fossil fuel expansion are unraveling the web of life before our eyes, and we weep to acknowledge what we have lost and may soon lose, from coral reefs and glaciers to predictable seasons and moderate weather.
Some of us are here because we're angry. We're morally outraged when big banks like Chase continue to pour money into building new pipelines and new fracking wells, although climate scientists around the world and organizations like the International Energy Agency and the United Nations have called for an end to any fossil fuel expansion.1
Fear, sorrow, anger may have brought us here. But above all, we're here because we love. We love this beautiful Earth. We love its creatures. We love each other. The spirit of love that connects us to each other and to the land compels us to call upon big banks: Quit propping up fossil fuels! Quit funding climate chaos! Invest instead in clean energy and climate resilience and healthy communities!
People of faith and goodwill cry out: Let it be known. Let it be known. The Earth is sacred and we won't stand idly by and let it be destroyed.
____________________________________________________________________________________________________________________________________-
1. Vanessa Arcara, "Now more than ever: Banks must act on climate"
#StopDirtyBanks #32123