It's unusual to see a scientist, a politician, an economist, and a religious leader sitting together at one table to discuss climate change. Yet that's just what happened at a public forum at Westfield State University entitled "Carbon Pricing – A Key Component in Solving a Warming Climate." The four speakers included Dr. Carsten Braun (a climate scientist at Westfield State), State Rep. Jen Benson (D-Lunenburg, the lead co-sponsor of bill H.1726, which places a price on carbon in Massachusetts), Dr. Marc Breslow (Director of Policy & Research at ClimateXChange), and me.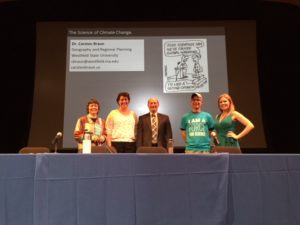 The conversation was lively. Striding up and down the aisle of the auditorium, Dr. Braun began by reflecting on a photograph of a barren, lifeless landscape, which turned out to be Mars. Far off in the dark sky was the tiniest of dots: planet Earth. On that tiny dot was everyone and everything we love, a living, precious, blue-green planet.
Mars is unsuited to human life. In the movie "The Martian," the character played by Matt Damon is stranded on the red planet and must fight to survive until he can be rescued. By contrast, as Dr. Braun observed, if we render planet Earth uninhabitable, we have no rescue coming. Nothing will save humanity from the ravages of global warming unless we take concerted action to save ourselves.
He showed us graphs and charts that predict what lies ahead. The best-case scenario puts the average atmospheric level of carbon dioxide at 550 ppm by 2100; the worst-case scenario puts it at 940 ppm. The trajectory is frightening, but the good news, he said, is that by taking action, "we get to choose the future." (For scientific information on climate, he recommends ClimateCentral.org. For making the transition to clean, renewable energy, he recommends TheSolutionsProject.org.)
Dr. Braun urged us to move from knowledge to action, quoting the late chemist F. Sherwood Rowland: "What is the use of having developed a science well enough to make predictions if, in the end, all we're willing to do is stand around and wait for them to come true?"
A scientist was followed by a politician. Rep. Benson discussed how her carbon pricing bill, H. 1726, would reduce carbon pollution, rebate 80% of the revenue, and reinvest the remaining 20% into a Green Infrastructure Fund for clean energy, public transit, and climate adaptation projects. Next came an economist, Dr. Marc Breslow, who explained that the price of a product should include the damage to society that it causes – such as its harm to public health and to the environment. What's more, studies show that a well-designed carbon-pricing plan would not only reduce dirty emissions but also enable low-income and moderate-income households to come out ahead financially.
When it was my turn to speak, I argued for the spiritual and moral call to put a price on carbon, based on a talk that I gave four years ago at a similar carbon-pricing panel in Amherst. Some things clearly need to be said more than once! My reflections are below.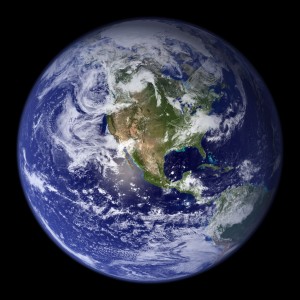 At the end of the evening, I expressed my agreement with the scientist, Dr. Braun: we earthlings should not count on being rescued from the climate crisis by some extraterrestrial or supernatural entity. Yet I do believe that human beings have the God-given capacity to access a loving Presence and source of wisdom that is greater than we ourselves. I hope that we will remember to heal and tend not only our outer landscape, but also our inner landscape, for, through prayer and spiritual practice, we can tap into a boundless love whose strength will never fail us, a divine love that gives us the moral courage to change course. Our task is to be good ancestors.
I don't know if we will succeed in stabilizing the climate in time to maintain a habitable world for future generations. But I do know that I want to get up every morning, willing to do whatever I can to heal the web of life, and aiming to be what God intended for us to be: a blessing on Earth.
---
It's a joy to be here tonight, and I am honored to be speaking alongside these expert colleagues who have addressed the science of climate change and the economic, environmental and societal benefits of a carbon fee and rebate.
I'd like to pull back the lens and to comment briefly on what I understand to be the larger spiritual and ethical context in which we're holding this conversation.
I invite you to take a moment to feel your feet on the ground. Beneath the floor is the earth. Let yourself feel the support of the good earth beneath your feet. Feel the sensations of your feet on the floor, and let the good earth hold you up. Feel how solid your body is, as solid as the earth… I invite you take a couple of good, deep breaths. As you take in the sweet air and then let it go, feel the air passing into and out of your lungs. Notice that you are exchanging the elements of life with plants and green-growing things… You are giving the breath of life to trees. Trees are giving the breath of life to you. Take a moment to experience yourself as a living creature, connected in a dynamic, living relationship with the earth and air and all living beings.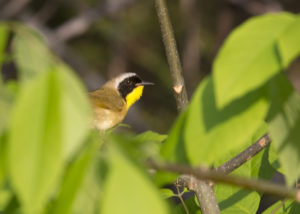 As we sit here with our feet on the ground, breathing with awareness, we may notice that none of us owns our breath. Our breath does not belong to us. We can't hold on to it or save it up for later. We simply receive it freely and then let it go. Moment by moment, each breath is given to us. Breath by breath, we receive the gift of life. All of it is gift – everything we see and hear and taste and touch. This is where amazement springs up, along with wonder, gratefulness and awe. Here we are! Breathing!
Gratitude is the wellspring of all spiritual traditions, and from gratitude flows the perception that everything is precious. Everything is sacred. We belong to a sacred Mystery that is much larger than we are. We are part of a much larger whole. In our stressed and busy lives it's easy to forget that we are part of something greater than ourselves, which is why so many of us come home to ourselves when we spend time outdoors – when we climb a mountain and get the big view, or when we pause in the midst of a busy day to listen to a warbler or gaze at a blooming dogwood tree.
When we are spiritually awake we feel our connection, our kinship, with other living beings, human and other than human. We recognize that we're in this together, that all of us are part of one single, precious, and intricate web of life. Perceiving the world like this elicits a certain tenderness: we want to nurture and protect the mysterious gift of inhabiting a living planet. That's the spiritual wisdom we can learn from being aware of our feet on the ground and our lungs filling and emptying with air.
But our bodies also teach us about the ethical dimension, the justice dimension of the world. The good earth beneath our feet is the same earth that fossil fuel companies are blowing apart by mountaintop removal in order to extract coal; the same earth that is being violently injected with tons of chemicals that crack apart shale, release fracked gas and methane, and poison rivers and streams; the same earth that is flooding in some places, going dry in others, and manifesting unpredictable, violent extremes of weather because of the abrupt changes inflicted by global warming.
The life-giving air that fills our lungs is the same air into which fossil fuel companies are pouring greenhouse gases as if the atmosphere were an open sewer; the same air that contains more carbon dioxide than it has for millions of years; the same air whose delicate balance is being disrupted and destroyed.
Our own bodies connect us to the wounding of the world and to the cries of the poor, who are affected first and hardest by climate change, and who are already suffering from its effects, including extreme storms and rapidly rising seas, food and water shortages and infectious diseases.
That is the spiritual and ethical context in which I welcome a carbon tax and rebate. Putting a stable, rising, and meaningful price on carbon, and distributing the fee in a way that is fair and doesn't harm the poor, is an essential step in making a swift and just transition to clean renewable energy. My friends who advocate for carbon pricing point out that carbon pricing is not a silver bullet – by itself it can't resolve the climate crisis. But carbon pricing is an essential piece of the jigsaw puzzle. It is one of the most promising tools we have for changing consumers' behavior, reducing our use of dirty energy, creating green jobs, and stabilizing the climate.
Here's the bottom line: we need to protect the web of life, which is unraveling before our eyes. We need to move quickly to build a just and sustainable future for our children and our children's children. We need to plant our feet firmly on this beautiful earth, to take a good deep breath of air, and to press together for a strong, fair, and equitable carbon fee and rebate plan. I hope that Massachusetts will lead the way.