I was discouraged when I boarded the bus to Manhattan. Over the years, I've marched, rallied, lobbied, and protested countless times to advocate for climate action, and I was ready to do it again: to join with friends and strangers to demand that President Biden take swift action to quit our suicidal dependence on fossil fuels. I knew that The March to End Fossil Fuels on September 17 would surely be the biggest march since the pandemic. It was scheduled to take place right before the first-ever U.N. climate ambition summit, and I felt honor-bound to go. But frankly I didn't feel the high excitement that activists often enjoy before a big public march. Devotion to the cause may run deep, but activists who've been at it for a while can get tired. Fatigue sets in when repeated efforts yield only limited success. Why keep speaking up when it seems that few are listening?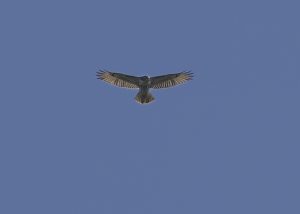 That was my weary mood as I set out on the bus-ride from Northampton to New York City. The bus was filled with fellow activists, and it was a pleasure to sit beside my friend, UCC climate champion Jim Antal. As we sped down the highway, our bus captain reviewed the logistics of the march and taught us the chants we'd use, among them: "Biden, where's your urgency? This is a climate emergency." "From Willow to MVP,1 keep our rivers fossil free."
I quietly repeated the chants, but my heart wasn't in it. I confessed as much to Jim. Where do we find the energy to keep fighting the good fight? Just then something outside the window caught my eye. I turned to look. A red-tailed hawk was soaring over the traffic. Wings outspread, it cruised to a bluff beside the highway and perched on a tree.
The glimpse of that wild bird passed in a flash but stunned me into silence. It felt like a visitation, an encounter.
Hawks are meaningful to me. I love their wild freedom and their capacity to see across vast distances. They are adaptable, resilient, and fierce. The Holy Spirit is often portrayed in Christian imagination as being like a dove – gentle and tender – but She also has qualities that remind me of a hawk. She is insistent and strong, "driving" Jesus into the wilderness (Mark 1:12). She is free ("Where the Spirit of the Lord is, there is freedom," 2 Corinthians:17). As we hear in the story of Pentecost, She comes with the power of a violent wind and sets our souls on fire (Acts 2:1-13). And She is like the word of God, "living and active, sharper than any two-edged sword, piercing until it divides soul from spirit, joints from marrow," with a gaze that sees clearly into our depths, into "the thoughts and intentions of the heart" (Hebrews 4:12-13).
Fierce, free, and clear-seeing – that sounds like a hawk to me.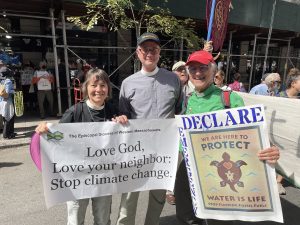 Hours later, we were marching, thousands of us, pouring through the streets with our banners and chants and signs. The skies were blue, the air was clear, and there wasn't a hawk in sight. But as I walked, I wondered: what would a red-tailed hawk see if she were circling overhead?
She might see this: a sprawling metropolis that seems at first glance only to suppress the natural world. Except for the green glow of Central Park, living trees are few and far between. Just about everything is built up and paved over. Vehicles move on a grid of straight lines. Canyons are formed of steel, not limestone, and filled not with birdsong but with the clamor of human voices, music, and machines – sirens, motors, horns.
Yet that clear-eyed hawk would see through the illusion that humans care only about themselves. She would have considered the 75,000 people now pouring through the city streets who had set aside the demands and routines of daily life to proclaim their concern for each other, for future generations, and for the wild world on which all life depends.
Many of the people marching wore or carried images of their brother-sister beings. Over here was a woman dressed in a polar bear suit, carrying a sign that said HELP!  Over there was someone lumbering about in a rather hilarious inflatable dinosaur suit, carrying a sign that said "Dinos thought they had time, too." Meanwhile, a tall person was wandering through the crowd in a gauzy, cancerous, pinkish garment that erupted in bulbous shapes; this alarming creature carried a hand-lettered sign reporting (accurately) that 70% of the world's wildlife population had vanished since 1970.2 Someone else pulled a wagon that contained a large inflatable Earth, its surface marred by a tangle of orange and yellow slips of paper to show the locations of wildfires, droughts, storms, and floods around the world.
Some symbols of nature proclaimed hope. Several men held aloft a river of thin metal hoops draped in blue paper and dangling rivulets of blue, as if a clear stream were flowing through the crowd. Other people carried trees of brown cardboard, decorated with puffs of green, symbols to remind us that even in this paved-over, built-up cityscape, we were walking in union with the river and the trees.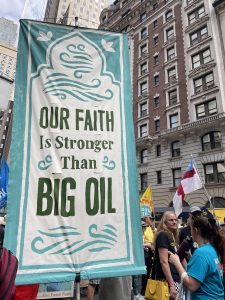 And how diverse we were! No doubt the hawk would see that.
Young people were marching, fired by anger and grief and the desperate longing for a livable future.
Frontline people were marching, the people whose land, water, and air are being poisoned by the extraction industries that are dismantling the web of life.
Indigenous people were marching, modern warriors in the long battle against an economic system fueled by white supremacy, greed, and the fantasy of endless expansion.
Scientists were marching, representing the inconvenient truths of physics, chemistry, and biology which humanity ignores at its peril.
People of faith were marching, proclaiming the sacredness of God's green Earth and the dignity of every living being.
Stalwart elders were marching, some of them shuffling or wielding canes and all of them determined to make a meaningful stand for justice while they still had time.
Workers and labor organizers were marching, insisting that the transition to a new energy economy must be carried out fairly and with equity. As U.S. Rep. Alexandria Ocasio-Cortez (D.-NY) put it in her rousing speech at the rally, climate action requires a democratic restructuring of the economy. "What we're not gonna do is go from oil barons to solar barons."
I wondered if the hawk would recognize herself in us.  At our best, we, too, are like hawks: brave, fierce, and inwardly free. I wondered if the hawk's clear eyes would look into our hearts and see the deep truth that, despite our manifest selfishness and confusion, in fact we humans truly care for each other, for those who come after us, and for our beautiful, threatened world. I wondered if maybe the hawk would glimpse in our march one small moment in the great awakening of humankind – our slow, collective discovery that we are kin to each other and to our brother-sister beings. We belong to each other, and we will rise or fall together.
I know there will again be times when my energy begins to flag. But the March to End Fossil Fuels re-connected me with the love that never ends. When we show up and do the next right thing – when we join hands with other people and with the elements and creatures of the living Earth – I know we will be surprised again by the sacred energy for life that pours through us anew.
I imagine that hawk wheeling over the city, seeing our love and determination, and blessing us with her fierce cry.
___________________________________________________________________________________________________________________________
Selected articles about the March to End Fossil Fuels:
Tens of thousands in NYC march against fossil fuels as AOC hails powerful message (The Guardian, Sept. 17, 2023)
Episcopalians march to 'End Fossil Fuels' ahead of UN climate summit (Episcopal News Service, Sept. 17, 2023)
Bill McKibben, "Back on the march: A superlative Manhattan day in pictures" (Substack, Sept. 17, 2023)
Tens of thousands of climate activists march in NYC (United Church of Christ, Sept. 19, 2023)
1. In March 2023, the Biden administration approved the Willow Project, a massive operation by ConocoPhillips to drill for oil on the plain of the North Slope of Alaska in the National Petroleum Reserve. Mountain Valley Pipeline (MVP) is a fracked-gas pipeline through Virginia and West Virginia that was fast-tracked in June 2023 through a debt-ceiling agreement. Rose Abramoff, a climate scientist who attended the March to End Fossil Fuels, recently chained herself to a massive drill and helped to temporarily stop construction of the MVP pipeline. She is believed to be the first American climate scientist to risk a felony in an act of climate protest against fossil fuel projects.  #StopWillow, #StopMVP
2. The Living Planet Report issued in 2022 by the World Wildlife Fund reports on what scientists describe as the sixth mass extinction, a biological annihilation.