What makes a sermon about climate change "pastoral" or "prophetic"? How should preachers address climate grief? Why should we preach about voting, and what's the difference between partisan and political activity?

These questions and more were discussed by the Rev. Dr. Jim Antal and the Rev. Dr. Margaret Bullitt-Jonas in a climate preaching webinar on September 15, 2022, co-sponsored by the two Episcopal dioceses in Massachusetts and Southern New England Conference, United Church of Christ. This text is based on our conversation. A 30-minute video is available here. Passcode: 05@=u87H
Opening prayer (by Jim)
Good and gracious God,
We give thanks that you have called us to proclaim your Good News in a time of great challenge. Grant us your assurance that we have been given everything we need to inspire both courage and conviction in the communities you have given us to serve. May our time together in the coming hour open us to the opportunity to amplify our witness on behalf of restoring your creation. With grateful hearts we pray.  Amen.
Overview (by Jim)
First, we'll provide some context for our conversation, including brief updates on the state of God's creation and humanity's collective response.
Then, Margaret will share her experience and insights on how to address the climate crisis in a pastoral way, drawing on spiritual and theological foundations as we enter the Season of Creation.  Margaret will also offer some guidance on the relationship between grief and activism.
Then, I'll provide some guidance on how we can speak a prophetic word about engaging the climate crisis in a way that our congregants welcome as an opportunity.  I'll share how climate change reveals all justice issues to be intersectional, and I'll share why we should preach on the importance of voting and the difference between being partisan and being political in our preaching.   Then, we will field questions.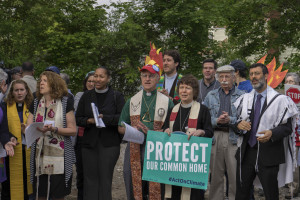 Context of our conversation: National and international (by Jim)
I'll begin with three examples of Good News:
First, in less than a year, Congress has committed OVER HALF A TRILLION DOLLARS to address the climate crisis and energy transition.
My second illustration comes under the heading "WE CAN DO THIS!" Thanks to the relentless efforts of scientists and engineers, by 2030, electricity from solar, wind, and water could provide all the electricity the world needs. And by 2035, renewable energy could also be the sole energy source for all the world's heating, cooling, transportation, and industry.1 Furthermore, making this transition will pay for itself in only six years.2 Not only that, but as we make this transition, we can address economic and racial inequities – and by doing so, we will reap benefits far greater than the costs.
The headline for my final illustration is, "WE CAN ADAPT!" While Russia's invasion of Ukraine is horrific, one of Germany's responses has been to drop its dependence on natural gas by 90%. And here in the U.S., President Biden invoked the Defense Production Act to build millions of electric heat pumps that will reduce dependence on oil and gas.
Of course, the past few months have brought plenty of bad news as well:
We now know that air pollution caused by the burning of fossil fuels kills almost 9 million people a year.3 That's more than malaria, HIV-AIDS, and tuberculosis combined. And that doesn't even include the lives lost due to the impact of increased global warming. A 2021 study4 reports that if global warming exceeds 1.5ºC (2.7°F), the world's tropics could become uninhabitable. 2.5 billion people live in the tropics.
In other words, the past decade has been the hottest decade since records have been kept5– and the past decade will be the coolest decade your children and your grandchildren will ever experience.
It's not only heat.  You probably heard that one-third of Pakistan is under water and 32 million people are displaced.6  Were you aware that between mid-July and mid-August (2022), five states here in the U.S. experienced 1-in-1,000-year rain events?7  Imagine 9 months of rain in a single day.  And it's not just deluge – it's also drought.  That's why we call it climate chaos.  Europe's drought is the worst in 500 years.8 And the American west is experiencing what some experts call a once-in-a-thousand-year drought.
Now I'll turn things over to Margaret for some additional Good News!
Context of our conversation: Massachusetts (by Margaret)
Earlier this summer, after weeks of speculation that he would veto it, our Republican governor in Massachusetts, Gov. Charlie Baker, signed into law what's being called a landmark climate bill. Among other things, this sweeping climate legislation gives a major boost to renewables, including offshore wind.  After an intensive push by climate justice advocates, it also clarifies that biomass is not a renewable energy source. That win was particularly sweet to me, because incentives for biomass are what spurred a proposal for a dirty wood-burning plant in Springfield, an environmental justice community located close to where I live. Following the lead of California, the bill also bans the sale of new internal combustion-powered vehicles by 2035 – to put it another way, all new vehicles sold in the Bay State must be EVs or hydrogen-powered by 2035. The legislation also allows 10 municipalities to ban new fossil fuel infrastructure, which is a first for the state.
The bill isn't perfect – there's still work to be done – but we hope that it will spur the next administration to take further steps to address climate emergency.
Preaching a pastoral climate sermon (by Margaret)
I'd like to reflect on how we preach a pastoral sermon about climate change. That may sound like a contradiction since we usually think of preaching about climate change as likely to stir up trouble.  Stirring up trouble – good trouble – is often just what the Holy Spirit calls the preacher to do, simply because most faith communities are not going to rise up to address the climate emergency until their preachers speak with the moral clarity and fearlessness of a prophet.  So, in a moment, Jim will speak about prophetic climate preaching. But a strong climate sermon includes elements that are both pastoral and prophetic.
So, let's focus for a moment on what makes a climate sermon pastoral.  What makes any sermon "pastoral"?  It provides emotional, social, and spiritual support.  A pastoral climate sermon does at least four things:
A pastoral climate sermon pushes back against helplessness
Our parishioners may not have told us, but many of them are already grappling with climate anxiety, grief, and dread. Clinicians are increasingly speaking about "climate distress" and "climate stress."  Even if our house hasn't been washed away by an extreme storm or rising seas – even if we haven't had to run from wildfires or had to breathe smoky air, day after day – even if we haven't wondered where we – or our fields, gardens, or livestock – will find the next drink because our waterways have run dry – even if we haven't endured a searing heatwave – we probably know people who have; we know that millions of people in this country and worldwide are enduring these conditions now; and we know that future conditions will likely become even more difficult.
It can be a relief when a preacher finally makes climate change "speakable" – something we intend to discuss and learn about and lean into together. A pastoral sermon conveys the message: you are not alone. We will support each other, and we intend to find a way forward together.
Simply gathering for worship pushes back against helplessness: we see each other's faces, we hear each other's voices, maybe we take each other's hands.  How do people get through tough times?  We gather, we sing, we hear our sacred stories.  We sense the power of being part of a community that longs, as we do, to create a better world.  Entrusting ourselves to God, especially alongside fellow seekers, can overcome our sense of helplessness and release unexpected power among us to do "infinitely more than we can ask or imagine" (Ephesians 3:20).
A pastoral climate sermon makes space for grief
The climate crisis can make us go numb.  Newspaper and media reports convey a cascade of losses every day, so it's easy to shut down and lose heart. In our sermons, we can name, and normalize, the range of feelings evoked by climate change – grief, fear, outrage, confusion, maybe guilt or shame, dread, despair… And we can suggest practices, teachings, and rituals that help us to accept, work with, and move through the feelings that are being stirred up.
To support that process, in our congregations we might create small circles for eco-grief lament and prayer. And we might hold public ceremonies of lament outdoors.  Over the years I've led or participated in many outdoor interfaith public liturgies about climate change. I remember, for instance, gathering in 2010 on the town common in Amherst after the Deepwater Horizon oil spill in the Gulf of Mexico for a public ceremony of singing, speaking, and prayer. I also remember hearing about the "Requiem for a Glacier" in 2013, when 50 musicians climbed Farnham Glacier in British Columbia to perform an oratorio.
What would it be like – how might it empower us – if we took time in worship services and in outdoor public spaces to lament species that have gone extinct, forests that have burned, or reservoirs that have run dry? Daring to lament together allows us to feel our deep longing for healing and reconciliation and to experience the God who weeps with us.  Daring to lament together protects our human capacity to feel our emotional responses without being overwhelmed. And it allows our emotions to become a source of energy for constructive action to address the emergency.
Making a space for grief in a climate sermon may be as simple as saying "We hold in our hearts the many thousands of people in Jackson, Mississippi, who still don't have safe drinking water after an historic rainfall and flood." Rather than coming at your listeners with a hard-hitting list of fact after fact, which might leave people stunned, in their heads, and emotionally defended, we are modeling how to hold traumatic events with an open heart. Or, depending on the text we're working with, our sermon can focus on how Jesus accompanies us, shares our sorrows, and offers his strength and presence and healing.
Last point: As spiritual leaders, we need to grow our capacity to be with people who are in distress.  We will only be able to do that to the extent that we've grown in our capacity to sit with our own distress.
A pastoral climate sermon connects deeply with Christian faith
When we step into the pulpit, we don't have to be policy wonks or expert scientists. We are theologians and communicators who want to convey God's unbounded love for God's people and for the whole Creation, and God's urgent call for us to participate in God's mission of justice, reconciliation, and healing.  So, let's surround our sermons with prayers and hymns that make it clear that our salvation story encompasses the whole Creation, not just human beings.
I'm excited to introduce a new ecumenical liturgical resource for Creation Season.  Last July I worked on it with a colleague in the Diocese of Western Massachusetts, the Rev. John Elliott Lein, and it's been authorized for public use this season by at least four Episcopal dioceses (Season of Creation: An Ecumenical Celebration).
Let me quickly sketch what you'll find there.
A primer on Creation care theology describes the urgency of the climate and ecological crisis and provides seven theological touchstones to guide your thinking and preaching about climate.  It also names some of the key solutions for addressing the crisis.
It goes through the lectionary for the 5 Sundays of Creation Season, providing prayers and non-biblical readings and giving preaching suggestions on some difficult texts.
It concludes with a large collection of resources – prayers, blessings, readings, hymns – from a wide range of ancient and contemporary sources, which take us from Kenya and New Zealand to England and the Iona community – from poets and early Christian mystics to Pope Francis and Patriarch Bartholomew – from William Wordsworth to Wendell Berry and Robin Wall Kimmerer.
I hope it will be helpful for both Episcopal and UCC preachers – helpful for Episcopal liturgists, because this resource takes us far beyond the bounds of the Book of Common Prayer and invites us to imagine a God who loves and saves every inch of creation, and helpful for UCC liturgists because it is well crafted!
My favorite part: John Lein examines the prayers of the people in our prayer book.  He suggests: When we pray for the suffering and the dead, why don't we pray for the wellbeing of all creatures and mourn the extinction of other species?  When we bless all whose lives are closely linked with ours, why don't we explicitly bless all living beings and ecosystems whose lives are closely linked with ours? At least for me, once you start praying in that expansive way and open your prayers beyond human concerns to the concerns of the rest of Creation, there's no going back!
A pastoral climate sermon includes at least one thing we can do
The way to build hope is to take action. A pastoral sermon conveys a message of agency, a message of empowerment – through the grace of God, we intend to do everything we can to protect what remains and to fight for a just and habitable world.
In my talks right now, I mention Faiths 4 Climate Justice, GreenFaith's global campaign, between Oct. 2 and Nov. 6 (the eve of the next U.N. climate talks at COP27), in which people of faith around the world will proclaim that the Earth and all people are sacred.  Among other things, in prayer vigils and protests we will call for an immediate end to new fossil fuel projects, an end to deforestation, and an end to related financing.
A pastoral sermon emphasizes that everyone has an active role to play, and a preacher can help listeners to find their place in the movement.
Comment on Margaret's presentation (by Jim)
Thanks for your excellent guidance, Margaret. I want to amplify two things you said.
First, you said we need to make space for grief. Along with that, we need to do everything possible to assure that our congregation is a safe-enough place for honest conversation about grief over the loss of the world we have to let go.
You also suggested that churches might dare to lament. I just want to add that our lamentation is part of living the truth. As children of the Creator God, faithfulness demands that we tell the truth about the desecration of creation, and as we do, a liturgical expression of that truth is lamentation.
Preaching a prophetic climate sermon (by Jim)
Just as we are called to be pastoral in our approach to preaching on the climate crisis, we must also be prophetic.  In my book, Climate Church, Climate World, my chapter on prophetic preaching offers many suggestions about how, as preachers, we must free ourselves from fear so that we can respond to God's call to engage the climate crisis as "opportunity."
Prophetic preaching requires preparation. Amidst all the demands on our lives, we must create the space to allow ourselves to fully take in the wonder of creation.  And we must have the courage to experience the grief we feel when we truly acknowledge the destruction caused by humanity's greed and selfishness.
And as we do, we might find ourselves in the company of Esther, confronted with the realization that perhaps we were born for just such a time as this (Esther 4:14). Perhaps our generation was born to put an end to three interconnected systemic injustices:
the subjugation of other humans who are not our color;
the colonization of land, sea and air that is not our own;  and
the extraction of nature's wealth that we did not create.
If that is truly our calling, then our preaching must go beyond urging people to be good stewards of the earth, as the Rev. Fletcher Harper, Episcopal priest and founder of Greenfaith, points out in his excellent article in Sojourners magazine (September 2021).
In our preaching, we need to name what is creating the problem.  Environmental giant Gus Speth famously identifies the cause as "selfishness and greed and pride."  Fletcher Harper is a little more specific. He points to the supply side of the problem, naming "ExxonMobil, BP, Shell, and other oil and gas companies [who] are systematically destroying the planet" – along with "financial giants like JPMorgan Chase, Bank of America, Wells Fargo, BlackRock, and Vanguard [who] are bankrolling the destruction."
Another goal of prophetic preaching is to remind people that we are not called to stand idly by as countless examples of injustice continue to frame the status quo.  In our preaching, we must help our congregation envision "a still more excellent way" (1 Corinthians 12:31) in which all of God's creatures can celebrate our interdependence.  And then we must invite our congregations to assess all the gifts, the abilities, the assets God has given them and commit their lives to helping our town, our state, our nation, our world, move in that direction.
Another feature of our prophetic preaching is to help our congregations understand that the climate crisis is not one crisis among many.  Every congregation I've ever known treats its various missions and benevolences as silos.  Often, there's a particular individual in the congregation who is the champion of a particular cause.  But the more you learn about the climate crisis, the clearer it becomes that every justice issue you care about – hunger, poverty, homelessness, racism, immigration, disease, lack of access to clean water and education – these justice issues are intersectional – they are not separate and distinct from one another – and climate change is making every one of them worse.
The only way humanity can address these intersectional challenges is by coming together. That's why the actions of governments are so important to anyone concerned about justice.  And that's why it's important for clergy to encourage their congregations to name and embrace their sacred responsibility to vote.  It's an act of faithfulness for churches to discuss the issues on the ballot and encourage people to vote.
Voting is the means by which we elect leaders and advance laws that can and should underwrite at least the following five principles:
addressing the needs of the least of these among us;
assuring and advancing justice;
promoting the common good;
telling and adhering to truth;
and preserving and restoring the integrity of Creation.
These five principles are supported by every faith tradition I know of.
In our preaching, particularly in an election year, pastors need to help their congregations understand the distinction between being partisan and being political.  To put it simply, there is no place for partisan activity in the life of the church, synagogue, temple, or mosque.  What do I mean by partisan activity?  Endorsing a candidate, supporting a political party, or fundraising for a candidate or a political party.  These partisan activities have no place in the life of the church.
But examining how our community, our state, and our nation:  address the needs of the least of these among us; how we assure and advance justice; how we promote the common good; how we tell and adhere to the truth; and how we preserve and restore God's creation – the means by which all of these values are upheld are political.
Think about it. In almost every chapter of each of the four Gospels, we see Jesus urging the community to address the needs of the least of these among us.  We hear Jesus passionately advocating for justice and promoting the common good.  His commitment to truth is unwavering.  And throughout scripture, God calls upon the faithful to preserve and restore creation.
All these activities are political because they involve how people relate to each other; how they govern their life together.  In his ministry, Jesus tells the truth as he seeks to amplify love and expand justice in families, in towns and throughout the empire.
We are now in the Season of Creation, and we are also within two months of an election.  Every congregation and every clergy leader now have an opportunity to identify the values and principles that guide us as people of faith when we consider our "life together" as residents of our state or country – and as stewards of God's creation.
I recognize that all of this may come across as utterly foolish or impossibly challenging or something else altogether.  Whatever your response to what Margaret and I have shared, I hope that we can go deeper in our time of discussion, and I very much look forward to hearing what's on your mind and in your heart.

After discussion, we closed with prayer.
Closing Prayer (by Margaret)
Source of life, heal and redeem the wounds of your creation, and visit the places and people who suffer from our indifference, neglect, and greed.  Creator of earth, sea, and sky, kindle the fire of your Spirit within us that we may be bold to heal and defend the earth, and pour your blessing upon all who work for the good of the planet. In the Name and power and presence of Jesus, we pray.  Amen.
(Adapted from "Honoring God in Creation," as cited in Season of Creation: An Ecumenical Celebration)
ºººººººººººººººººººººººººººººººººººººººººººººººººººººººººººººººººººººººººººººººººººººººººººººººººººººººººººººººººººººººººººººººººººººººººººººººººººººººººººººººººººººººº
Links to resources:
Margaret's monthly newsletter, Creation Care Network e-news
Jim's website: https://www.jimantal.com/
To join Creation Care Justice Network (for Episcopalians across MA) and to subscribe to the monthly newsletter, Green Justice News, click here
Episcopal Diocese of MA Creation care webpage
Episcopal Diocese of Western MA Creation care webpage
"Faiths 4 Climate Justice," Oct. 2 – Nov. 6, 2022
2022 Creation Season Ecumenical Liturgical Guide
"Climate Crisis Preaching: Selected Resources"
ThirdAct.org, the new network, founded by Bill McKibben, for people over 60 who wish to leverage their money and experience to push for democratic social change and to preserve the planet. You can sign one of two banking pledges: "If by the end of 2022, Chase, Citibank, Wells Fargo, or Bank of America are still funding climate-destroying fossil fuel projects, I pledge to close my account and cut up my credit card. If I don't bank at these institutions now, I pledge I won't do so in the future."
Hannah Malcolm, "How to Rage: Climate Grief and the Church" (January 31, 2021)
Fletcher Harper, "Stop preaching about 'being good stewards of the Earth," Sojourners, Sept. 16, 2021
Margaret Bullitt-Jonas, Joy of Heaven, to Earth Come Down (daily Advent/Christmas meditations reflecting on the meaning of the Incarnation in relation to the natural world)
______________________________________________________________________________________________________________________________
1. Joint Declaration of the Global 100% RE Strategy Group, https://global100restrategygroup.org/wp-content/uploads/2021/02/Joint-Declaration-of-the-Global-100-RE-Strategy-Group-210208.pdf
2. Mark Hutchins, "Study finds 100% renewables would pay off within six years," PV Magazine, August 9, 2022, https://pv-magazine-usa.com/2022/08/09/study-finds-100-renewables-would-pay-off-within-6-years/
3. Scott Tong, "Fossil fuel pollution is killing 8.7 million people a year, study says," Marketplace, Feb. 9, 2021, https://www.marketplace.org/2021/02/09/fossil-fuel-pollution-killing-8-7-million-people-year-study-says/
4.Yi Zhang et al., "Projections of tropical heat stress constrained by atmospheric dynamics," Nature Geoscience, https://www.nature.com/articles/s41561-021-00695-3
5. Raymond Zhong, "2021 Was Earth's Fifth-Hottest Year, Scientists Say," The New York Times, January 10, 2022, https://www.nytimes.com/2022/01/10/climate/2021-hottest-year.html
6. Smriti Mallapaty,"Pakistan's floods have displaced 32 million people – here's how researchers are helping," Nature, September 9, 2022, https://www.nature.com/articles/d41586-022-02879-2
7. From mid-July to mid-August 2022: St. Louis, July 25-26; Eastern Kentucky, July 28; Southern Illinois, August 2; Death Valley, August 5; and Dallas-Fort Worth, August 21-22
8. Jon Henley, "Hunger stones, wrecks and bones: Europe's drought brings past to surface," The Guardian, August 19, 2022, https://www.theguardian.com/world/2022/aug/19/hunger-stones-wrecks-and-bones-europe-drought-brings-past-to-surface