Under threatening skies, a group of men and women gathers in the basement of the Paulist Center, less than a block from the Boston State House. One by one we introduce ourselves and offer a one-word summary of how we feel as we prepare to risk arrest.
"Ready."
"Resolved."
"Grounded."
"Centered."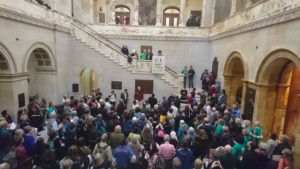 Everyone has been trained in non-violent civil disobedience. Everyone has taken the necessary practical steps, such as removing wedding bands and other jewelry, slipping a driver's license or other identification into a pocket, and scribbling the phone number of the jail support person onto an inner arm. In a moment, everyone will select a buddy for the day, for it is good to stand with a friend when you are arrested, handcuffed, put in a police van, and locked in a holding cell.
Some of us have faced arrest before, others will risk arrest for the first time, but just now all of us are carrying out a ritual of personal preparation that has been passed down through generations. We are clear about our goals: to leave a just and habitable world to our children. We are clear about our methods: to be non-violent in action, speech, and spirit. We divest ourselves of everything unnecessary. We take with us only what is necessary: a few physical essentials and an open heart. We head out two by two.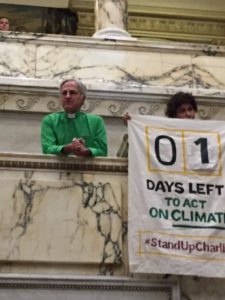 That's what Jesus did: he sent out his disciples two by two, ordering them to take nothing for the journey except a staff; no bread, no bag, no money in their belts (Mark 6:7-8). His first followers, the men and women of the Jesus Movement, repeatedly challenged unjust power and were accused of disturbing the peace and "turning the world upside down" (Acts 17:6). These brave souls seemed to spend as much time in jail as they did walking free.
At the moment I don't feel particularly inspired or brave, but that doesn't matter:  I feel called to be here, doing what needs to be done. All around the world, other people are with us in spirit as we gather strength in this Boston basement: they, too, are standing up for what is right, refusing to settle for a death-dealing status quo.
       Far away in Bonn, Germany, the COP 23 U.N. climate talks are about to end. The only event that the Trump administration has hosted during these two weeks of crucial international negotiations has been a panel that pushes for "clean" coal, nuclear, and other fossil fuels. Such limp leadership on climate is appalling. And people are there to protest: "As fossil fuel executives took the stage to speak, hundreds of people rose up, disrupting the event by singing, and walked out."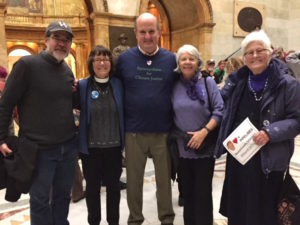 We have our own climate action to take here in Massachusetts. Mass Power Forward, a coalition of environmental, climate, community, and faith groups (including the Social Justice Commission of Episcopal Diocese of Western Massachusetts, and Environmental Ministries of United Church of Christ in Massachusetts) is running a campaign (#StandUpCharlie) to push Governor Charlie Baker to sign an executive order that directs all state agencies to do everything in their legal authority to stop new fossil fuel projects. We want him to speak out against the pipeline tax and make it clear to fossil fuel executives that the Commonwealth is not willing to pay billions of dollars to fund their pipeline projects. We want him to establish a policy of climate justice and to stand up for clean energy, not to perpetuate the lethal grip of fossil fuels.
Governor Baker claims that he wants our state to exceed the goals of the Paris Climate Agreement, yet he continues to support the construction of new fracked gas pipelines, power plants, and compressor stations. Does he believe that so-called "natural" gas is a "bridge" fuel that can carry us from coal to clean sources of renewable energy like sun and wind? That's what industry executives have been touting for years. In reality, fracked gas is a bridge to nowhere. Methane, the primary component of "natural" gas, is a far more potent greenhouse gas in the near term than is carbon dioxide. Investing billions of dollars in new gas pipelines and other fossil fuel infrastructure designed to last for many decades will only delay the urgent transition we need to make to 100% clean energy within the next 20-30 years. What's more, the supposed fracked gas "shortage" in Massachusetts is only a myth: the Attorney General confirmed in a 2015 study that our Commonwealth does not need more natural gas in order to meet its energy requirements.
What did Governor Charlie Baker say last week when six protesters resolutely sat down in his Statehouse office, refusing to leave until he stopped all new fossil fuel projects in Massachusetts? He said he didn't want to "take options off the table."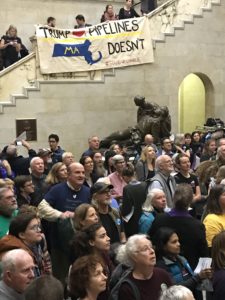 Keep more fracked gas on the table? That means taking climate stability off the table,1 taking moderate weather off the table, taking intact ice sheets off the table, taking your children's future off the table, taking a habitable world off the table.
Keep all options on the table? No way. Not if you love your children; not if you love the beautiful blue-green planet into which you and I were born; not if you care about climate migrants and refugees; not if you're concerned about resource wars over clean water and arable land; not if you want to preserve some remnant of the web of life that is fast unraveling before our eyes.
So it's no wonder – when the twenty-six of us risking arrest have finished initial preparations and walked to the Boston State House, passed through security and assembled with hundreds of supporters in a large hall – that the crowd quickly takes up the chant: "No new pipelines, keep it off the table!" Our cries reverberate against the walls, filling the space.
Claire Miller (Toxics Action Center) and Craig Altemose (Better Future Project and 350 Mass for a Better Future) speak about the growing movement to stop new fossil fuel projects and to build a safer, healthier economy. The Rev. Dr. Jim Antal of the Massachusetts Conference, United Church of Christ, a national leader on climate, speaks with concise eloquence: "We are assembled here on the hinge of history. Time is short. We are here to give Governor Baker the opportunity to make the most important decision of his career."
Then up the stairs we go, to the Governor's Executive Office. State troopers stand guard at the doorway, preventing us from stepping inside, so the twenty-six of us sit down on the hallway's marble floor. We intend to sit there until the Governor signs the executive order we seek or until we are forcibly removed.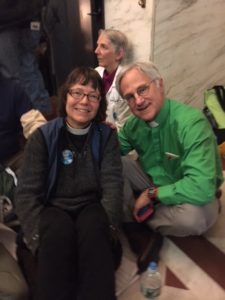 At first the police hassle us. They point out that a visitor has arrived in a wheelchair. They argue that, according to the Americans with Disabilities Act, the hallway must be kept completely clear. The police tell us to move along. Our spokespeople counter: "Fine. We'd be glad to empty the hallway. Since only twenty-six people are refusing to leave, there is plenty of room for us to move into the Governor's office and to carry out our sit-in there."
The police back off. Protesters keep a pathway open for pedestrians and wheelchairs, and there in the hallway we stay. Hundreds of supporters, holding banners and signs, spread out nearby. Everyone settles in for a long afternoon.
We pass the hours by belting out every inspiring song we know, from "Singing for Our Lives" and "We Shall Not Be Moved" to songs with lyrics written especially for the occasion. We take turns standing up to explain what motivates our activism. A labor organizer speaks of his many years of learning when and how to negotiate. "Sometimes negotiation isn't possible," he tells us. "You can't negotiate with climate change." Activities that push the world to the brink of climate chaos will never be able to strike a deal with physics and chemistry.
A physician in a white lab coat stands up. "In medical school, we learn 'First, do no harm.'" Policies that cater to fossil fuel companies are doing grave harm to our state, our country, and our planet.
A middle-aged woman stands up to speak about extreme weather events and rising seas. An elderly woman speaks about her love and concern for her grandchildren. A young man speaks about his Millennial friends who, anticipating terrible years ahead, are deciding not to bear children. Activist and independent journalist Wen Stephenson recites by heart a compelling passage from Thoreau's "Civil Disobedience" that concludes: "Action from principle, the perception and the performance of right, changes things and relations; it is essentially revolutionary."
I speak about the love that propels me. Climate change is not only a scientific, economic, and political issue, but also one that is deeply spiritual. What do we love most? To what are we willing to commit our lives? What is the North Star that guides our decisions? When we know what we love most, we make energy choices that are wise. And, I might add, we push our elected officials to stop desecrating the Earth entrusted to our care and to move as swiftly as possible to a clean energy future in which all beings can thrive.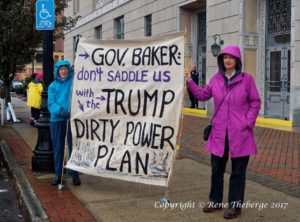 The hours pass. When a supporter needs to leave, he or she approaches the group that is sitting in the hallway and hands one of the protesters a small flower. I am touched by this gesture of support: "I may not be with you in person, but I am with you in spirit."
       Many people are with us in body or spirit. A hundred miles west, local activists led by Arise for Social Justice and Climate Action Now are carrying out a simultaneous #StandUpCharlie protest at Governor Baker's Springfield office. They ask him to meet additional demands that affect climate justice in western Massachusetts: to prevent large-biomass burning, to expand our system of public transportation, and to implement East-West high-speed rail.
The hour is late. The building will close at 6:00 p.m. Additional police officers assemble nearby. After brief, intense discussions among ourselves, we decide that we are willing to face criminal charges and to be summoned to court without undergoing arrest – a decision that some of us regret (see Wen Stephenson's subsequent article in The Nation). A police officer announces the charges – trespassing and unlawful assembly – and we hand over our driver's licenses to be photocopied.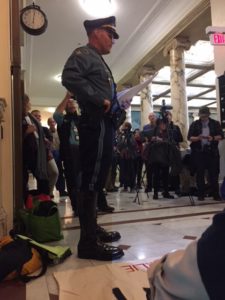 We head out into the night.
The #StandUpCharlie campaign plans a brief hiatus, to give the Governor some time over the holidays to consider his leadership on climate. In January, we intend to come back, and in greater numbers, until the Governor agrees to take a clear stand against more fracked gas projects in Massachusetts.
Preserving a habitable planet depends on local and regional action by every sector of society, especially when our national government seems determined to dig us ever deeper into the pit of relying on fossil fuels. Whatever form our actions take – whether or not they include arrest – we will need to be loving, bold, relentless, and strong.
And persistent. Jesus encourages persistence in prayer. He encourages his friends "to pray always and not to lose heart" (Luke 18:1). Then he tells a parable about a persistent widow who refuses to quit pestering a judge until he grants her justice (Luke 18:1-8). Fed up by her tenacity, the judge at last relents, saying, "Because this widow keeps bothering me, I will grant her justice, so that she may not wear me out by continually coming" (Luke 18:5).
That's the kind of persistence we intend to maintain as we press Governor Baker to become a climate leader. We intend to be persistent in prayer and to pray persistently as we put our bodies on the line. We aim to tend our inner fires, to be steadfast in listening to the inner voice of love that gives us courage and strength. And when God calls us to take action, we hope, by God's grace, to be able to answer:
"Ready."
"Resolved."
"Grounded."
"Centered."
---
Selected media links                                              
#StandUpCharlie events in Boston:
WGBH TV: "Environmentalists Stage Sit-In At Governor's Office Over Natural Gas Infrastructure"
WWLP-22News TV: "Environmentalists continue sit-in at Governor's office: The coalition has been staging sit-ins for the past two months"
Facebook Event page with videos and photos is here
Wen Stephenson wrote a powerful essay in The Nation, "Massachusetts Governor Charlie Baker Is a Climate Criminal—And I'm Willing to Go to Jail to Say So" that critiques the decision we made to face charges without undergoing arrest
#StandUpCharlie events in Springfield:
WWLP-22News TV: "Protesters urge Governor Baker to sign emission reduction bill"
---
A point made by climate activists Kathleen Wolf and Craig Altemose.


---