This essay is based on opening remarks by the Rev. Dr. Margaret Bullitt-Jonas at a Community Forum, "Tackling the climate crisis now," held at St. John's Episcopal Church, Sandwich, MA, on November 4, 2018. The other speakers were Dr. Philip B. Duffy (President and Executive Director, Woods Hole Research Center) and the Rev. Dr. Paul Minus (Co-Chair of the Cape & Island Faith Communities Environmental Network). The event was part of a new initiative in Massachusetts to bring together scientists and faith leaders in a shared effort to address the climate crisis.
I brought two props with me: a globe and an icon. The globe represents the world outside us: the precious living planet into which we were born, with its complex eco-systems, its lands and waters, its diverse multitude of creatures, and its delicate balance of gases that make up the global atmosphere. The globe represents the outer landscape – what science studies.
The icon represents the world we carry inside us: how we make meaning, what we value and consider important, what motivates us, what we feel, what we long for, how we choose to act. The icon represents the inner landscape – what religion explores.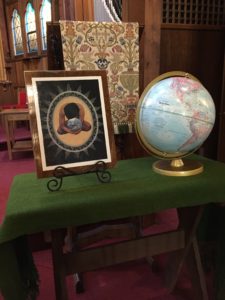 Scientists have done their job – they've conducted research, carried out experiments – and now they are speaking with increasing alarm about threats to the web of life and to human civilization. In the last few weeks we've experienced a one-two punch. The World Wildlife Fund just reported that 60% of mammals, birds, fish and reptiles have been wiped out since 1970. This massive annihilation of wildlife now threatens human civilization, which depends on a healthy natural world. And several weeks ago the U.N.'s Intergovernmental Panel on Climate Change released a major report that shows that planetary warming is well underway and that time is running out to avert climate catastrophe: we have maybe ten or twelve years. To avoid runaway climate change will require a radical transformation of society from top to bottom at a scale and pace that are historically unprecedented: never before in human history has our species changed its way of living that dramatically and that fast.
The question is how we will respond. This is where communities of faith have a vital role to play. In order to mobilize an effective response to the climate crisis, we need hard science and we need deep faith; we need facts and we need a moral compass; we need clear heads and we need open hearts.
We need the wisdom of our whole selves, and we need the help and skills of every sector of society if we are going to preserve a habitable planet for our children's children.
I'd like to name four of the many roles that faith communities can play:
1) Address helplessness
People who are secretly worried about climate change often don't take action because they feel helpless and overwhelmed. It's easy to shut down, throw up our hands and call it quits. "It's too late," we tell ourselves. "What difference can I make? It's not my problem. Someone else will have to deal with it. Besides, the world is cooked. We're done for. I might as well put my head down, go shopping, check the score, grab a beer." It's easy to collapse into fatalism or despair. Strictly speaking we may not be climate skeptics – we do respect climate science, we do understand that burning fossil fuels is disrupting the global climate and threatening the whole human enterprise – but most of us engage in a kind of everyday climate denial: we don't want to talk about it, we don't want to think about it, we don't know what to do about it, and we surely don't want to feel the emotions that this crisis evokes.
Faith communities address helplessness in many ways. When we gather for meditation or worship, we see each other's faces, we hear each other's voices, and we can take hold of each other's hands. We feel the power of a community that longs, as we do, to create a better world. And we place ourselves in the presence of a Higher Power (Great Spirit, God, Creator) in whose presence we are uplifted and to whom we are accountable.
2) Offer rituals and practices of prayer and meditation that transform minds and hearts and set us on a good path
Taking action is essential, but in order to discover what we are called to do – and to find the strength to do it – we need to open ourselves to a power and wisdom that is greater than our own. We need help. We need guidance.
In a time of climate crisis, we need rituals that address our fear of death and give us courage to trust in a life greater than death. We need rituals that ask us to name our guilt and regrets, that grant us forgiveness, and that give us strength to set a new course. We need rituals that remind us of our essential connection with each other, with the rest of the created world, and with the unseen Source of all that is. We need rituals that remind us of how loved we are, how precious the world is, and what a privilege it is to be born in a time when our choices and actions make such a difference.
We also need to meditate and pray, recognizing, in the words of Terry Tempest Williams, "that we exist by the grace of something beyond ourselves." What we consider prayer can take many forms. In times like these, our prayer may need to be expressive and embodied, visceral and vocal. How shall we pray with our immense anger and grief? How do we pray about ecocide, about the death that humanity is unleashing upon Mother Earth – and upon ourselves? The climate crisis can make us go numb. But it is important to protect our human capacity to feel our emotional responses to the crisis, for that is how we stay inwardly vital and alive. What's more, our emotions can become a source of energy for constructive action to address the emergency.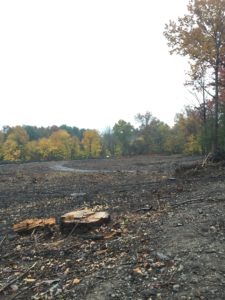 So I'll tell a story. Over the past month a company has been cutting down trees in the woods behind our house, clearing space for a new co-housing development. I'm all for co-housing, and I've met some nice people who plan to live there, but, honestly, I grieve the trees. So I've taken to praying outdoors. I go outside, feel my feet on the good earth, feel the wind on my face, and I sing to the trees. I sing my grief to the trees that are going down, and my grief about so much more: about what we have lost and are losing and are likely to lose, making up the words and the music as I go along. I sing my rage about these beautiful old trees going down and about the predicament we're in as a species, my protest of the political and corporate powers-that-be that drive forward relentlessly with business as usual, cutting down forests, drilling for more oil and fracked gas, digging for more coal, expanding pipeline construction, and opening up public lands and waters to endless exploitation, as if the Earth were their private business and they were conducting a liquidation sale. I sing out my shame to the trees, my repentance and apology for the part I have played in Earth's destruction. I sing out my thanks, my praise for the beauty of trees and my resolve not to let a day go by that I don't celebrate the preciousness of the living world of which we are so blessedly a part.
Our prayer may be noisy and expressive, or it may be very quiet, the kind of prayer that depends on listening in stillness and silence with complete attention: listening to the crickets as they pulse at night, listening to the rain as it falls, listening to our breath as we breathe God in and breathe God out, listening to the inner voice of love that is always sounding in our heart.
Experiencing our unshakable union with a love that is stronger than death guides us to actions commensurate with the emergency we are in.
3) Provide moral leadership
Climate change is obviously a scientific issue, an economic issue, a political issue, but it is also a moral issue, an issue of justice. The poorest nations and the poorest citizens in each nation are those most vulnerable to climate change, because of flooding, food shortages, and the loss of clean water. The front-line communities most affected by fossil fuel pollution are often low-income communities and communities of color.1 The poor are often the people least responsible for causing climate change, the people least equipped to protect themselves from its effects, and the people least likely to have a say in how decisions get made. Pope Francis's landmark encyclical, Laudato Si, makes it crystal clear that healing the climate is closely connected with securing social justice, racial justice, environmental justice, and economic justice. And climate change is about intergenerational justice, too, for right now we are stealing a habitable Earth from our children. What is our moral responsibility to future generations? This weekend, Christians around the world are celebrating All Saints Day, and as I said in my sermon this morning, our task is to be a good ancestor.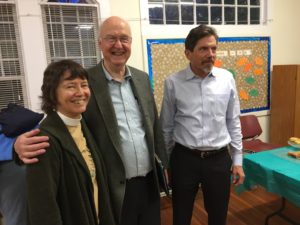 4) Inspire bold action
Faith communities have a long history of leading movements for social and environmental justice, from child labor to women's rights, peace, the abolition of slavery, and the civil rights movement. Faith communities tap into our capacity to dedicate ourselves to a cause that is greater than our personal comfort and self-interest. Faith in God (however we name that Higher Power) can inspire people to take bold actions that require courage, compassion, and creativity.
I'd like to mention one important new interfaith initiative: Living the Change. At LivingtheChange.net you can commit to making personal changes in the three key areas that most affect our personal carbon footprint: transportation, household energy use, and diet. (It turns out that eating less meat or no meat, and shifting to a plant-based diet, is one of the most climate-friendly things we can do.)
Faith communities can model best practices for "going green," such as to get an energy audit, increase energy conservation and efficiency, look into installing solar panels, put in bike racks, replace lawns with community gardens, and so on. But taking care of our immediate buildings and community is just a start. An adequate response to the scope and speed of the climate crisis requires collective action and political engagement.
The climate emergency is propelling people of different faiths to lobby for strong legislative action, such as putting a fair and rising price on carbon, and to join the divestment movement. In the footsteps of Gandhi and Martin Luther King, Jr., countless people of faith have been arrested in recent years in acts of non-violent resistance to fossil fuels. I have been arrested several times in interfaith protests against fossil fuels, and I consider those experiences some of the high points of my life. By engaging in civil disobedience, faith communities challenge the deathly status quo of "business as usual" and rouse society out of its apathy and inaction.
I am thankful for people who are willing to face squarely the most challenging, even devastating facts; who reach into their reserves of courage, faith, and hope; and who step out to take action — even if success is not assured — bearing witness to the presence and power of a love that abides within and around us and that nothing can destroy.
---
1. See: Wen Stephenson, "The Grassroots Battle Against Big Oil," The Nation, October 28, 2013.