If you've been wondering whether public opinion on climate change has changed in the U.S. since Pope Francis published his encyclical in June, look no further. A new study shows that during the six months since Laudato Si: On Care for Our Common Home was released, Americans have become more concerned about global warming and are more actively engaged in the issue. About 17% of the study's respondents overall, and 35% of its Roman Catholic respondents, said they had been influenced by Francis' message. Between spring and fall of 2015, more Americans reported they were more concerned about climate change, and more Americans considered climate change a moral issue that involves fairness/social justice and poverty. The authors of the survey found the shift in public opinion so striking that they dubbed it "The Francis Effect." (Download the pdf here.)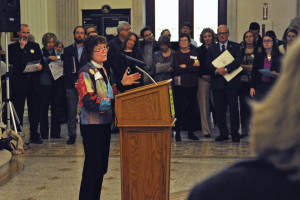 This national survey focused on the three largest groups of American Christians: Roman Catholics, non-evangelical Protestants, and born again/Evangelical Christians. It didn't report on other religious groups in the U.S. or on people without any religious affiliation. Perhaps further research will reveal how far the Francis Effect has extended to these latter groups. But it's already clear that Pope Francis' message has touched the lives of at least some individuals who belong to religions not included in the survey.
Take, for instance, Lise Olney and Amy Benjamin, two Boston-area social justice activists who are members, respectively, of a Unitarian Universalist and a Jewish congregation. The two women were so moved by Pope Francis' message that they began to organize an interfaith response. On Columbus Day, October 12, they pulled together "Answering the Call: An Interfaith Gathering for Climate Action," which was held at Temple Beth Elohim in Wellesley. Billed as "part service, part forum, and part rally," the event focused on how Pope Francis is connecting faith, social justice, and climate change; on what the call to climate action means to people of faith in Massachusetts; and on what we can accomplish together as people of faith that we cannot accomplish alone.
They expected only a small crowd. Instead, almost 600 people showed up.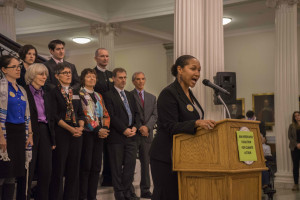 Thus launched the Massachusetts Interfaith Coalition for Climate Action, a network so new that even now we are trying to decide how to pronounce the acronym. Should "MAICCA" sound like "May-cah" or maybe "Micah," in deference to the Hebrew prophet who enjoined his followers "to do justice, and to love kindness, and to walk humbly with your God" (Micah 6:8)?
Less than a month after MAICCA – however you pronounce it – burst onto the scene, its core team convened a legislative day of action in Boston on November 10. Well over 200 religious leaders and members of faith communities came from across Massachusetts for a spirited rally inside the State House, asking legislators to make a swift transition to clean, safe, renewable energy and to honor our moral mandate to protect low-income and other historically under-served communities.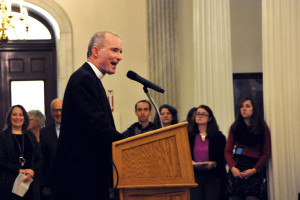 "We are here today because we know that there are crucial decisions to be made," said Mariama White-Hammond, a minister in training at Bethel A.M.E. Church in Jamaica Plain. "There are decisions that will impact not just the here and now, but generations to come. And so we are here, in these hallowed halls, because we are ready to start a revolution."
Rev. Fred Small, the Unitarian Universalist minister who recently quit his job at First Parish in Cambridge to work fulltime for climate justice, gave an impassioned call to action. "Too long," he said, "have people of faith hung back from political engagement to defend creation, future generations, and the most vulnerable of our neighbors. Politics is complicated, it's messy, and it's a lot of work. But it is holy work. It is necessary work. Today we embrace it in the name of love. There are powerful interests invested in the status quo. They are not evil people, but they are captive to an energy system that is deadly to life on earth… Today we lift our voices – the voices of people of faith, the voices of neighborhoods, the voices of our descendants yet to come, the voices of all God's creatures. And we shall be heard!" (For the full text of his remarks, click here.)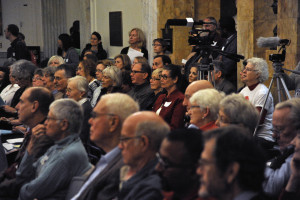 Our coalition, whose members come from more than 60 religious and spiritual organizations, is pushing for a comprehensive energy plan that invests in renewables (solar and wind power) and in local economies. Its priorities for upcoming energy legislation include
• lifting the caps on solar energy and expanding incentives for community and low-income solar installations;
• investing in off-shore wind development, particularly in communities where coal-fired power plants have closed or are closing;
• ensuring that energy efficiency programs serve all communities, including low- and moderate income homes, renters, and people who speak no English;
• fixing natural gas leaks; and
• rejecting public subsidies for new natural gas pipelines (for a full description of the priorities, visit here.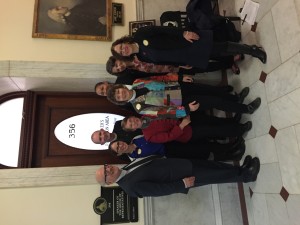 After the rally, most of us fanned out to visit more than 60 legislators' offices, where we outlined and advocated for our legislative priorities, and delivered some 1500 postcards. Along with a small group of MAICCA leaders, I headed to the office of Speaker of the House, Robert DeLeo (D-Winthrop) and then to the office of the Chair of the House Ways and Means Committee, Brian S. Dempsey (D-Haverhill). Because this is a critical moment for solar legislation in Massachusetts, we focused particularly on the moral mandate both to lift the caps on solar power and to protect community and low-income solar so that everyone can enjoy the benefits of solar energy. (In the hall we ran into Rep. Frank Smizik (Brookline), Chair of the House Committee on Global Warming and Climate Change, and nabbed a quick photo.)
Meanwhile, my husband Robert A. Jonas, who serves as Chair of the Board of the Kestrel Land Trust, headed downstairs to join a packed auditorium for a public hearing on a bill that would strip the protected status from conservation lands in Sandisfield, MA, in order to allow construction of a pipeline carrying fracked natural gas from Pennsylvania. Opposition to the pipeline has been fierce – see, for instance, MassPLAN and No Fracked Gas in Mass.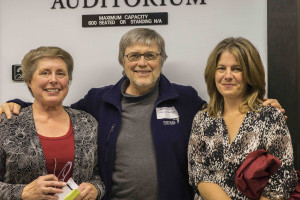 I doubt that many people involved in the rally, the lobbying, or the hearing had heard of the Francis Effect, but one way or another all of us seemed to have taken to heart the Pope's concept of "integral ecology," which stresses how deeply everything is connected. As Pope Francis wrote in his encyclical, "We are faced not with two separate crises, one environmental and the other social, but rather with one complex crisis which is both social and environmental. Strategies for a solution demand an integrated approach to combating poverty, restoring dignity to the excluded, and at the same time protecting nature" (139).
Will we keep building momentum and keep pushing for social transformation? Will we keep finding new partners and keep reaching out to bring new people into the climate justice movement? Will we lobby, vote, phone our legislators, divest from fossil fuels, perhaps even engage in civil disobedience? What happens next is up to us.
Near the end of the survey that reported on "The Francis Effect," the authors remark: "It is important to note that The Francis Effect may fade or grow over time."
Whether it fades or grows depends on what you, I, and countless others do next.
---
Here is what I said at the rally inside the Statehouse (visit here to download a pdf):

It is a joy to stand here with people of so many different religious and spiritual traditions, all of us united for a common purpose.
We're here because Massachusetts is poised at an energy crossroads, and we have a precious opportunity, a precious responsibility, to choose a more just and sustainable future.
The world's religions proclaim that the Earth is entrusted to our care and that we have a moral responsibility to build just, generous, and life-sustaining societies. I don't know what tradition, if any, you belong to – whether you call yourself "religious" or "spiritual" or "none of the above." However you define your deepest meaning and values, I hope that you will come to think of yourself as a person of faith.
We need people of faith.
Here's why. Until now, humanity has seemed incapable of breaking away from the power of the fossil fuel industry or of imagining a life-sustaining future. It's as if we've fallen under a spell and made what U.N. Secretary General Ban-ki Moon calls a "global suicide pact."
I'm here to say that in Massachusetts, we're not going to settle for a global suicide pact, or for a local one, either. At this energy crossroads, one path leads to "business as usual," an economy mired in dirty fossil fuels that push the planet toward catastrophic climate disruption. The other path leads to clean, safe, renewable energy from sun and wind, to energy efficiency and energy conservation. One path leads to profit for the few, suffering for the many, and, before too long, death for all. The other path leads to a stable climate, clean air, soil, and water, good "green" jobs, and the ongoing evolution of life as we know it on this planet.
We know which path we choose. We choose life. We choose that path because, whatever our religious tradition, we are people of faith.
Who are people of faith?
People who see the long view, not just short-term quarterly reports;
people who care about the homeless, hungry, and poor, not just about elites;
people who understand that the web of life is a gift to be protected, not a commodity to be exploited and destroyed;
people who place our hope not in the promise of success but in being faithful to the love that created us and that holds all things together.
Thank you for being people of faith. Thank you for your commitment to urging our Commonwealth to choose a good path, one that stabilizes the climate and that ensures that all our communities can enjoy a clean and just energy future.