Leaders of the Eastern Church and the Western Church, representing billions of people worldwide, spoke with one voice this month about the moral urgency of confronting the climate crisis.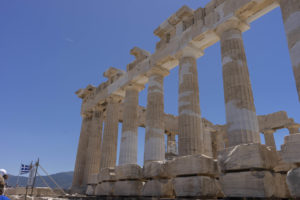 "A civilization is defined and judged by our respect for the dignity of humanity and the integrity of nature," declared the head of the Orthodox Church, His All-Holiness Ecumenical Patriarch Bartholomew, in his keynote address for a three-day international symposium held in Greece. "Toward a Green Attica: Preserving the Planet and Protecting Its People" was the ninth international, inter-disciplinary, and inter-religious symposium that Patriarch Bartholomew has convened since 1991 to highlight the spiritual basis of ecological care and to strengthen collaboration across disciplines in our quest to build a just and habitable world.
I accepted an invitation to attend the symposium, along with 200 leaders in a variety of fields – science, economics, theology, public policy, journalism, business, and social activism. Gathering in Athens and visiting the islands of Spetses and Hydra, we studied climate science, explored strategic actions toward sustainability and resilience, and renewed our commitment to push for the economic and societal changes that must take place if we are to avert social and ecological chaos and widespread suffering. (For the program and a list of participants, visit here.)
The Bishop of Salisbury, the Rt. Rev. Nicholas Holtam, represented the Archbishop of Canterbury and affirmed the commitment of the Anglican Consultative Council to address the climate crisis (see, for example, Resolution 16.08: Response to Global Climate Change). As the Church of England states on its Website, "We believe that responding to climate change is an essential part of our responsibility to safeguard God's creation." (I note that from September 1 to October 4, Anglicans will unite with Christians around the world to care for God's creation in a "Season of Creation." Excellent materials for "Creation Season" worship, study, and prayer are available from the Anglican Communion Environmental Network and other sources here, and a complete guide to celebrating a 2018 "Season of Creation" is available here.)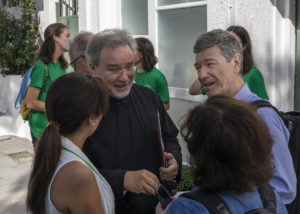 Peter Cardinal Turkson, a Ghanaian Cardinal of the Roman Catholic Church who worked closely with Pope Francis in developing the papal encyclical, Laudato Si, represented the Pope at the symposium. Cardinal Turkson read a statement from Pope Francis that included these lines: "It is not just the homes of vulnerable people around the world that are crumbling, as can be seen in the world's growing exodus of climate migrants and environmental refugees. As I sought to point out in my Encyclical Laudato Si', we may well be condemning future generations to a common home left in ruins. Today we must honestly ask ourselves a basic question: 'What kind of world do we want to leave to those who come after us, to children who are now growing up?'" (The entire statement can be found here.)
One of the most powerful, disturbing and illuminating lectures was given by Jeffrey Sachs, a world-renowned professor of economics and director of the Earth Institute at Columbia University. Sachs gave a one-hour overview of the history of economics that included a blistering critique of corporate capitalism and its veneration of greed, by which "Nature is utterly sacrificed for profit." (A professional videographer recorded his speech, but until that video becomes available, you can watch a more basic recording here).
Other speakers at the symposium included such luminaries as award-winning scientist and activist Vandana Shiva, who argued that modern industrial agriculture has become "an act of war" against human health and the health of the Earth. She noted that the chemicals used to kill insects are the same chemicals that were used in Hitler's concentration camps. Members of Hitler's "poison cartel" were tried at Nuremberg for their crimes, she said, "but those crimes continue in the name of feeding the world." Asserting that only 5% of cancers have a genetic basis, she maintained that the recent merger of corporate giants Monsanto and Bayer created a "cancer train": one part of the company makes carcinogenic chemicals, and the other part makes the medicine used to treat cancer. She also contended: "Climate change is the destruction of the metabolic system of the planet to regulate her climate."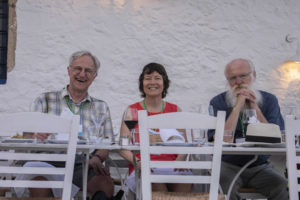 Professor Hans Joachim Schellnuber, Director of Potsdam Institute for Climate Impact, gave a hair-raising presentation on the precarious health of "the vital organs of the planet," such as the Gulf Stream, coral reefs, Alpine glaciers, the Amazon rainforest, and West Antarctic Ice Sheet (a recent study shows that Antarctica's ice loss has tripled in a decade; if that continues, we are in serious trouble). Citing a 2017 article in the journal Science, "A roadmap for rapid decarbonization," Schellnuber asserted that we could halve carbon emissions every decade – "but we have to want to do it."
Other speakers likewise underscored the urgent need to galvanize humanity's vision, will, and moral courage as we confront the climate crisis, which poses an existential threat to civilization. Writer and activist Raj Patel urged us to consider the question, "What sort of ancestor do you want to be?" When asked about the role of civil disobedience, he replied, "Now and yesterday is a good day to put our bodies on the lever of the machine."
Award-winning human rights advocate Rabbi Awraham Soetendorp spoke movingly about the power of compassion, based on his own experience as a three-month-old infant who was protected from the Nazis by a Roman Catholic family, and spared from death by an SS guard who took pity on him. "We are wood plucked out of the fire," he cried. "How can I ever despair? We are able to plant the future into the present…We desperately need each other…A decade is rising before us, a decade where miracles can happen. Can we declare this decade a sacred time? We are one human family, one Earth community with a common destiny. Is this not a moment of kairos?… We are men and women of radical hope."
Speaking of hope – Christiana Figueres, Executive Secretary of the United Nations Framework Convention on Climate Change (UNFCCC) from 2010-2016, gave one of the most impassioned appeals to active hope that I've ever heard. Figueres was a key player in the successful delivery of the Paris Climate Accord, an agreement that she deemed "fundamentally necessary" yet also "insufficient." Figueres is a small, vigorous woman; her concentrated focus and fierce tenacity reminded me of a diminutive songbird with the astonishing capacity to migrate thousands of miles. Like the Rabbi, she, too, spoke of kairos, which she defined – citing Patriarch Bartholomew – as "the intersection of conviction and commitment." In response to the urgent question, "What can we do?" she exhorted everyone: 1) to eradicate meat from our diets; 2) to be careful in our methods of transportation; 3) if we live in a democracy, to vote responsibly (to do otherwise is "collusion with a crime against humanity"); and 4) to leverage the power of capital by divesting from fossil fuel companies and investing in clean renewables.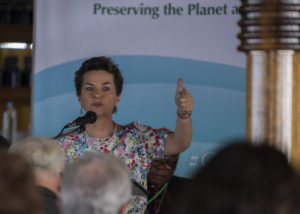 Figueres went further: she challenged communities of faith to "strengthen the arc of faith" – that is, to "inject confidence" in the process of transformation that has started and that must accelerate. After all, limiting global average temperatures to a 1.5º rise – the aspirational goal of the Paris Climate Accord – gives only a 66% guarantee of saving small island states. How many of us would board an airplane that had only a 66% chance of landing safely? She also challenged faith communities to "expand the arc of love," so that no one is excluded.
Both Jeffrey Sachs and Cardinal Turkson left the symposium early to travel to Rome. Pope Francis had taken the unprecedented step of inviting the world's top fossil fuel executives – including the chairman of Exxon Mobil, the chief executive of the Italian energy giant Eni, and the chief executive of BP – along with money managers of major financial institutions, to meet with him in a two-day, closed-door conference at the Vatican. Sachs and Turkson joined the meeting to add their perspectives.
"There is no time to lose," the Pope told the participants. He appealed to them "to be the core of a group of leaders who envision the global energy transition in a way that will take into account all the peoples of the earth, as well as future generations and all species and ecosystems."
Thus, in one extraordinary week, Christian Churches, both East and West, called for robust action to address climate disruption.
The Rt. Rev. Marc Andrus, Bishop of California and leader of the Presiding Bishop's delegation to UN Climate Summits, commented: "The moment is dire, and also is our (humanity's) moment of greatest possibility. St. Irenaeus called a human fully alive the glory of God. Now, 1,300 years later we may understand that for humanity to act as one for the good of the Earth is yet a greater expression of God's glory."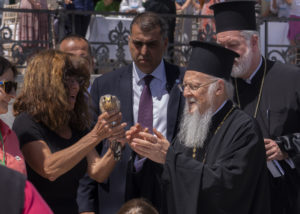 Looking back on the symposium, Bishop Marc was thankful for its "great spirit of respect and mutuality… Rather than lobbying to enlist people to each cause, there was a celebration of what each person is doing to heal the Earth, and a seeking to support each person on their path, to make connections. A good example of this to me was the tremendous joy we all felt as the Ecumenical Patriarch released two kestrels that had been nursed back to health by an Athenian woman whose ministry is protecting and healing endangered birds."
Another Episcopal participant, Dr. Sheila Moore Andrus, a biologist and an active climate champion from Diocese of CA, expressed appreciation for the opportunity to meet new climate activists and connect with individuals she has respected for many years – including the Rev. Fletcher Harper, who, she said, "is currently working on a project similar to one I am working on for the Diocese of CA: a web-based tool that can help people decrease their carbon footprint and aggregate those choices by church and diocesan Community.  The conference gave Fletcher, Marc and me a chance to explore ways to promote such a tool among interfaith groups, and all this in settings filled with inspiring talks and sacred indoor/outdoor spaces."
The Rev. Fletcher Harper, Executive Director of GreenFaith, concluded: "The fact that it was searingly hot during the symposium made the point about the need for action as powerfully as any of the speakers.  This September, the multi-faith service at Grace Cathedral at the start of the Global Climate Action Summit gives everyone a chance – whether in person or on the live-stream – to commit to living the change in our own diet, transportation and home energy use that's needed for a non-scorched, sustainable future."