Rev. Margaret gave this opening presentation for "Preaching for God's World," a webinar on April 20, 2023, hosted by Church of England Environment Programme, which featured an international panel of speakers.  Her presentation is posted on YouTube.
Why do we need to preach on creation care? Two reasons: Jesus commands it, and the world needs it. Let's take these one by one.
At the end of Mark's Gospel, Jesus commands, "Go into all the world and proclaim the good news to the whole creation" (Mark 16:15). The good news of God in Christ is to be proclaimed in word and deed to the whole creation – not only to human beings, but to all our fellow creatures and indeed to the whole web of life. From the first words of Genesis, when God created all that is and pronounced it "very good" (Gen. 1:30) to the last pages of the Book of Revelation, which speak of "a new heaven and a new earth" (Rev. 21:1), the sweep of our salvation history embraces the whole creation. What do we preach? We preach Christ crucified (1 Cor. 1:23). And Christ's life, death, and resurrection touches every corner of the world. As St. Paul tells us, in Christ "all the fullness of God was pleased to dwell, and through him God was pleased to reconcile to himself all things, whether on earth or in heaven, making peace by the blood of his cross" (Col. 1:19-20). Christ came to reconcile all things – which means that when we preach, we hold in mind God's desire to restore our connections to each other and to the land, God's longing to heal our estrangement both from our fellow humans and from the rest of the natural world. When we preach, we hold in mind God's heartbreak when we trample our brother-sister beings and when we contaminate the soil, water, and air upon which all life depends. With the psalmist, we proclaim, The Earth is the Lord's, and all that is in it (Psalm 24:1), and thus we preach to restore reverence for God's creation and to dismantle the fossil-fuel mindset that considers the natural world nothing more than inert material, just an object for us to exploit.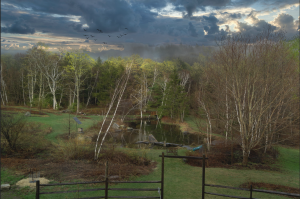 Not to preach about the climate crisis, not to preach about environmental degradation, not to preach about our calling to repair and restore the world that God entrusted to our care is to preach a Gospel that is far too small. It's high time to quit preaching a narrowly anthropocentric Gospel and to remember that in the very first book of the Bible, God forged an "everlasting covenant" not only with human beings but also with "every living creature" (Gen. 9:8-17). Preaching about Earth care is central to proclaiming Christian faith. As the late Archbishop Desmond Tutu put it, the "supreme work"1 of Jesus Christ is to reconcile us to God, to one another, and to God's whole creation.
That's reason #1. The second reason to preach about creation care is that the world needs it. The world needs our preaching for pastoral reasons. Amid the accelerating trauma and losses caused by climate change, including droughts, floods, wildfires, and heat, our congregations need to hear about a God who honors and shares our climate grief, a God who weeps with us and who understands our outrage, fear, and sorrow as the living world around us is destroyed. This is a pastoral issue!
The world needs our preaching for prophetic reasons, too. Scientists tell us that we live at a decisive moment in human history: the only way to avert climate chaos and to protect life as it has evolved on Earth is to carry out a top-to-bottom transformation of society at a speed and scope that are historically unprecedented. So, we need sermons about our moral obligation to create a more just and habitable world. We need sermons about a God who gives high-consuming people the power to amend our lives, and sermons about a God who stands with those hurt first and hardest by a changing climate, which are usually low-income, low-wealth communities and communities of color. We need sermons about a God who calls us not to the quiet acceptance of a killing status quo but rather to active resistance, a God who gives us strength to bear witness to a love that nothing can destroy. The early Christians were so fired up by the love that transcends death and so willing to transform their society that they were accused of turning the world "upside down" (Act. 17:6), of acting "contrary to the decrees of the emperor" (Act. 17:7), and of obeying God rather than any human authority (Act. 5:29).
So, let's hear some big, bold sermons that push back against climate "doomism" and hopelessness and that mobilize action for systemic change. Let's take up our pastoral and prophetic vocation to preach Gospel hope in a time of human and planetary emergency.
Jesus calls us to preach good news to the whole creation, and the world needs that message as never before.  Let's do it. Let's preach the whole Gospel, the whole good news.
_______________________________________________________________________________________________________________________________________
Archbishop Desmond Tutu, "Foreword," The Green Bible (New York, NY: HarperCollins Publishers (HarperOne), 2008, I-14.