Take a moment to feel the earth beneath your feet. As you inhale your next breath, take a moment to give thanks for the air that is flowing through your lungs. Notice the living world around you. In awakening to the gift of God's creation, you are not alone! Today (June 5) is World Environment Day, and people around the world are turning with grateful hearts to oceans, rivers, and trees, to birds, marine animals, and mountains, as we honor our corner of creation and remember how interdependent everything is.
The United Nations invites us to celebrate World Environment Day, or WED, a pretty fine acronym evoking the possibility that one day human beings and the rest of creation will be "wed" together in love. That may sound impossibly quaint or far-fetched, given humanity's collective assault on the natural world, from deforestation and the spread of toxic chemicals to species extinction and climate change. But it's a vision that speaks to my heart. To play with the marriage imagery, I'd say that humanity and the rest of creation could definitely use some marital counseling.
So today is a good day to refresh our personal relationship with the natural world. We can ask ourselves: What kind of relationship am I creating with the living world around me? Do I hurtle through the day with my head down, absorbed in my own thoughts, wired for worry and ignoring my non-human kin? Or do I make myself available for encounter? Do I notice the hawk overhead, the shining leaf and passing cloud? Do I give myself permission to slow down and pay attention, to relish each breath and to bless the ground with every step? Is there something I can do this week to express my affection for the web of life of which I am a part, and my concern for its well-being?
Love every leaf. So says Father Zossima, the Russian Orthodox abbot in The Brothers Karamazov, a novel that I read in high school, studied in college, and studied yet again while completing my doctorate in Russian and comparative literature. From his deathbed, the abbot describes the ecstatic perception of reality that inspired his life.
Love all God's creation, the whole and every grain of sand in it. Love every leaf, every ray of God's light. Love the animals, love the plants, love everything. If you love everything, you will perceive the divine mystery in things. Once you perceive it, you will begin to comprehend it better every day. And you will come at last to love the whole world with an all-embracing love.[1]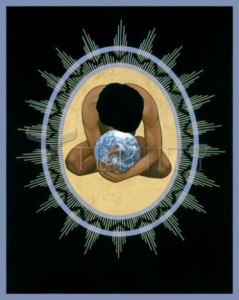 A version of that passage is taped to the back of every "Compassion Mandala" icon made by Robert Lentz, a wonderful image for meditation and prayer. The image shows a Christ-figure surrounded by golden light, bending over to embrace the Earth. Without a word, the image portrays the all-embracing compassion of Christ, whose love extends not just to each of us as individuals, and not just to human beings, but also to the whole creation.
If you want to safeguard our world, which is so loved by God (John 2:16), please join me in New York City on the weekend of September 20th and 21st for the largest rally in the history of the climate movement. As environmentalist Bill McKibben puts it, "If you're wondering how to react to the devastating news that the Antarctic is melting out of control: New York. If you're scared like I am by the pictures of the fire and drought across the West: New York. If you're feeling like it's time to change the trajectory of this planet: we'll see you in New York." Here is a link for more information about the march, and to register, and here is Bill McKibben's article, "A Call to Arms: An Invitation to Demand Action on Climate Change."
I imagine a crowd of Christians from across New England, the Atlantic seaboard, and beyond, gathered on that September weekend in New York, along with thousands upon thousands of other people. I imagine us walking, singing and carrying banners from our respective churches. I imagine us witnessing to a creative and redeeming God who loves the world with an all-embracing love and whose Spirit empowers us to tackle the biggest challenge that human beings have ever faced. Find a way to come! I'll see you there.
---
1. Fyodor Dostoevsky, The Brothers Karamazov, translated by Constance Garnett, revised and edited by Ralph E. Matlaw, New York: W. W. Norton & Company, 1976, p. 298.