A brief presentation to lay and clergy deputies of the 115th Annual Convention of the Episcopal Diocese of Western Massachusetts, delivered on October 29, 2016. The three missional priorities of The Episcopal Church are evangelism, racial reconciliation, and environmental stewardship. This talk about environmental stewardship in our diocese came after talks on evangelism (by Rev. Nancy Strong) and racial reconciliation (by Rev. Harvey Hill).
Thank you for inviting me to say a few words about this ministry. A full report of what I'm up to is available online in your convention materials, so I'll keep this short. Before I say anything else, I want to thank you for approving just moments ago a resolution to express our diocese's support of the water protectors at Standing Rock. Clergy are being invited to go to North Dakota next week to offer their witness and support, and I just read on Facebook that seven clergy from the Diocese of Massachusetts are planning to make the trip. I hope that some of you will feel moved to join them.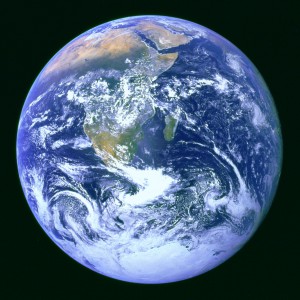 Serving as your Missioner for Creation Care has not been boring. Not once. The job challenges me, provokes me, and asks me to be creative and resilient and get out of my comfort zone. It keeps me on my knees, depending on the power of the Holy Spirit, and it keeps me on my feet, heading out to do things I've never done before.
What calls me to this ministry? On the one hand, I have a deep, sweet sense that God is with us, that God's love is unfailing and powerful and real, and, on the other, I live with a painful awareness that the web of life is unraveling before our eyes. If we keep burning fossils fuels like coal, gas, and oil at anything like present rates, we will push the global climate to a level of disruption that will render the planet difficult to inhabit, perhaps in the lifetimes of our children. Last year we set a new record for heat, crushing the record set the year before, and this year is right on track to be hotter still, generating extremes of weather, droughts, floods, storms, uncertain seasons for planting and harvest, the spread of infectious diseases, rising and acidifying seas, and more troubles than I care to name.
Where do we find the courage to face this new reality and to muster an effective response? What do we do with our anger, fear, and grief? How can our faith in the crucified and risen Christ help us to break out of our inertia and denial and to rise to the occasion, so that we join hands with each other and with other people of good will, and take action?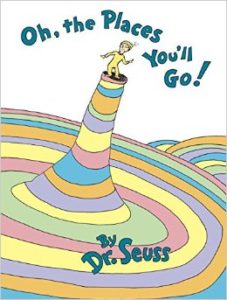 These are questions I tackle every day when I preach at churches, large and small; when I offer workshops; when I speak at rallies and prayer vigils; when I write blog posts and articles; when I lobby; when I lead retreats. This past year I've sometimes felt like the character in that book by Dr. Seuss, Oh, the Places You'll Go!. I've found myself in all kinds of places.
I'll mention five.
Last December I scrambled onto the back of a pickup truck parked on the Boston Common outside the State House and spoke to more than two thousand people gathered for the biggest climate rally in Boston's history about the ways that faith can guide our efforts to build a more just and sustainable future.
In April, I traveled to Delaware to lead a retreat for the clergy of that diocese. We prayed and talked and wept together, acknowledging our grief about the climate crisis and re-dedicating ourselves to protect God's Creation.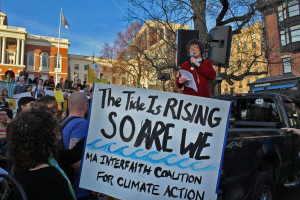 In May, I sat on the edge of a pipeline trench in West Roxbury beside fifteen other clergy from a variety of faith traditions, our legs dangling in the pit, as we sang, prayed, and prepared to be arrested for blocking construction of a dangerous and dirty fracked gas pipeline.
In June, along with hundreds of other people, I traveled to Washington, DC, for the annual conference of Citizens Climate Lobby. I spoke on an interfaith panel about the roles that faith communities can play in a time of climate crisis, and I spent a day lobbying members of Congress for a fair and rising price on carbon.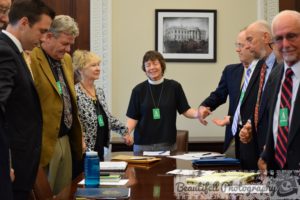 In September I returned to DC to join other members of the National Religious Coalition on Creation Care in a meeting with the White House Council on Environmental Quality. We talked about what climate change is doing to the oceans, and how faith leaders can support the President to take bold steps before he leaves office. When the meeting ended, we stood up and joined hands, and I prayed out loud for the day when the Earth shall be filled with the glory of God, as the waters cover the sea.
When you're on a mission, you never know where God will send you.
If you're near Springfield tomorrow, please join me at 2:00 p.m. at First Church of Christ in Longmeadow, for a gathering of faith communities and climate activists looking for ways to work together. I'll give a keynote entitled "Climate Change: An Emergency of the Heart."
Please mark your calendars and spread the word about an outdoor worship service for Creation care that we'll hold at Heifer Farm in Rutland, MA on Sunday afternoon, November 13. This will be a big, ecumenical, family-friendly outdoor prayer service led by our bishop and by all the other leaders of Protestant denominations in Massachusetts – Episcopal, Lutheran, and UCC. Look for us on Facebook: the event is called "We Are the Earth: Public Prayer for the Planet," and please let us know you are coming.
On the table outside you can sign up to join our network of people in the diocese who care about Creation, and you can pick up a handout that lists ways to get involved. I'm available to preach and speak in your parish, and my Website, Reviving Creation, shares blog posts, sermons, and other stuff, including an article on how faith communities can address the climate crisis. Right now our diocese is in the midst of celebrating our third annual Creation Season, and on our diocesan Website you'll find lots of updated materials on how to Pray, Learn, Act, and Advocate.
Thank you for all the ways you join me in this mission. Oh, the places we'll go!