Today's blog post, which is  also on the Bishop's Blog of the Episcopal Diocese of Western Massachusetts, is co-written by The Rev. Dr. Margaret Bullitt-Jonas and Bishop Doug Fisher. Presiding Bishop Michael Curry is coming to the Diocese of Western Massachusetts on Sunday, October 21, to celebrate an Episcopal revival, with events at 1:00 p.m. in Pittsfield and at 5:00 p.m. in Worcester. Everyone is invited!  For more information, visit here. Both revival events will be livestreamed by The Episcopal Church. You can watch the Pittsfield revival livestream here.  You can watch the Worcester revival livestream here.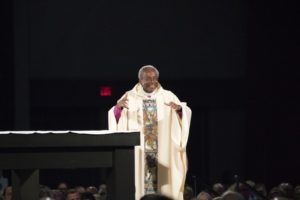 Everyone (and we mean everyone) knows our Presiding Bishop Michael Curry as "the Royal Wedding Preacher." He certainly touched souls around the world in his inspired message of the transforming power of love. But did you know that five days later he participated in a Vigil at the White House?
The Vigil was a witness that both rejected President Trump's "America First" policies and urged bringing people of all political parties together for the sake of the common good. The Vigil was a follow-up on a declaration Michael wrote with other faith leaders several months before called "Reclaiming Jesus: A Confession of Faith in a Time of Crisis."
That document includes the powerful statement: "We reject domination rather than stewardship of the earth's resources."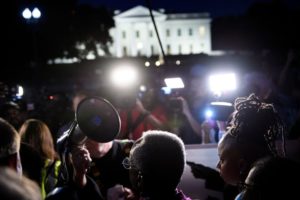 As we gather together this Sunday in Pittsfield and Worcester for an Episcopal revival led by the "oh so much more than a wedding preacher" Michael Curry, let's look at why this is a time of crisis for God's creation.
The Earth is reeling under many pressures, from an explosive growth in human population and consumption to species extinction, habitat loss, and resource depletion. But our most urgent concern is how human activity is changing the climate. Our fears were confirmed last week when the U.N.'s Intergovernmental Panel on Climate Change (IPCC), the leading international group that assesses climate change, released a major report. The IPCC report was stark: humanity is on the brink of catastrophe. The only way to prevent global temperatures from rising more than 1.5 degree Celsius – the level that countries around the world have agreed is a safe upper limit for maintaining life as we know it on this planet – is for nations to cut their carbon emissions drastically and rapidly. In just over ten years – by 2030 – the world will need to have cut global emissions in half (45 percent below 2010 levels). To hold global temperatures to 1.5 degree Celsius will require rapid and massive transformation of every level of society. For example, the report calls for a total or near-total phase-out of the burning of coal by 2050.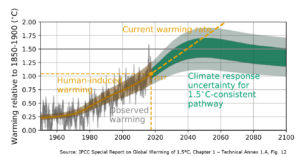 The task ahead of us is daunting. The world has already warmed 1 degree Celsius from pre-industrial times, and without a massive global effort, the world will warm by 1.5 degrees in as little as 12 years. If we allow global warming to rise by 2 degrees Celsius – to say nothing of allowing business as usual to continue on its present track, which would raise global temperatures by 3.4 degrees by the end of this century – we will live on a planet that is extremely difficult not only to govern, but even to inhabit. The IPCC report warns that there is "no documented historical precedent" for making the sweeping changes in society that would be required in order to hold global temperatures to 1.5 degrees. Yet if we want to prevent massive crop failures and droughts, extreme storms and sea-level rise, and the migration of millions of refugees, and if we want to pass along a habitable world to our children and our children's children, we need to tackle climate change.
The day of reckoning has come. As St. Paul exhorts, "See, now is the acceptable time; see, now is the day of salvation!" (2 Corinthians 6:2). Today is a good day to put climate denial behind us. Today is a good day to reject the climate denial expressed in White House policies that promote fossil fuels and ignore, downplay, or even accelerate the climate crisis. Today is also a good day to admit our own everyday version of climate denial and to step up our personal efforts to reduce our use of fossil fuels.
What next steps can you take? For starters, does your congregation have a "green team" or "Creation care committee"? Whatever you call it, a team of parishioners concerned about climate change can take the lead in educating and organizing its community. You can download an article about how to start a "green team" here. At diocesan convention, delegates will vote on a resolution that asks every congregation to create a green team or liaison.
Here's another idea: how about eating less (or no) meat? A new report confirms that shifting to a plant-based diet is one of the most effective actions we can take to reduce our carbon footprint, limit climate change, and allow the Earth to keep feeding the global population.
Michael Curry has made Creation Care one of his three priorities. (Racial Reconciliation and Evangelism are the others.) We have said many times that this Sunday is so much more than great speeches by Michael. It is an opportunity to commit to a revival of our souls, our church, our communities and our world. In a time of crisis, may we passionately recommit to fighting climate change and caring for God's creation.
+Doug and Margaret+
---
Margaret's sermon (October 14, 2018) about the IPCC report, "Ten years to avoid climate catastrophe?  What do we do now?" is here.
---